Your Comprehensive Guide to Insurtech Digital Marketing
Right now, insurtechs are facing a humongous opportunity to grow faster than ever, thanks to changes in consumer attitudes and buying behaviors. Even though the insurance industry is notoriously resistant to technology (if you're reading this, you know how it is), digitization is happening at all levels to keep up with changing demand.
Players within the modern insurance space are starting to invest more in technology to combat ongoing COVID disruptions and meet today's new customer expectations.
TLDR: insurtechs have a MASSIVE opportunity to capitalize on this trend.
Limited on time? (Aren't we all?)
Download the full guide to save all the can't-miss details to crack the code on insurtech marketing.
Flip the script: a new approach to the 'same old' mindset
For years, insurance companies have been using the same systems, following the same processes, and seeing the same results.
"Why change what we've had in place forever and still kinda works?" – insurance companies everywhere
Your company saw and capitalized on that market opportunity—and now there's a growing explosion of custom digital insurance solutions to address any and every challenge out there.
What does this all mean for insurtech marketers?
---

Real quick–here's what's happening in insurtech:
In Q3 of 2021, funding for insurtechs was more than funding during all of 2019 and 2020 combined. The insurtech space is bursting with new companies, significant investments and more mature solutions.
---
It's probably no surprise to you that it is getting even harder for insurtech marketers to stand out. Why? With the emergence of (lots of) new tech, the marketing game isn't about traditional strategies that work for any ol' digital solution anymore. The game has changed.
You're not just competing against similar solutions; you are competing for a place in your buyer's tech stack budget, with countless insurtechs vying for those same dollars.
Today, insurtech marketing is all about building a full digital engine; one that attracts and converts modern insurance buyers.
So today, we're sharing what's actually driving results for the insurtechs we work with.
Wanna see just how well we know insurtech? Watch this video

of an insurtech we helped scale to

the point of acquisition

.
3 Competition-Crushing Steps You'll Wish You Discovered Sooner

STEP 1: Assemble your insurtech digital marketing must-haves
STEP 2: Amplify your digital footprint: make your company look larger than life
STEP 3: Build a sustainable, scalable marketing program that actually works


---

The insurtech space is changing fast–here's how to keep pace
Whether you are a quarter-century veteran to the insurance industry or looking to jump into it, it's safe to say insurtech is here to stay. As long as there are old processes to be changed, you have an opportunity to sell your product into this HUGE market. Here's how to start.
STEP 1:
Assemble your insurtech digital marketing must-haves
Given how incredibly saturated the insurance technology space is today, marketers need to consider the 'why' AND 'how' to educate your buyers on the best solutions to meet their needs. To stay competitive, insurtechs need to be innovative and creative. That starts with re-evaluating your buyers, competitors and message—the biggest mistake you can make is "doing things the way we always have."

GOOD NEWS: you can accomplish the following steps fairly quickly to start crushing your competition.
Itching to take action? Skip to step 2 for quick wins you can start on right away!
Start with research
Even if you're pretty clear on your buyers, value proposition and messaging, it is definitely worth revisiting and further validating. Your assumptions may be outdated or incomplete (even if you are formerly from the insurance industry, a lot has changed, while a lot has stayed the same).
Across the insurance space, agencies, carriers and other stakeholders have sooooo many options in terms of tech. (From what we hear, they're freaking overwhelmed.) Insurance providers feel immense pressure to offer the right tech as their insurance buyers expect more and more digital options.
---
Insurance buyers are demanding more:
Recently, one of our clients shared a story with us that at 10:38 pm, a claim was processed for a consumer entirely on a mobile device. As a result, the claimant received $900+ in their bank account within minutes—not the weeks or months it usually takes to process a claim.
---

What can you do to stand out in all the noise?
Insurtechs have to convince insurance companies that their product will appeal to buyers (more than competitive solutions). That their company will save time, money, resources, or experience similar benefits. Not to mention, there's the ongoing need to prove that your software solution is not a threat to the staff that's buying your product. It's a fine line to walk.
How can you appeal to today's buyers? Start with a bit of research.

Research your competitors
Sooner rather than later, we recommend updating your competitive research. Knowing what your competitors are doing and saying is critical to standing out in the market and nailing your marketing efforts.
Review your competitors' websites and marketing efforts while considering these key questions:
What is their main message?
What are the main points they share on their website?
How is their feature set different from and similar to yours?
What themes do you see among competitors' websites that you may want to incorporate? (For instance, if they all show a ton of customer case studies, you may want to do the same to keep pace.)
Do any stand out as superior to you in how they present their message, the quality of their website, or anything else?
What does their marketing look like?
Do they have a lot of content? Is it quality?
Are they active on social media? Where?
Do you see ads for them on Google or LinkedIn or around the internet?
Are they big event sponsors?



Pro tip: Beyond research, you could talk to your buyers to understand how these factors influence sales decisions. Consider asking prospects during the sales process or conducting win/loss interviews.


Research your buyers
Next, you'll want to determine your best buying path. With the makeup of the insurance industry, there are so many unique stakeholder relationships and sometimes the ideal influencer or buyer isn't who you might expect.


Who are you trying to sell?
Even if you have a ton of industry experience prior to joining your insurtech, you still should reach out to people working in insurance today to make sure you understand your current buyer.
Of course, you want to talk to a critical decision-maker. But if your ideal executive has no interest in talking to you (don't take it personally!), would it make more sense to focus on a different stakeholder to get in the door?


Key point: Sometimes, it's more important to have a champion than it is to reach that C-level decision-maker immediately.


For instance, we worked with one insurtech struggling to sell to companies directly. Through research we realized they had a much easier sales path through the insurance broker during the annual benefits renewal process. Even though the broker doesn't buy their product, they needed the broker to introduce and endorse it to the client.
---
When evaluating your buyers and buying process, talk directly to those stakeholders and ask questions like:
Who are the stakeholders in the buying process? Who has the pain? Who makes the decision?
Which other roles might be researching solutions?
Who else may have influence over the buying decision or could add credibility to your solution? (Consider inside and outside the organization, as with the broker/client example above.)
---
Ask buyers the right questions
Once you identify your buyers and influencers, continue asking questions to help shape your messaging.
What are their challenges?
What are they worried about? What problems do they need to solve? What appeal might they see in a solution like yours?
Are they looking for a solution like yours?

If yes, why?

What do they look for in a solution? What are the key features/benefits for them?

If no, why not?
Do they have more significant priorities? Do they not know your solution is a thing? Do they not understand what you offer? Do they think their current process works fine?

How tech-savvy are they?

Insurance has matured in digital transformation, but not all buyers are there. Do they understand concepts like "cloud" or "AI" (or whatever tech is relevant to your product/solution)? Are they tuned into the digital expectations of their clients or still stuck in traditional processes?
Most important in all of this: Do not guess or assume. You need to complete stakeholder interviews to get the full picture. You can ask for a quick meeting and in return, offer them an Amazon gift card or another incentive.
How to differentiate with messaging
With your competitive and buyer research in hand, it's time to evaluate your current messaging.

Remember…insurance companies are getting absolutely bombarded with insurtech ads and sales emails. With so many tech solutions to choose from, your brand or product story is more important than ever.

So why should a carrier or agency partner with you? Why do they NEED you? What makes you BETTER? Why should they spend some of their limited tech budgets on YOU?

Use your research to answer those questions, and make your message irresistibly compelling with the tips below.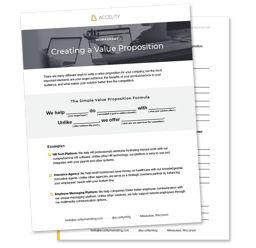 NOTE: Do what works for you, but you may want to document your new message with a simple value proposition statement and a list of main messaging pillars (benefits you want to promote, what your buyers care about, what makes you unique).
Speak to buyers where they are
… not where they are physically, but where their interest and knowledge are.

By now you know if they're tech-savvy, if they've heard of your type of solution, what kind of jargon they use, what their challenges are. Use this critical information.
Make it extremely clear what you're selling
If you're selling a well-known type of technology such as an agency management system or enrollment software, use the language your buyers know. It's tempting to call your offering something fancy or unique, but step 1 is connecting to what is familiar to them.
On the other hand, if your buyer isn't familiar with the type of software you sell, explain it in plain English and focus on the pain points you're solving.
Speak their language
If most of your target market is talking about digital transformation, for instance, use their words to sell your solution.
If you are selling to tech-ignorant folks, cut any technical jargon that may be confusing.
Make it clear you know their world. Use accepted terminology, jargon and abbreviations that are prevalent in the space.
O

nly talk ab

out what they care about
Whatever you do, don't list out your features. Nobody cares about features. Instead, talk about challenges or pain points and how you solve them.
Split messages among stakeholders if necessary. You may need separate messages for all the people in the buying process, so you can talk about what matters to them.

Consider the competition
If everyone is talking about something similar, you want to be DiFfErEnt. See what we did there? ;)

This is where your buyer and competitor research join to make something magic. Take the steps above on speaking your buyers' language and add what makes you different. Why do you deserve a spot in their highly sought-after tech budget?

Identify what is truly unique about your offering or company, then tie those differentiators to what your buyers care about.
Explain why they need your solution
Is your solution type or the problem you're solving well known? You need to make the case for why your solution is better than the others out there. Speak to frustrations they may have or limitations of your competitors. Example: Unlike other agency management solutions, ours allows you to X, Y, Z…
If buyers aren't even thinking about the problem you solve, you need to make the case for it to become a priority.
Make SURE you tell a better story
Answer the question: "Why should I buy from you instead of your competitors?"
If your feature set is very similar to others in your space, you need to differentiate by better appealing to their needs.
Anticipate sales objections and write them into your messaging. For instance, if your buyer tends to buy on cost and your price point is higher than others, you need to explain what makes your solution more valuable.


---
A quick story:
One company we worked with was having trouble articulating what made them different from competitors. We conducted a competitive analysis of their top 8 competitors to see how each marketed and positioned themselves and to build messaging that made this company stand out.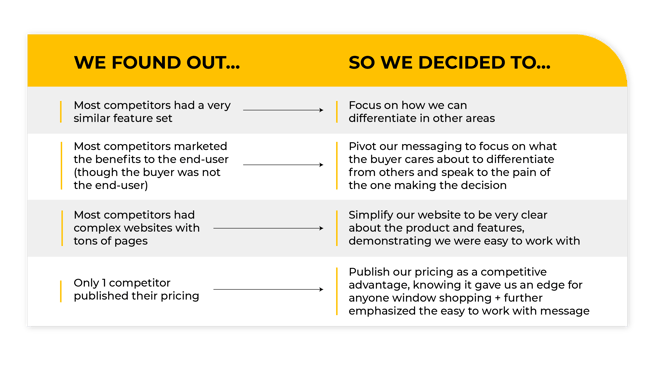 You want some real perspective? Consider bringing in a third party. Often, internal teams are too close to the product and need help defining their messaging. This ensures your team can see the forest through the trees.
*Shameless plug* Hit us up if you need a partner to help!
---
STEP 2:
Amplify your digital footprint: make your company look larger than life
Now that you've done your research and figured out how to steal your buyers' attention—how can you really make a splash in the industry?
When people Google your business, what do they see? The entire first page of search results (and likely the pages after that) should be YOU. Your company brand should extend to social platforms, industry publications that mention you, review sites (with glowing reviews) and conferences you've sponsored. Bottom line–the more quality content you can present across all channels, the more legit your company looks. And bonus, the more that's published by not you, the better.
---

Fun Fact: Today's buyers complete 70% of the purchasing process online before they ever talk to you. You need to have a big footprint to have credibility.
---
Yes… this DOES take time to build.
But some items can be quicker/easier wins if you're not there already. You certainly don't need to do it all right now, but you can and should focus on a few key strategies to help get your name out there.
First things first, the bare minimums
1: Choose 1–2 social platforms to focus on, and commit. It's so much smarter to do really well on one or two key platforms than try to be everywhere. Doing social media well is more than just posting and ghosting—make sure you interact with others to build up a presence. Company social media can be effective, but we've found most success focusing on a personal brand.



Key tip here: Only bite off what you can chew. Focus on where your buyers are. Make sure you interact (no posting and ghosting).
2: Make sure Google is promoting you (find the steps here). It's easy and free!
3: Show up on review sites next to your competitors. At the very least, make sure you have a free/basic profile on one or two sites like Gartner and G2, then solicit some customer reviews. You can also pay to be featured on those sites.
OR…look for faster wins with 'pay-to-play' options
Being published on a trusted industry site has HUGE benefits, and you CAN pay-to-play here if you have the budget to do so. In fact, most industry publications provide opportunities for sponsored content, webinars and conference sponsorships. Consider opportunities like these as a starting point for brand awareness.
We HIGHLY recommend sponsored content, webinars or newsletter mentions vs. just running an ad
Why? We believe the best marketing is compelling and educational. Providing useful information goes a long, long way in building credibility. When you pay to sponsor content, you're piggybacking off the industry publication's already established credibility (and audience!). Think how much more compelling a value-packed article would be to your buyers compared to a static banner ad.
Really want to try an ad anyway? Look for a sponsored content block or short ad in the publication's newsletter. This offers much more potential exposure than hoping people will notice your banner on their website.
If you're not quite sure where to start, here are some great publications that target insurers, brokers and/or insurance buyers:


Reminder: When doing buyer research, it's important to ask your current or prospective clients about newsletters they receive or publications they read.
Each publication will have a media kit with stats about who they reach and their audience size; you can use that to validate whether they serve your target audience.

More ways to get into your buyers' favorite publication…
Consider working with a PR agency to get more of these content opportunities. They know how to get you placements quickly and effectively, and can help you measure the impact of efforts.

You can also consider HARO (Help a Reporter Out). These publications seek sources for specific topics/questions and you can contribute as desired.

If you don't have the budget for PR or sponsored content, it also doesn't hurt to reach out to the editor of a publication directly. Sometimes they are looking for contributing articles from industry experts.
You may also consider other types of content syndication to get your brand out there online.
---
One employee benefits technology company we worked with used this PR strategy to increase online presence, help their SEO, build credibility and drive website traffic.
As a result, the founder had several articles published in top industry publications, including 3 articles in BenefitsPro (reach: 124,000/month) which spoke directly to their target audience.
---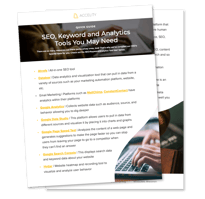 Ready to do the work?
Get the software SEO, Keyword and Analytics Tools Worksheet here.
Conference sponsorships can also be very effective when done in the right way!
By "right way," here's what we mean: getting your logo on a website or brochure is okay, but your impact is limited. Instead, spend your time applying for speaking opportunities at conferences in your industry to have more visibility and influence.

Similarly, tradeshow booths can be useful—but you should never solely rely on people coming to your booth (virtual or physical). Set up meetings ahead of time with targeted marketing outreach.
For any of these tips, you can't just pay for something and hope it's a quick sales fix. There's no such thing—you need repeated exposure. Promote any assets you create, publication features, and success stories over and over again. Put them on your website, reference them in sales emails, and promote them on social media to get the most out of your marketing efforts. Creating content or earning media, then under-distributing it, is one of the biggest mistakes that marketers make.
These are quick wins for building your presence, but this should also be part of your long-term strategy. Keep looking for opportunities to get your brand/product/name out there.

Pro tip: Anywhere your brand is—be it an industry publication, a conference website, a guest blog, a sponsored newsletter—make sure there is a link back to your website!!!!!! (There are not enough exclamation points in the world for this sentence.) The more respected websites that link to your site, the higher Google will show you in search results.
Optimize your website
When someone Googles you, or more likely clicks on an article you posted on social media (or anywhere else), what do they see? How about when they land on your website? Is it clear? Compelling?

Start with being VERY CLEAR and SIMPLE with your message at the top of the home page. What are you offering? To whom? With what benefits? Remember, CLEAR > CLEVER.

Hint: This is where your messaging really shines.

Think about your competitive research. What did you notice about competitor sites? Are they all similar? Which ones caught your eye? What opportunities exist for you? It's okay to use competitors as an example. Ask yourself:
"How can I do what the competition is doing, but better?"
Quick example: Learn how to increase B2B Sales with a clear pricing page. This is a competitive advantage for you if your competitors aren't sharing the numbers.
Other website tips:
Keep it simple (no jargon!)—read your website to your kid. Does he or she get it?

Focus on conversion opportunities—prospects should never have to look hard for a way to contact you.

Reduce scrolling—only use large banners when they serve you. And yes, there is such a thing as too much whitespace.

Use clear, high-res images—but make sure the files aren't huge, slowing down your site.

Be aware of page load times—don't cram video on top of video! If your page load time goes from 1 second to 3 seconds, your bounce rate increases 32%.
Need another set of eyes on your website? Get a free website audit from our expert tech team!
---
STEP 3:
Build a sustainable, scalable digital marketing program that actually works
Ultimately, sales outreach, relationship building and referrals will only grow your company so much, no matter how connected your execs are. We know that's how the industry works, but you need marketing to spread your message and reach more people.

You 100% need a digital marketing strategy so your prospects can find you, learn about you and raise their hands when ready. *Another shameless plug* Our CEO previously led insurtech marketing for an $80 million company…so you can say this is her jam. Book a time to have her review your digital strategy here.

As is life in digital marketing, there are so many tactics, strategies and ideas that you *could* add to your game plan. Here are our three must-haves for a solid marketing plan.
Must have: Educational content
We hate cliches, but content really is king (or queen at our women-led marketing agency). Why? It's versatile. One piece of quality content can serve your company in 10 different ways. And it just plain works.
Here are a few benefits of a strong content game:
Boosts SEO aka gets more people to your website. Google loves content, and you can strategically create content that answers your buyers' questions.

Builds credibility by showing you know the insurance industry

Speaks to your buyers where they are right now—they'll feel like they know you

Helps overcome sales objections; your salespeople don't need to recreate the messaging wheel

Primes buyers for the sale with education and/or entertainment

What do we mean by "content"? TBH, content today can be soooo many things… blogs, case studies, webinars, sales collateral, videos. Have fun with it!
Must have: A content-driven buyer's journey
Let's be honest: we wish they would, but people don't buy software after one email, one phone call or one view of a social post. When you start attracting a wider audience outside existing relationships and referrals, you need to think about the entire buyer's journey.
Questions to ask:
What do your buyers think—or rather, need to know—at each stage?

What are your buyers watching, reading, or listening to at each stage of the buying process?

How can you reach your target audience at each stage?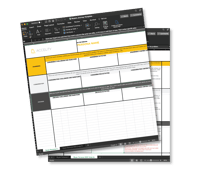 Ready to do the work?
Get the software buyer's journey template here.
Let your buyer's journey tell you where to focus. You not only want to be in the channels where your buyers are present, but you want to get in front of them at the right time with the right message. For insurtech, that often means conferences, top industry publications and LinkedIn—but it can also be very custom to your company.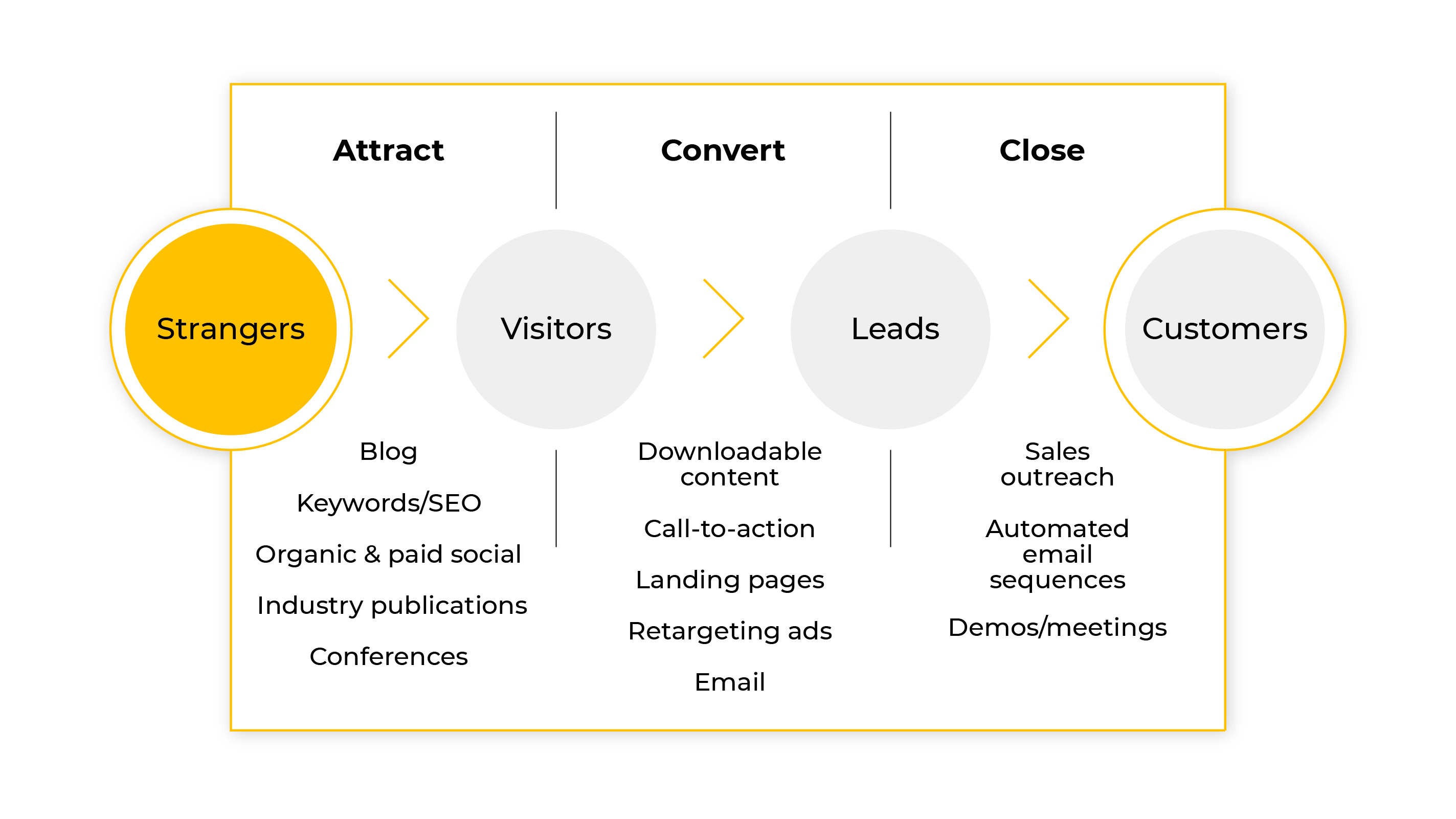 Think about each stage of the buyer's journey
Awareness (Attract) – How do I attract people either searching for an answer to their problem or who may not even know they have a problem yet?
Helping solve a problem first positions you as a trusted resource. Providing value first means you will be more successful at building awareness and trust with your ideal prospects.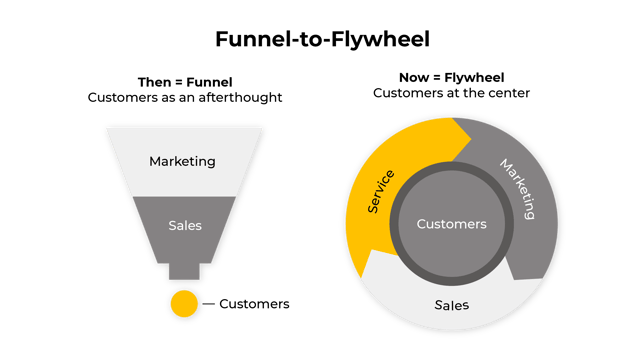 ---
Here's a quick success story:
One insurtech we worked with sold OSHA compliance software to insurance brokers and their clients. We created comprehensive educational OSHA content, including an annual OSHA guidebook, to provide value and build credibility. Prospects were attracted to the super valuable content, which easily teed up a conversation about the OSHA software.
"I wrote my second Accelity-generated sale yesterday. They were already prepped to buy after engaging with all the content we sent them." —Insurtech client
---
Consideration (Convert) - How do I stand out from the competition and steer prospective buyers toward my solution? Here's where your differentiated messaging plays a big role!
Decision (Close) - Where do people get hung up in the sales process? What are their objections? How can I enable my sales team to sell more, and more easily?
Always lead your buyer to the next step
If you have a social post or paid ad pointing toward a blog, what is the next step in the journey after reading that blog? What action/path do you want them to take? Do you want to point to other relevant content with a CTA? Offer a form for them to learn more? Embed a video with more info? Retarget them on a different platform?
If you have created sponsored content, what are your goals and objectives for that content? Where are you sending people? Are you simply driving people to your homepage, or do you have a dedicated landing page to encourage a next step? If someone watches a webinar or downloads a piece of content—what's next? Do you have a follow-up email series?

We know, that was a lot of questions. But you should be able to answer "what's the next step?" for every single piece of content you publish and every marketing action you take.
*A quick aside about emails*
A tried and true email (not a spam inbox message!) makes all the difference. Email is not dead—but you have to be creative to win eyeballs and opens.
Like a well-oiled machine, email as a company outreach tool can really drive results for your company. When done effectively and intentionally, email can educate buyers, multiply leads and set qualified sales meetings.
We know you marketers already know this but we have to say it: DON'T BUY EMAIL LISTS!

Pro tip: Ask people to subscribe in your email footer, add a subscribe CTA to every social post, or run multi-channel content campaigns to direct email opt-ins.
We've seen companies lose thousands of contacts by falling victim to shiny object syndrome: they want an email list fast, so they buy instead of building organically (and then get flagged by their email platform, or worse—blacklisted).
Use emails strategically throughout the buyer's journey. For example, awareness vs. consideration-stage prospects are very different. As a result, you need to have sales and marketing emails tailored to each buyer's stage.
Last but not least: Start with the end in mind and measure as you go
To be successful, you MUST to set goals before you get started and measure your progress. Don't worry, we made it easy—get started with goal setting with this free resource.
Your marketing messages must be tested and iterated upon to understand what's reaching your audience, resonating with them and driving them to take action. Period.
Put the tools that you need in place right away to test your marketing effectiveness. We recommend a combination of HubSpot and Databox, which pulls in data from email, social sites, your website, ads, and largely anywhere else you are running marketing.

Ultimately, being different from the competition involves learning what resonates with your audience. If you don't test, measure and iterate, you'll never know what sticks.

CLICK HERE to have your marketing reports audited by our CEO, Jackie Hermes.
The #1 thing insurtech companies get wrong
With many years of experience in insurtech marketing (from startup to scale-up to leading marketing for an $80 million+ PE-owned insurtech company), our team has seen alllll the mistakes.
Want to know the biggest one?
They try to shortcut marketing.
There is no hack that gets you to the first page of Google.
There is no magic email that opens 10 prospect meetings.
There is no brand-new website that suddenly produces visitors.
There is no one-person marketing team that can meet every single marketing goal. (Hey, maybe this is you. We've been there and feel your pain.)
Marketing is a long game. It always has been, and it always will be. The sooner you get started laying the foundation of a solid insurtech marketing program, the sooner you will reap the rewards.
Insurance companies face an unprecedented challenge today as customers demand a simpler, more streamlined experience. Your insurtech can meet their needs—but first, they have to know who you are.
Want marketing results like what you read today?
Who wouldn't, right?