10 Call-to-Action Examples We HAD to Click
---
Creating a compelling call-to-action is no easy task, but when done well, it can be a game changer. Before we fully dive into this topic, let's first define what a call-to-action, or CTA, is.
HubSpot defines a CTA as a "an image or line of text that prompts your visitors, leads and customers to take action." This is a relatively simple definition, but a lot of thought goes into creating a successful call-to-action.
During my internet browsing (with only short breaks for coffee and pizza), I came across 10 call-to-action examples that I just HAD to click. Check them out:
---
1. YETI
The YETI website uses a simple, quality photo to immediately draw you in. Rather than informing the audience that the YETI Rambler keeps liquids hot for a long period of time, the brief text "Unpack the heat" grabs your attention in a way explaining features cannot. This word choice sounds adventurous, and along with the photo, speaks to the YETI brand. The short words and easy-to-read fonts get straight to the point and moves you to start shopping.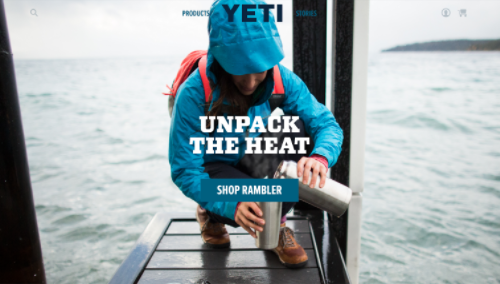 2. Netflix
Commitment to anything can be scary! But Netflix reassures their visitors that they can cancel anytime. The brightly colored "Join Free for a Month" button grabs your attention, and comes across as friendly, not pushy. This makes website visitors feel as comfortable as the people on this webpage!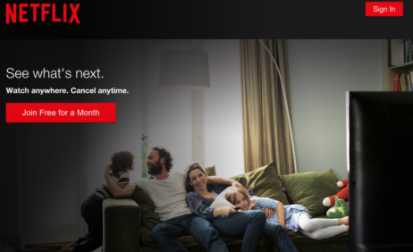 3. Uber
The use of whitespace in contrast with the sign up section is a good choice by Uber. The page clearly states the purpose of the form (signing up to drive with Uber). You can easily read all of the text, and the color on the page is well-coordinated.
The signup form on this page is short and simple (this is key when it comes to getting visitors to join something new), and the "Next" button is colored with a purpose that encourages the reader to act.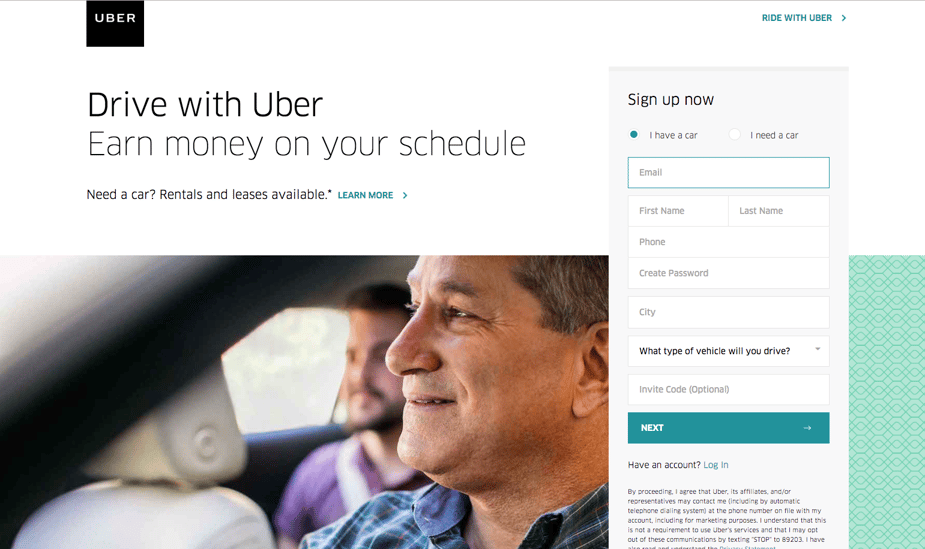 4. GiftRocket
I like Gift Rocket's CTA because it's different and takes a risk! Rather than saying "Get started" or "Learn more," the company chose more adventurous wording for their button. When I read "Send a GiftRocket," it sounded like a fun thing to do!
The overall design on the page is relaxed and fun, which put me in a happy mood. The imagery also speaks to the kinds of gift cards you can send, without using text—very smart, considering people internalize images faster than text.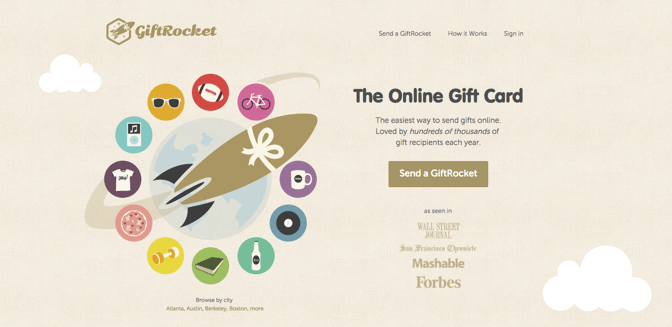 5. Apple
Apple does a great job keeping things fresh and clean. The wording is simple, and the colors are sleek, mirroring the message of the product. Apple stays with this modern and futuristic theme throughout the website and across all of their ads. Everything is very cohesive, even down to the last link. I personally enjoy this and feel less overwhelmed when looking at a more sleek design.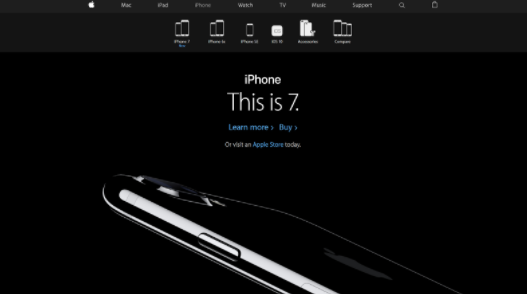 6. Kate Spade
When I arrive on the Kate Spade website, I am greeted with crisp colors and patterns. Each CTA is easy to read thanks to the contrasting black and white. The quirky sayings above each button give off a playful and inviting vibe, and make me want to continue shopping. Lastly, the coordinated geometric shapes keep things organized and balanced. Each section is evenly spaced and slightly separated, giving the reader the ability to glance over each box and quickly make a decision to act or move on.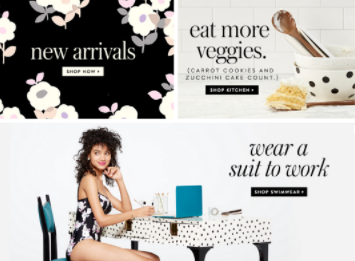 7. Wantable
This three step process sets Wantable apart. Each section displays simple pictures and direction so a potential customer can quickly and easily understand the purchasing process. Rather than using the typical "Get started" CTA button, Wantable asks the customer if he/she is ready to start the process. This makes the potential buyer feel comfortable and in charge of the process rather than feeling pressured.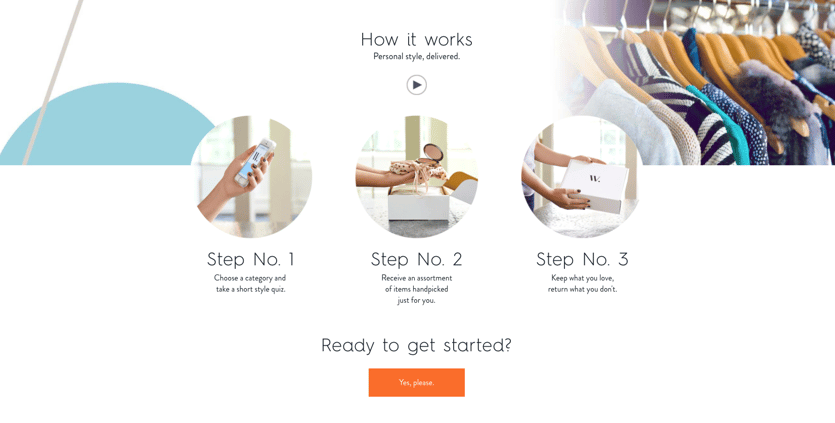 8. Axe
Though you can't see in this screenshot, there is a video playing in the background of this call-to-action. It's a bold choice, but works nicely in this scenario. The text is big and intense and immediately catches the viewer's attention, even with the video playing. Using the word "magic" when selling items such as men's deodorant and body wash is certainly unexpected, which makes the customer curious to learn more.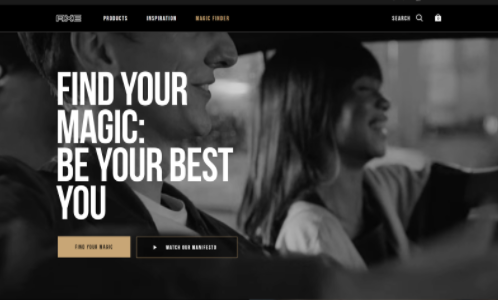 9. TOMS
Generally speaking, I prefer text that is short and straightforward. Though TOMS takes a different route, I love it. The sentence "buying a pair gives a pair" is very powerful and is a CTA in itself. The question "What will you do in your Toms?" creates an image in the potential customer's head and invites he/she to give back. Overall a win-win in my book!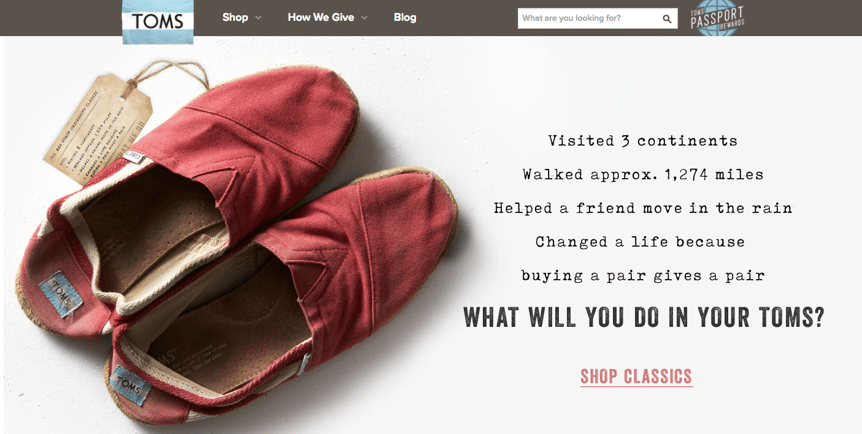 10. Birchbox
Let's face it—we can all get pretty lazy at times. That's why Birchbox directly lets the consumer know that they will do all of the work. All the buyer has to do is pick out products! This CTA is simple and the process is easy to understand. The white background is clean, which helps the products and the text stand out. The images also tell a story, showing that each month the recipient's box will be different; this allows Birchbox to capitalize on the monthly novelty of their service.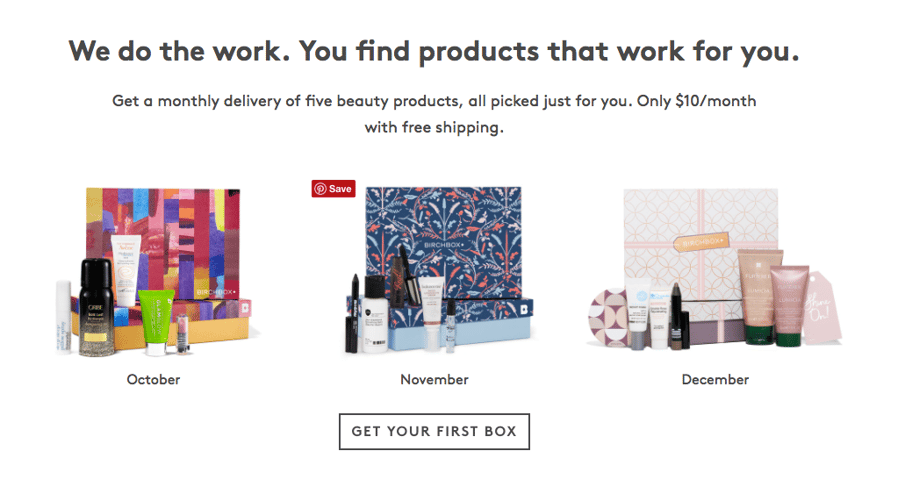 When creating a call-to-action, it's easy to feel challenged and confused. That's okay! Remember that little tweaks here and there can make a major difference. Moving forward, keep an eye out for CTAs that catch your attention.
Have other CTA examples that rock? Share with me in the comments below!
If you need help driving website traffic and leads, reach out to us! We're a B2B inbound marketing agency.