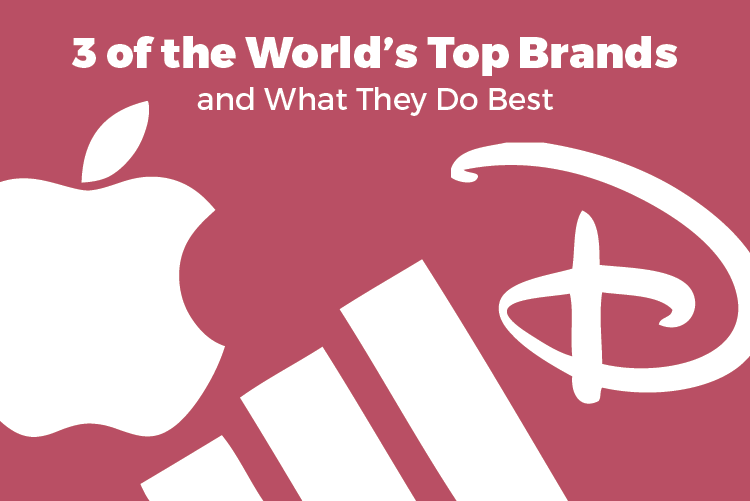 This post was written by guest blogger, Charlie Antoine. You can read the original post here.
—
What makes a great brand great? They have to innovate, stay true to their core values, have a compelling brand story and connect with their audience. I have identified three of the world's best brands that do all of these things. Their campaigns and marketing strategies are second to none, while they are able to diversify and establish a family of brands that complements their offerings.

---
Adidas Group
Adi Dassler started making athletic shoes in 1924 from his mother's wash room in Germany. After an endorsement by gold medalist Jesse Owens during the 1936 Olympics, Adi founded Adidas in 1949. Eventually, Adidas formed a lightweight soccer boot that helped the German national team win the 1954 World Cup, and thus they made their stamp on history. Adidas has established itself as a top brand in many sports across the world. Primarily known for footwear and soccer equipment, Adidas has pushed sporting goods, apparel and fashion to new heights. Hosting a family of brands such as Adidas, Adidas Originals, TaylorMade and Reebok, they are built on a passion for sports, connect with those that share the same passion and drive innovation to give their athletes a competitive advantage.
Adidas does an amazing job communicating their business values through their marketing. Recent campaigns such as "Are You All In?" and "Be the Difference" convey the competitive edge they provide to their consumers. Innovation, history and a passion for sports—that's what they stand for. (Fun fact: If it wasn't for Adi Dassler, his brother would have never founded rival company Ruda, later Puma. Talk about a sibling rivalry!)
The Walt Disney Company
It all started with a mouse. The history behind the Walt Disney Company is a storied one. Animator Walt Disney and his brother Roy started the Disney Brothers Cartoon Studio (eventually renaming it the Walt Disney Studio) and created famous movies such as Snow White & the Seven Dwarfs, Pinocchio, Dumbo and Bambi. The company rapidly grew and eventually diversified into a multimedia conglomerate: live action film, television and theme parks. Disney is an entertainment business, built from the dreams of one man who sought to pass them on to future generations. It was his childhood love of trains that inspired him to create Disneyland, a place designed for everyone to be a kid again.
The Disney Company is comprised of several media companies such as ABC, ESPN, Marvel and LucasFilm, the latter two being recent acquisitions. Staying true to Walt's core values, Disney seeks to be a global leader in entertainment, providing an escape in many forms to connect with audiences of all ages and psychographics. Their mission statement says, "We seek to develop the most creative, innovative and profitable entertainment experiences and related products in the world." Walt himself was an innovator, as are the modern-day Disney Imagineers. It's difficult to focus on just one aspect of innovation that Disney has accomplished in this blog post, as there are too many. Walt summed it up when he said, "We keep moving forward, opening new doors and doing new things, because we're curious and curiosity keeps leading us down new paths."
Apple, Inc.
Steve Jobs and Steve Wozniak founded Apple Computer (now Apple Inc.) in Jobs' garage. With revolutionary inventions like the Apple I and Apple II, the company quickly grew and pushed the boundaries of the consumer electronics industry. Steve Jobs' passion for calligraphy allowed him to write multiple fonts for the Macintosh computer, also used by Bill Gates of Microsoft. Apple enhanced the concept of mobile computing through the iPad, reinvented the smartphone with the iPhone and pushed wearable technology forward through the Apple Watch. Arguably Apple's most notable achievement is the iPod, which changed the way we listen to and purchase music. They have also built a family of brands, recently acquiring Beats headphones, to augment their core offerings.
What makes Apple arguably the BEST marketing company in the world is that they create buzz for products. They are innovators, but even for products that aren't brand new concepts they are able to enhance them; they create a fashionable and user-friendly experience. Their ability to apply a product's features to everyday use through demonstration helps procure sales. Apple has an uncanny ability to connect with their primary target audience, which is my generation, the tech-savvy Millennials. Their commercials, like the latest "The Only Thing That's Changed Is…" campaign, speak with a conversational, sarcastic tone to communicate to the creative and free-spirited Generation Y. Whatever the campaign, or product they are selling, Apple will always innovate to make our lives better.
There are many companies that are great at marketing and advertising. I have observed these companies over the years and have come to appreciate what they do and the creative genius behind every campaign, every product and every business venture. To me, these brands stand out because of their rich, inspiring histories, their ability to connect with an audience and their driving force in their respective industries. Steve Jobs summed it up quite nicely when he famously said "…the ones who are crazy enough to think that they can change the world, are the ones who do."
Are these top brands in your mind? Do you think we're missing a top brand from this list? Let us know in the comments below!