4 Best Digital Check and ACH Service Solutions That Are Streamlining the Way You Pay
---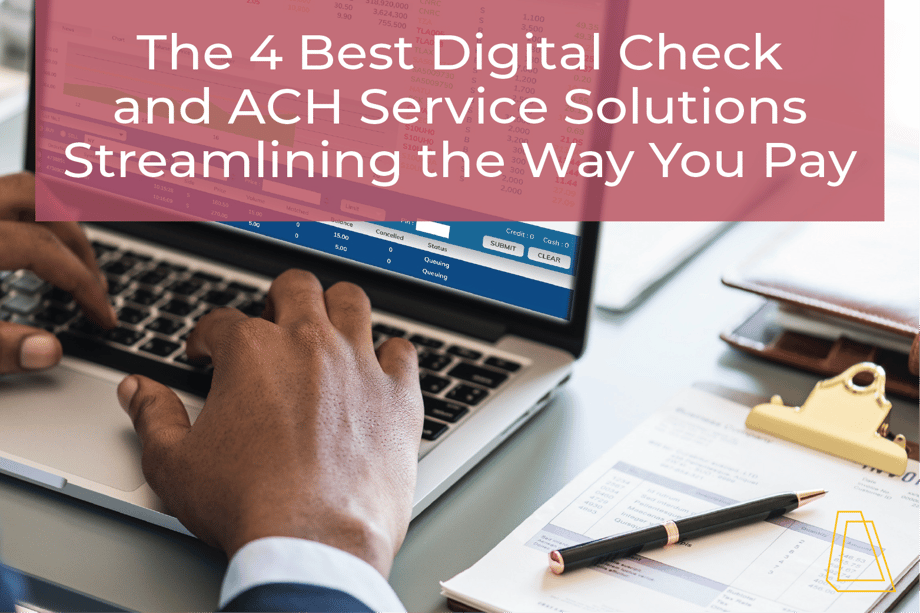 Digital check and ACH services have been around for 20+ years and we're finally seeing them gain serious traction. These services, like Venmo or PayPal, let you transfer money from one person/business to another with ease. According to a 2013 Federal Reserve study, 80% of transactions are completed without the use of paper checks. Here are the 4 best digital check and ACH service solutions that are streamlining the way you pay.
Checkbook.io (also known as Checkbook) is an online payment center that allows you to send checks digitally without paper. Checkbook is dedicated to creating an avenue that allows individuals and business to send and receive digital checks with a few simple clicks.
One of the biggest worries about digital check services is the security of it all. What sets Checkbook apart from its competition is their advanced security system. Their system combines data encryption with tokenization to keep data secure at all times throughout the transaction process.
Checkbook differs from other platforms like PayPal and Venmo by alleviating the "wallet" idea. Whereas PayPal and Venmo require you to pay fees and require a waiting period, Checkbook allows you to send a check directly to the payee's email with a small flat rate per check. The biggest difference between Checkbook and their competitors is blockchain technology that keeps your information secure.
The results of using Checkbook are hugely impactful for the business's clients. One financial institution using the online payment center had $1.6m in waste—within 26 months of leveraging Checkbook it increased ROI by 242%.
Bill.com is slightly different than Checkbook in the sense that is primarily for business, accounting firms and banks. It is a cloud-based, collaborative business payment platform that aims to cut the time that businesses spend paying their contractors and getting paid in half—all while going paperless.
Bill.com stands apart from the competition because it does not have a standalone product. The company uses 3rd party accounting packages such as QuickBooks and offers integration with other software packages.
The main focus of Bill.com is to try and help small businesses become more efficient and cut the amount of paper they use. According to CNBC, Bill.com ranked 37th on their list of 50 business disruptors of 2014 for a company's impact on eliminating paper.
PayPal is a global payment system that supports online money transfers, avoiding traditional paper payment methods. Many vendors, commercial users and auction sites (like eBay) leverage PayPal as a main payment method. The company charges each user on one-click transactions.
However, PayPal didn't become the giant it is today without some hiccups along the way. Early in its inception, the company was victim to hacking and fraud that they have since fixed and secured even further.
Venmo—the mobile payment service most people are familiar with—is a staple in many people's daily lives. Venmo stands out from competitors because it has a social component to paying your friends/other users. For example, you can add jokes or emojis in your payments or requests, and other users are encouraged to "like" the various payments you make.
Although Venmo is a mobile payment service it does cap your payment limit at $299.99 until your identity can be verified. This hinders the user's ability to pay larger increments to other users, but keeps your accounts secure. Once verified you are allowed to send a larger amount, but are still maxed out every 7 days. This makes it less useful for business and larger transactions, but still ensures a level of security for its consumer users.

There you have it—4 of the best digital check and ACH services. Did I miss any others in this list? Let me know in the comments below.