4 Essential Content Marketing ROI Terms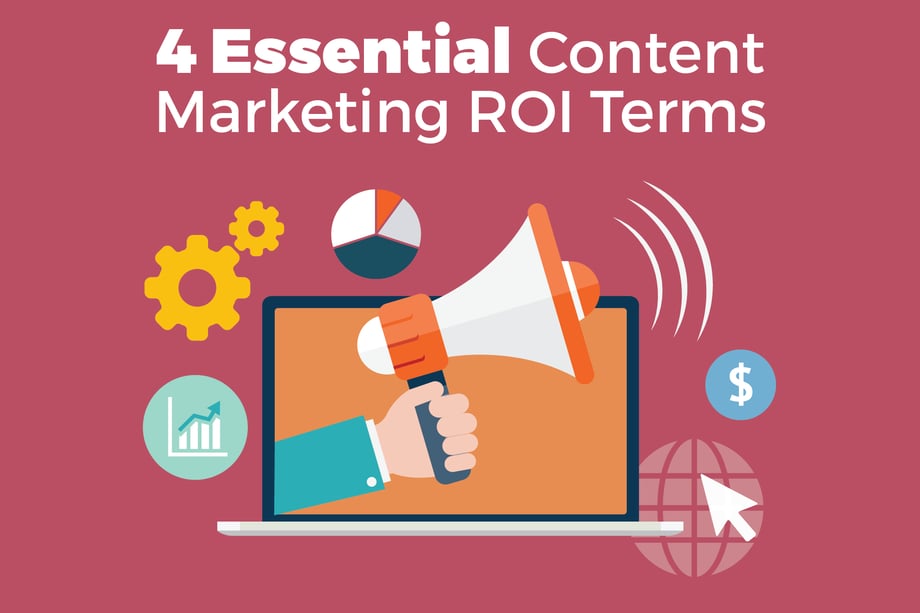 Content marketing has become extremely popular, and for good reason. Publishing and promoting valuable content is a great way to attract new prospects and lead those prospects through your sales funnel. Content can position your company as a trusted authority or expert in the industry, while educating prospects on topics related to your offerings—all of which help subtly promote your products or services.
However, content marketing is no small investment. It's important to ensure your efforts are effective. How do you measure the return on your investment?
Before we talk about the "how" of content marketing ROI, we need to understand the various metrics related to it. In this blog, we'll discuss the four main categories of content marketing metrics.
Consumption
Consumption metrics measure simply how many people interact with your content. This might be total visits to a web page, total downloads of an ebook, or how long someone spends on your website.
A more sophisticated metric in this category is "cost per visitor," which looks at the total cost to produce your content, divided by how many people viewed or downloaded that content. This metric gives you a good understanding of the true cost of each content piece you produce, in terms of prospect engagement, to help you measure your content marketing ROI.
Lead Generation
Lead generation metrics go one step further than someone simply viewing your content. These are an indicator that someone has deeper interest in your company—enough to qualify as a "lead," rather than just a visitor.
Each company defines leads differently, but it may be as simple as someone who fills out a form on your website, or visits your website multiple times. Once you have this information, you can use your list of leads in sales and marketing activities (as well as to measure your content marketing ROI).
Sharing
Sharing is another indicator that someone is more engaged with your content, beyond the "consumption" metrics. When someone shares your content, either on social media or their website, this demonstrates that they are highly engaged and trust your content as an authority.
Plus, sharing is incredibly valuable for your marketing efforts because those shared links can lead other new visitors to your website.
Sales
Of course, the eventual goal for your content marketing efforts is to have it result in sales. When you can attribute your content marketing to an eventual sale, this is the ultimate indicator of ROI.
The best way to measure this is if you sell products or services online, as it is much easier to track the sales process from start to finish. However, with the right processes and tools in place, you can measure content marketing ROI all the way through to closed sales, regardless of your business model.
Interested in learning more about how to measure the return on your investment? Be sure to download our latest ebook, Make Your Investment Count: Measuring Content Marketing ROI. And if you'd like some support with your own marketing initiatives (or help measuring your content marketing ROI), contact Milwaukee marketing agency Accelity Marketing.
If you have any thoughts to add to the topic or questions on content marketing ROI, please feel free to share in the comments section below. Need help with your content marketing efforts? Contact Milwaukee content marketing agency, Accelity Marketing.