Networking Tips: 4 Ways to Get the Most Out of Networking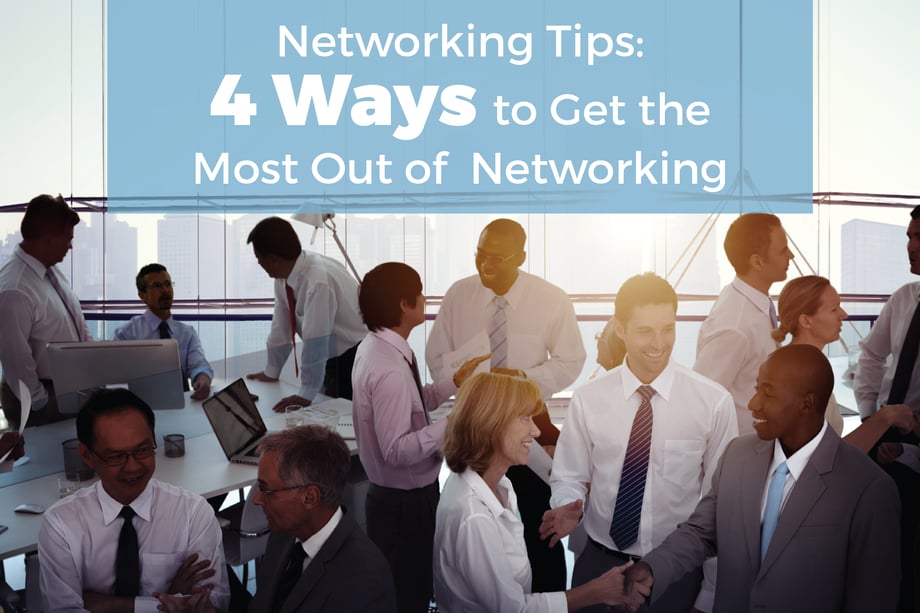 This blog was written by Jackie Steinmetz, owner of Accelity Marketing, for startupsavant.com – read the original blog here.
Whether you work at a business, own one or aspire to own one in the future, networking is an important way to meet people in your community. No matter where you live, there are always people with whom you can collaborate and build relationships throughout your career. Here are 4 networking tips that will help you get the most out of your networking.
---
Tip #1: Network Everywhere
Recognize that networking opportunities are all around you: at a coffee shop, the gym or even at the checkout line of a grocery store. If you are the type of person that enjoys meeting people, make sure you are still having meaningful interactions. If you are more introverted, try to step out of your comfort zone and set small goals to have a valuable conversation with at least one person. Everyone has their own story and their own skills. Take take the time to really understand who someone is. Why do they enjoy their career? What habits or rules do they live by in order to succeed? Reflect on these things and ask yourself if you could work on similar skills.
Tip #1 in action:
Next time you're working at a coffee shop or in line at the grocery store, have a conversation with a stranger. It may take them by surprise at first, but the conversation may end up surprising the both of you in the end. What do you have to lose?
Tip #2: Give More Than Business Cards
Have you ever gone to a networking event and watched someone make their way around to everyone in the room as quickly as possible, passing out business cards? Don't be that person. Try talking to one or two people that are worth your time instead of passing out a stack of business cards to everyone in the room. The less time you spend speaking to each person, the more likely it is that those cards will end up in the trash. People remember personalities, not sheets of paper with names and titles. If you want to take something meaningful away from each interaction then focus on quality, not quantity.
Tip #2 in action:
Next time you're headed to an organized networking event, only bring five business cards. With a limited amount, you'll need to be strategic about who you give them to. And if you do happen to have quality conversations with additional people, take their information and connect with them on LinkedIn or shoot them an email when you get back to the office.
Tip #3: Not Everyone is Going to Like You
This is a hard lesson to learn: not everyone that you meet is going to like you—and that's okay. Don't lose sleep over less than wonderful networking interactions. Sometimes I meet people that I get along with famously right off the bat, other times I leave networking events feeling deflated and like I wasted my time. I aim to meet one good connection at every event to call it a success.
Tip #3 in action:
Next time you meet someone that didn't spark a quality connection, don't take it personally. It's okay to fail; just remember to learn from it and move on. I met one of my current clients ten times before he ever remembered my name; now he's one of my favorite clients and best referrers. You'll have plenty of these interactions within your lifetime and you'll meet plenty of great people, too.
Tip #4: Make Connections & Follow Up
So you've met some cool people and got their contact information—what now? To foster relationships, you have to follow up. Follow-up can take many forms, like connecting on LinkedIn, following on Twitter and tweeting at someone, a personal email, a phone call or even a cup of coffee. Don't quit after your first connection either; continue to stay in touch daily, weekly, monthly or whatever time cadence works best. It's important to keep the relationships in your network active.
Tip #4 in action:
Look through old business cards or peruse your LinkedIn profile; who haven't you spoken to in awhile that you'd like to contact again? Give them a call. You have nothing to lose and a relationship to gain.
Networking takes place every day. It's a constant activity and everyone should treat it as such. In my experience, business professionals that are always open to meeting others have the most meaningful, long-lasting relationships and strongest networks.
What techniques have you used to improve your personal and business networks? Let me know in the comments below.