4 Simple Strategies to Quickly Boost B2B SaaS Inbound Marketing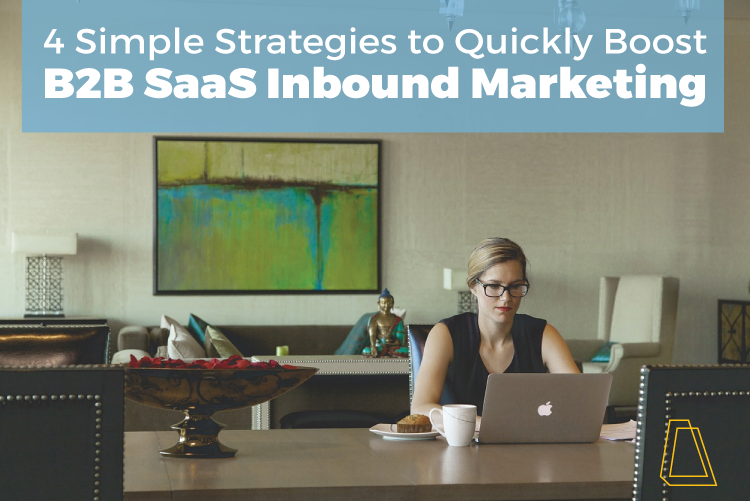 While inbound marketing is clearly a successful marketing strategy, especially in B2B industries, you may be hesitant to take advantage of the concept because of the time it takes to successfully change your marketing philosophy. But while it's true that successful inbound marketing requires both time and energy, you can begin implementing measures that almost immediately help your business succeed. Here are 4 simple strategies to quickly boost your B2B SaaS inbound marketing efforts.

1. Repurpose existing content.
Inbound marketing is based on creating compelling content that helps drive visitors, lead conversions and customers. Coming up with that content, especially for multiple channels, can seem daunting. But it doesn't have to be; in fact, you probably already have content aimed to promote your software that's just waiting to be repurposed.
For example, your sales team might use a sheet of benefits that helps sell the software to potential buyers. Your marketing team is armed with industry insights that help them position your brand and effectively reach your audience. You can easily repurpose that content into blog posts, social media posts, offers and other forms of content to help your inbound efforts.
2. Take advantage of marketing software.
The rapid growth of inbound marketing brings with it an abundance of software tools aiming to help marketers achieve success. As a SaaS provider, you know the value of technology in helping businesses succeed. Now, you can take advantage of the same type of technology to help optimize your inbound marketing.
For example, LeadIn is a free lead generation tool that allows you to integrate lead-generating sign up pages anywhere on your website. Email marketing tools like MailChimp and ConstantContact help you create an effective lead nurturing campaign. Hootsuite and Buffer let you schedule your social media posts strategically and in advance. And of course, more comprehensive solutions like HubSpot enable you to create a full-stop inbound-optimized digital presence.
3. Create content calendars.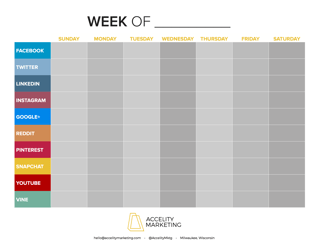 To succeed in inbound marketing, you don't just need a high quantity of relevant content, you also need to post that content strategically. Even the best social media posts will matter little if they are published when your audience is not online, or clustered on days with little engagement.
Fortunately, you can easily create a strategy for your content publishing. Content calendars are a crucial tool for any successful inbound marketer, allowing you to schedule ahead of time just when your emails, blog posts and social media updates go out. This social media content calendar template will get you started, but ultimately you should customize your content calendar to fit the exact marketing channels you use for your marketing outreach.
4. Incorporate SEO into your blogging efforts.
If you're engaging in inbound marketing, there is a good chance you're already blogging. If you don't have a blog, read one of our posts on how blogging helps your business. Once you're at the point where you are sharing blogs regularly, take the next step to increase your search engine optimization. Considering that 81% of B2B purchase cycles begin with a web search, and that SEO-based leads have an astonishing 14.6% close rate, this easy step is crucial to help you succeed.
And it really is easy: when writing a blog post, identify the keyword or phrase that both matches the content you want to create and offers a high degree of monthly searches. Free keyword tools can help you determine the best phrases to focus on. Then, incorporate the keyword into the header and body of your content, getting you on your way to improved SEO.
Building an inbound strategy that reliably drives traffic, leads and customers takes time, but you can absolutely take advantage of some quick fixes to improve how you market your B2B software. To learn more about implementing B2B SaaS inbound marketing tactics that can benefit you right away, contact Milwaukee inbound marketing agency, Accelity Marketing.