5 AI & Machine Learning SaaS Companies to Watch in 2020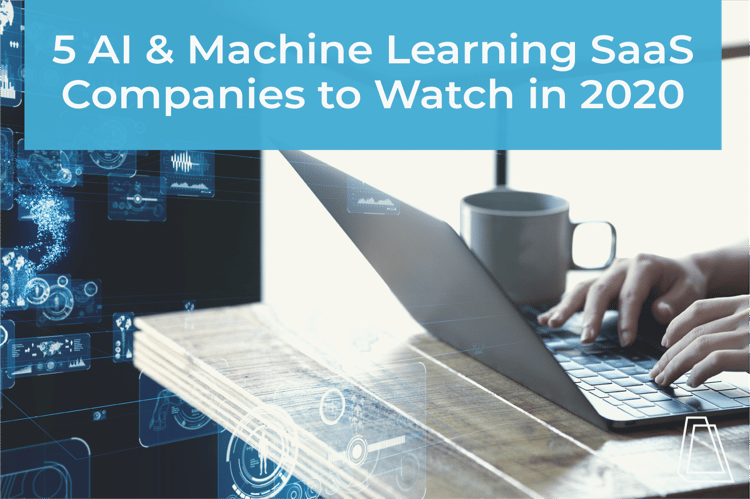 When you think of industries capable of revolutionizing our culture as we know it, what comes to mind? Whenever I talk to leaders in their respective fields, they mention that there are technologies that will exist in the next decade that we can't even comprehend yet.
AI seems to be the buzzword on everyone's lips, and for good reason. The machine learning vertical has the power to radically transform efficiencies, while substantially increasing output possibilities. Every business is searching for a competitive edge that will push them to their outer limits. It seems like AI is the holy grail differentiator for many forward-thinking companies. Many businesses face issues that can be addressed with automation, and many successful automation efforts are backed by sophisticated AI software.
In 2020 some industries simply won't be able to compete without a heavy focus on machine learning features. Cast your fear of a world dominated by robots aside, and let's get to know some of the future titans and seasoned vets of AI.
EnsoData
As the growth of the patient population increasingly outpaces the size of our clinical workforce, artificial intelligence will play a critical role in empowering clinicians with tools that scale and amplify their ability to provide care for a far greater number of patients.
This change will help address the current epidemic of undiagnosed sleep apnea among other challenges and opportunities in health care. EnsoData's mission is to create more time for direct patient care and the cultivation of meaningful patient relationships. This aspect of medicine is what the majority of clinicians report as the most satisfying part of their practice.
EnsoData helps achieve equilibrium by automating heavily manual data tasks with powerful artificial intelligence software. Founded by grad student researchers at the University of Wisconsin in 2015, FDA approved by 2017, and now being utilized in over 300+ sleep centers worldwide, it seems like nothing can stop the ever-growing EnsoData.
Excelion
With origins in professional services for IoT solutions, Excelion initially helped build global device, cloud, data, and application solutions. Because of this, they became really good at handling extremely large data sets and discovering insights from that data.
Now, they help companies take that noisy, large data and transform it into smart business decisions. To achieve this goal, they've focused on end-to-end IoT implementations from applications sitting on devices to global cloud IoT implementations. Their core belief is that data science is a competency that organizations need in order to stay competitive. Just as business intelligence became a required competency a decade ago, data science is essential in today's landscape.
They assist organizations by building competency through people, process, and tools. During our interview, they mentioned that their biggest competitor in the market is the noise surrounding artificial intelligence. Many organizations today just look to sell one algorithm that makes one prediction, but those point solutions don't solve the bigger challenge or promote the bigger opportunity: having the ability to build your own data science solutions against your own data. This fact seems to resonate with many companies that offer AI solutions. Companies that have tangible results don't require the unfiltered hubbub that plagues the industry.
RCM Brain
We live in a reality where administrative overhead is crushing providers and payers. This results in higher costs for patients and insurance subscribers. New technological capabilities are converging in ways that allow for true disruption of the cost structure of these organizations.
One of the pioneering disrupters of the industry is RCM Brain. They are the only revenue cycle technology company that has combined bot automation with an AI rules engine and document extraction to dramatically cut labor costs for providers. Their solution is tailored to the needs of revenue cycle management companies and departments with enough flexibility to manage any situation while being standardized enough to sell as a product.
By packaging automation with an AI rules engine and document extraction, they're able to handle significantly more complex situations than most of their competitors. They're currently in the process of completing an implementation of a client where their automation and rules engine is reading and writing data from 10 different software systems and has cut a department of 11 employees down to 4. Because of the high number of systems and transaction volume, this project leveraged all of the capabilities of their platform. They've found a niche in complex implementations, which gives way to an exciting future in revenue cycle tech.
CognitiveScale
With a passion for innovation, and technologically minded leadership Matt Sanchez,CognitiveScale aims to pair humans and machines to augment human potential. The company's award-winning and proven Cortex software and expert teams empower financial services, digital commerce, and healthcare organizations to radically simplify the development, deployment and management of their AI systems.
Cortex can seamlessly run on public, private, hybrid, and multi-cloud environments. CognitiveScale implements the Cognitive Agent Modeling and Execution Language (CAMEL) which defines an open language and platform-agnostic specification for programming cognitive agents. Enterprises can leverage CAMEL to create AI agents, skills, models, and datasets to avoid vendor lock-in.
Their strongest asset seems to be the ability to apply their software to a wide range of varying clients. Having almost universal tech seems to be the key distinction between implementation rates.
Neurala
Looking to dramatically reduce the time, cost and skills required to perform visual inspections? Neurala has focused its efforts on exactly that. The Neurala Brain — their award-winning and patented AI technology that can run on the edge and on the lightest of devices — is based on advanced research work cofounders Versace, Gorshechnikov and Ames conducted for NASA, DARPA and the Air Force Research Labs.
In 2013, Neurala emerged from stealth mode and joined the Techstars program to deploy its AI at a commercial scale. Now, they work with some of the most innovative companies in the world to bring intelligence to products and devices as diverse as drones and smartphones. They are harnessing the power of the brain to find solutions to problems that change the world in meaningful ways.
Neurala's groundbreaking technology has been hailed one of the most innovative in the world by several organizations, including Draper Ventures, CB Insights, the Edison Awards, Netexplo / UNESCO, Softech INTL, AUVSI, BostInno and MassTLC. Powered by Lifelong-DNN™ technology, Brain Builder enables AI models that learn continuously in the cloud. With customers in the manufacturing, industrial, robotics and smart devices verticals, Neurala's technology has been deployed on 53 million devices globally. This is success that you can't deny.
The great thing about the world of machine learning is that this sector is chock-full of competition. Let me know about growing companies that I should keep my eye on in the comments below.