5 Tips for Your B2B SaaS Company to Get Started with Video on Social Media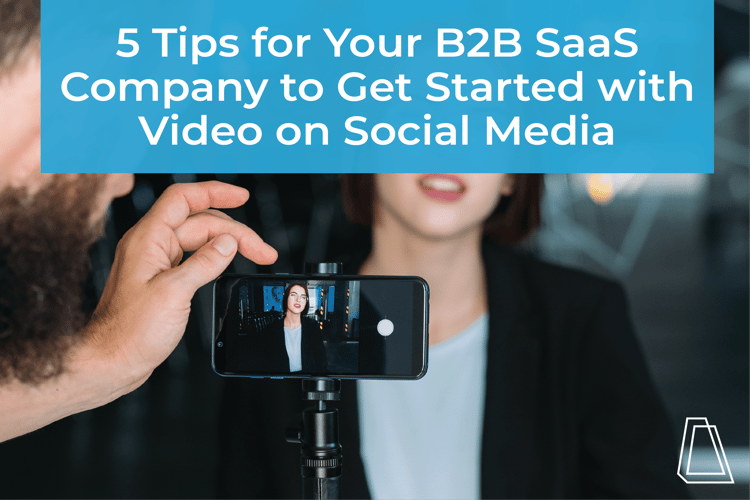 In today's business, many B2B SaaS companies are looking for ways to make themselves more known on various social media platforms. Companies have done everything from generic daily postings to interactive polls. One thing that companies have overlooked on social media in the past (but is becoming more prevalent) is posting videos on social media. Research has shown that posts with videos are reshared 20 times more than posts without and that ⅓ of all online activity is spent watching video.
There's no limit to content topics, these videos can be of new products, tips and tricks to get started with something or videos of subjects you know best! This article will discuss 5 tips you can use to get started with video on social media.
Determine Which Platforms You Want to Utilize

Determining which social media platforms you want to create video for should be your first step when getting started. Determining which platforms you're going to utilize will allow your B2B SaaS company to research specific video best practices. Each platform has different recommendations on video—whether that be video length, format or how interactive it is. For instance, a LinkedIn best practice is to keep videos anywhere from 30-90 seconds long, with 80% of viewers believing that this is the best length.
Create an Outline
Time is a valuable asset for all companies. One way to limit the time it takes to create video for social media is to first create an outline. Make an outline of what you want to discuss in the video (but this shouldn't be a script). During the creation of the outline, determine topics that are relevant to what your B2B SaaS company specializes in.
Determine How You Want to Shoot the Video
An important aspect of getting started with video on social media is determining the specifics of shooting the video. After creating an outline and determining the topic, you should determine who is the main subject of the video. Often times the subject should be someone whose qualifications match what the video is about. Another aspect to keep in mind while you are shooting the video is the location. Are you going to be shooting in the office, outside the office, or around the town? Determining how you want to shoot the video should be a strategic decision you make before it is produced.
Make the Content Worth It
Let's stick with the theme of time. All the tips above are to help you in saving time and efforts when getting started with videos on social media. If you want to be more efficient with your time, wouldn't you assume your viewers want to be too? Making your content worth it will do just that. Make your content valuable by giving valuable insights and knowledge on your topic so that your customers feel their time spent watching your video was worth it, keeping them coming back every time.
Add a CTA
My final tip is to add a CTA (Call-to-Action). Adding a CTA allows you to offer more interactivity in your video, while also adding the ability to potentially gain more traffic to an offer that you may have or generate new leads.
These 5 tips will not only help your B2B SaaS company get started with video on social media, but it will also give you the ability to generate new leads and more revenue. Now get started!