6 Examples of Outstanding Inbound Marketing Website Design In Action
Website design can be a complicated beast. Keeping things simple and actionable not only engages communication with potential clients, but puts your brand's best foot forward as well. Here are six inbound marketing website designs that do that successfully: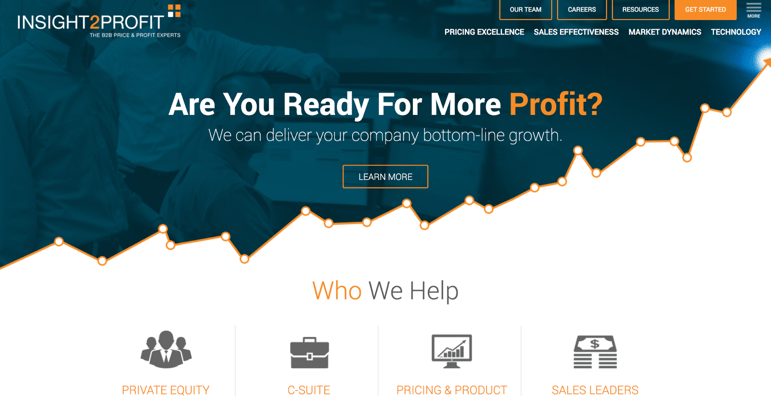 Insight2Profit, a B2B profit and growth strategy company, successfully utilizes their web design as a platform to explain who they are, what they do and next steps you need to take to reach them. Their bold front page design catches your eye and expresses exactly what their business platform is, while directing your eye down the page to gain more insight and take next steps.
For users who want a quick answer, their navigation highlights the most important points of contact (team, careers, resources, get started); the additional menu expands (literally and metaphorically) on any other potential unanswered questions. Overall, the simple use of color, clean design and ease of use make this a successful inbound marketing website design.
Donor.com employs similar tactics when it comes to their web design. Donor.com uses:
These elements keep the user engaged, but don't overwhelm users with content unless they want to know more.
Another key element of this web design is the easily accessible client login and free trial access buttons in the top right of the page; along with the static navigation, this makes the client interface accessible at all times, regardless of how far a user has scrolled down the page, saving them time and effort. When building a user interface-based web design, it's crucial to have certain information accessible to your users at all times—they don't want to pay for access to a service they struggle to navigate or even access!
Collaborative Solutions, in addition to the interactive video in their header, utilizes various web design concepts to keep their homepage interesting and interactive. At first they offer up two quick solutions, "Learn More" or "Let's Collaborate." These are the two main touch points for their business, and by posing them up front and without distraction, they are more likely to direct their potential clients where they need to go.
As you journey down the page, their various uses of scrolling elements, interactive selection with "The Collaborative Experience," rightfully displaying their "Bragging Rights" and then repeating the option method of "View Job Openings" or "Meet Team Collabie," they guide the user in their decisions all the way down the page, while covering the bases of all the material that can be ventured to from the top navigation, but in a more visual and tracked way.
Often times keeping things straight-forward and selective can be more successful than an overload of information for your users. When doing this, think of what someone with no prior knowledge of your company would need to know to get on board.
Nectafy sets a great example for the KISS (keep it simple stupid) method. No frills, some integrated interactivity and good ol' data. Showing visitors what you do, how you do it, and ultimately how effective it has been is the best method for success. The use of the interactive "which of these sounds familiar?" section immediately establishes a buyer persona and directs the user to the information most relevant to them. Throw in a few testimonials, a user-friendly inbound results calculator and additional resources in the form of a blog, and you have an effective website that, while minimalistic in design, is powerful in functionality.
---
Revenue River Marketing, like many other inbound marketing agencies, uses the minimalistic approach. The one-page design provides additional information as you scroll down the page. One of the majorly effective devices Revenue River employs is the pop-up. As you scroll further down the page various items like a suggested blog post read and instant chat with a sales representative appear on the page. These elements simplify the initial appearance of your website, and as you scroll provide more suggested information as necessary.
Inbound Marketing companies can utilize pop-ups in various ways:
Gaining newsletter subscriptions

Promoting new or popular content

Getting users to enter into the funnel by reaching out for a consultation
Revenue River's multiple points of contact also make them easily accessible, providing potential customers several ways to reach out for more information.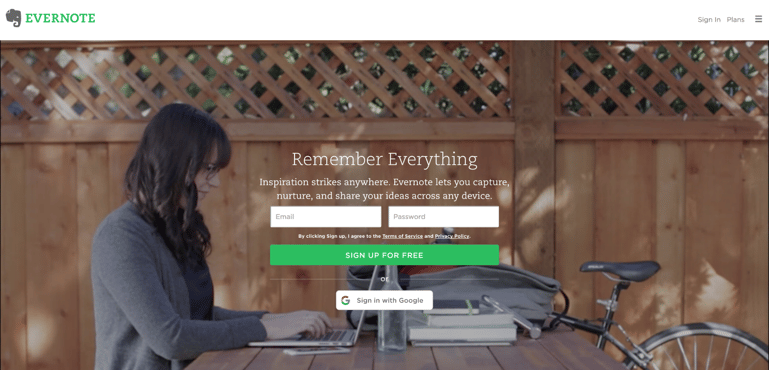 Evernote is the king of simplicity. Their homepage navigation really serves it's purpose. Either you're an existing customer or not. If you are, sign in. If not, sign up in the easily accessible homepage form, or scroll down to learn about the ways in which Evernote can better your note taking process. They give you the information you need to make an educated decision about their service, and if you need more, their delightfully minimalistic hamburger menu will direct you. If your company has a simple brand strategy or offers a no-nonsense product, Evernote sets the tone for successful minimalistic web design.
Overall, engaging and interactive content serve best for inbound marketing web design. Providing multiple access points between visitors and your content optimizes the engagement you'll receive. Having a clean and modern design to go along with it will only better the usability of your site.
Do you need help with your inbound marketing strategy? Contact Milwaukee marketing agency, Accelity Marketing.