6 Graphic Design Trends For 2016
---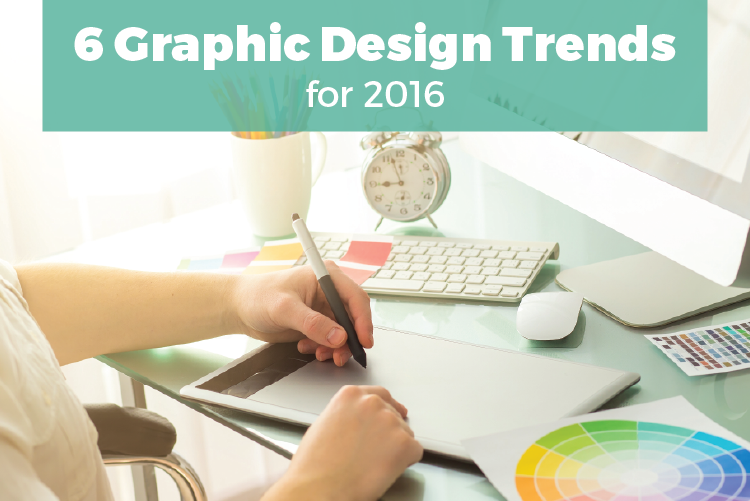 Graphic design is constantly evolving, and we're looking forward to this year's new graphic design trends to come. In 2016 we're saying goodbye to over-designed graphics and hello to clean shapes, more muted colors, and unique typography.
---
Color
Pantone announced this morning that its 2016 Color of the Year is actually, well, two colors. Since 2015 was such a progressive year for gender politics, Pantone has selected its first binary colors of the year, Pantone 13-1520 TCX (Rose Quartz) and Pantone 14-3919-TCX (Serenity). Encouraging gender specific color selection to think a little outside the box. Essentially they're baby blue and pale pink, but Pantone encourages color fluidity in all aspects of style.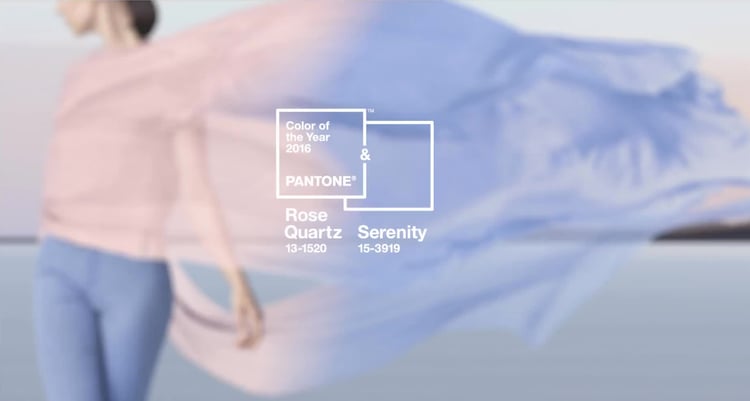 According to Leatrice Eiseman, Pantone's executive director:
In many parts of the world we are experiencing a gender blur as it relates to fashion, which has in turn impacted color trends throughout all other areas of design. This more unilateral approach to color is coinciding with societal movements toward gender equality and fluidity, the consumers' increased comfort with using color as a form of expression which includes a generation that has less concern about being typecast or judged...(via FastCoDesign)
While Pantone's 'gender blur' color selection might be more 'duh' than revolutionary, it's a major step that they even selected two colors. Maybe in the future the 'color of the year' will become a full blown palette selection. Until then, let's embrace the slightly obvious, but revolutionary, concepts Pantone is going for here.
They have also released their Top 10 Fashion Report selection for Spring. Based on these selections, color will come back in a major way in 2016. An article from The Washington Post revealed that Benjamin Moore's selection for Color of the Year went to, well, the presence of all the colors—white. This has me thinking 2016 will be calming, but colorful. Muted tones of otherwise bright and bold palettes will transition easily from Winter to Spring and back into warm tones of Fall.
Flat Imagery
Fancy shadow effects and detailed images are a thing of the past. We saw this trend early on in 2014 and 2015, with Apple's conversion to flat icons for their iOS update -- and we'll continue to see it, as flat icons provide a clean look to any design.
Typography
The classic typeface, Helvetica, while still a great option for any clean design, has played second fiddle to its more unique younger sibling, the handwritten typeface. Creating your own typeface or finding a more innovative typeface to compliment your clean design will help prevent your design from fading into the crowd. Don't forget to keep it simple—use 2-3 typefaces at the most, or refer to our Must Haves for Graphic Design Branding blog for more information on picking your typefaces.
Bold Patterns
A major recent trend is mid-century modern design. A reimagination of the 1950s style lends itself to bold prints with retro style. The use of shapes keeps this trend simple and clean, while making a bold statement. Whether it's homewares, package design or graphic backgrounds, keep an eye out for more modern patterns.
Grid Layout
Whether it's your SquareSpace website, Wordpress template or latest ebook, grids are the way to go. Grid designs lend themselves to great responsive design that adapts to fit various screen sizes. Modular design allows you to create a hierarchy of components that emphasize importance based on both size and placement. Companies like Hatch and Refinery29 do this rather successfully. Another popular option is the simplest of grid layouts—a single image. Filling the screen with a single image and a few simple elements of text can be a striking way to define your brand.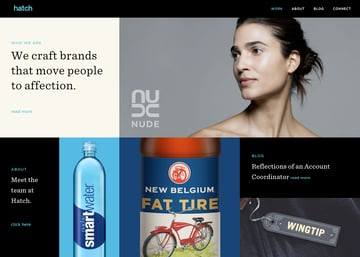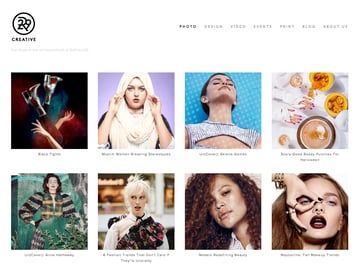 Interactive Graphics
Keeping readers engaged can not only increase the time spent on your site, but can also increase conversion rates. The use of interactive graphics, encouraging the user to work their way through an experience step-by-step, is a great way to introduce your product or service to new customers, or learn more about existing customers as they navigate their way through an experience. Try creating an interactive infographic, using interactive maps or creating a pick-your-path graphic where users select yes or no for each answer and are redirected through a series of questions. Getting creative and keeping your audience engaged are the ultimate goals.

What graphic design trends do you expect to see next year? Tell us about it in the comments below!
---