6 Networking Tips for Young Professionals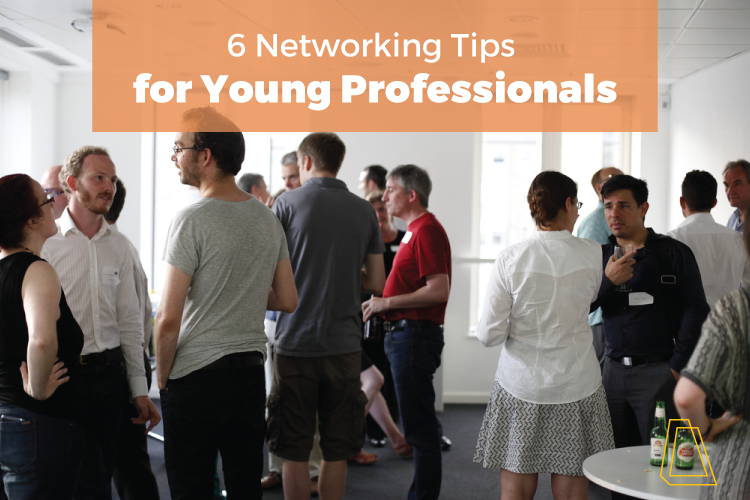 This guest post was written by Danielle Theisen. To learn more about Danielle, visit her LinkedIn profile.
__
Whether you're a young professional who just graduated from college, or are looking to make your first career move, growing your network can seem like a daunting task. However, networking is a great way to look for a job and advance your career. While it's easy to simply "connect" with people on LinkedIn, connecting in-person is a great opportunity to leave a lasting impression. Check out these 6 networking tips to help make the experience a little less overwhelming.
---
1. Prep your elevator speech.
Whether you're looking for a new job or just looking for a way to grow your network, it's important that you have a short elevator speech about yourself prepared. Prepare to introduce yourself, and give a brief overview of your job and company.
With the vast array of companies and job titles out there today, it helps to clearly and concisely explain your position, which often times sparks additional questions. Most importantly, be genuine in your introduction. You don't want to start new relationships with false pretense.
2. Set appropriate expectations for the networking event.
Before you attend the event, have a clear understanding of why you're attending. Is your goal simply to meet other professionals in your area of expertise? Are you looking to meet new people in your community? Are you looking to meet a few specific people? Going into the event with a goal in mind helps you to have a game plan for meeting new people.
3. Bring only the essentials with you.
I brought way too much with me when I attended my first networking event. It was hard for me to hold my purse, my water and shake hands in an efficient manner. Now when I go, I bring only the following:
Chapstick

Mints (especially if appetizers are served at the networking event)

Business cards

Pen

Fully charged phone (especially if you have an online portfolio)
4. When you arrive, remember you're not alone!
If this is one of your first networking events it can be easy to forget that others attending the event are also there to make connections with like-minded professionals. Networking can be overwhelming, especially if you're shy, so just remember, you're all in it together!
5. Have confidence when joining a conversation.
When approaching a group to join a conversation, join when there is a natural break in the small talk. As you join in their conversation, be assertive. Introduce yourself and shake hands with those in the group.
6. When the event is over, follow up!
If you receive a business card from someone when your conversation is over, take a minute to write something about your conversation with that person on the card. Send a follow up email to those you met and thank them for taking the time to talk to you. If you'd like to get to know them better, don't be afraid to ask if they would like to meet for coffee.

What other tips and tricks do you use at networking events? Let me know in the comments below. Want to get connected with Milwaukee marketing agency, Accelity Marketing? You can contact them now, engage with them on social media or become a monthly newsletter subscriber.