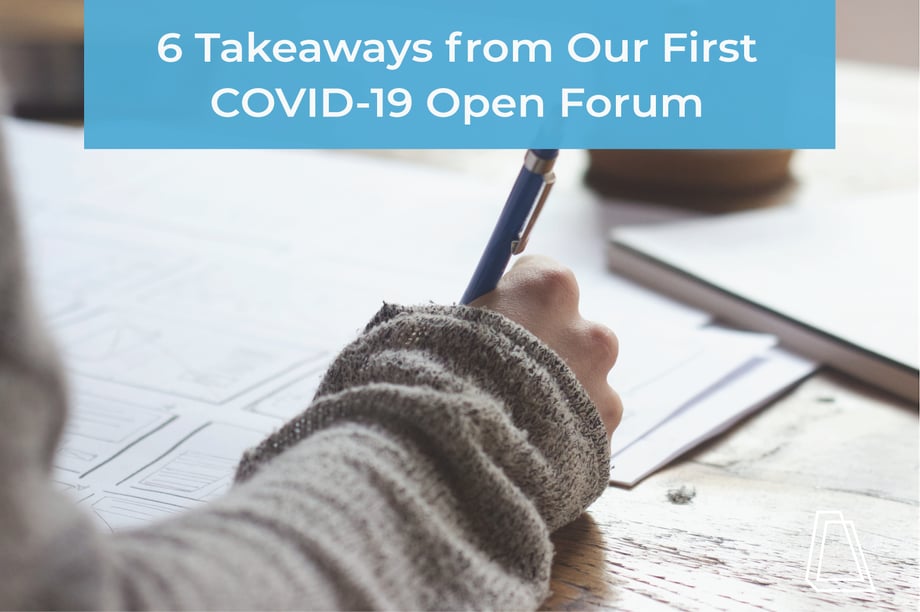 On Tuesday, we hosted an open forum to create space for discussion about the uncertainties we're facing during the current global pandemic.
Everything is changing so quickly that we weren't exactly sure what the forum was going to look like ahead of time. What would we talk about? What if our only answer was, "I don't know?"
We were blown away by the conversation that took shape. People were vulnerable. People were honest. And most importantly, people were eager to help one another.
While we're excited to continue learning from each other in the coming weeks, here are a few takeaways from our first COVID-19 open forum.
1. We're learning how to pivot in an age of uncertainty.
We've quickly discovered that many of us don't have contingency plans in place.
As the situation rapidly progressed over the past few weeks, we're all learning that trying to run "business as usual" while remote in an uncertain time isn't going to work. Some companies are seeing more opportunities than ever, but many others are having to get creative to continue serving clients and generating revenue.
During the forum, we shared some of our favorite examples of companies who have quickly pivoted their business models. Hairdressers are creating at-home dye kits. Car dealerships are bringing customers a loaner and taking the car back for repairs. Bakeries are delivering "quarantine kits." If you're brainstorming what the "toilet paper for your business" might be, connect with Rebecca Heidepriem, an experienced business coach who's providing pro-bono coaching during this time.
What can you be doing now to continue serving your clients?
2. We can still develop new business without making a sales pitch.
New business development is naturally top-of-mind when worrying about losing current clients.
We must stay mindful of everyone's different situations while keeping our foot on the marketing gas pedal. That means continuing to connect with clients, prospects and our networks.
Connection is important now more than ever and, as always, how you approach leads will set the tone for your relationship. Here are some tips we talked about: reach out to leads you hoped to meet at canceled conferences. Follow up with warm leads who aren't ready to buy yet and simply ask them how they're doing. Acknowledge that you know they weren't expecting to hear from you, but you wanted to see if and how you can help.
Make it clear that you're only looking to have a conversation, not to make a sale. Your responses will likely fit one of the following three descriptions:
Some companies are just trying to weather the storm and would prefer to wait until things are more clear.
Some companies are using this as an opportunity to evaluate conversations they've had sitting in their inbox for a while.
Some companies may want you to go fly a kite (while maintaining social distancing!).
Let people know that you're here for them. What you learn may surprise you.
3. We must focus on the human element in business.
Some of us have customers who have already reached out about suspending operations, asking for deferments or even ending formal relationships. People are panicking. They don't know how the pandemic will impact their business.
Now is the time to help people solve their problems. Find ways to add value in the short term.
Consider which free services you can offer, such as:
Connecting a client to someone in your network
Sharing free resources
A 15-minute phone call to clarify messaging
Your clients, prospects and employees want to know what's going to happen on the other side. We need to embrace saying, "I don't know." None of us has the answers. Remember to be patient. We're in this together.
4. We need to market with compassion.
We've all seen 100 different examples of how businesses are talking about the COVID-19 epidemic. There are some great and many not-so-great examples. We don't want to seem tone-deaf, but we also don't want to share the same message everyone has heard.
Now is the time to cut out any marketing that's overly salesy. Your tried-and-true approach isn't going to work. You're going to need to take extra time learning your clients' new pain points and addressing their concerns. This may require completely redoing your strategy and putting important work on pause. Do it. These are exceptional times.
If you're not sure where to start, inbound marketing is great because it is designed to offer value. Evaluate your existing inbound resources to see how they could help your clients during this time.
Have grace and patience for others—including your fellow marketers!
5. We can use this time to focus on ourselves (and on our businesses).
Many of us are talking about what we've been working on to stay healthy and stay sane as most of the country (and much of the world) is under quarantine. Some people are tackling home improvement projects or trying new fitness classes. Others are simply trying to survive amid isolation, having children in the house or worrying about family. Many of us are juggling more than one of these things.
Look for the silver lining and focus on what you can be doing now so that you can hit the ground running when we return to "normal." What projects have been on the backlog? Do you have processes that need to be reviewed and updated? What can you be preparing and booking for in-person work?
6. Honest, steady leadership is crucial.
Leaders set the tone for their companies. It's important to stay calm but to also have your tone match the gravity of the situation. Being overly-positive or trying to conduct business as usual may only cause greater stress or doubt.
This extends not only to how you treat your clients and prospects but also how you treat your employees. Employees are worried about their jobs and their families, and are adjusting to a new normal. This will naturally translate into their work.
Just as you need to adjust external marketing, you also need to evaluate your internal marketing and communications. Review your processes to ensure management is on the same page. Be transparent with your team. Look for ways to ease fears. Leaders who practice empathy will find greater success than those who don't. If you need someone to talk to about how to approach these conversations, connect with Amanda Daering, an experienced HR professional, who joined our first forum.
We're in this together.
These are just a few of the takeaways we discussed, and we heard so many more great ideas from our friends, new and old, who joined the forum. We're eager to continue the series in the coming weeks so that we can hear from you about your concerns and solutions.
Most importantly, we just want a moment to spend time with YOU.