7 Awesome Examples of Effective Copywriting in Action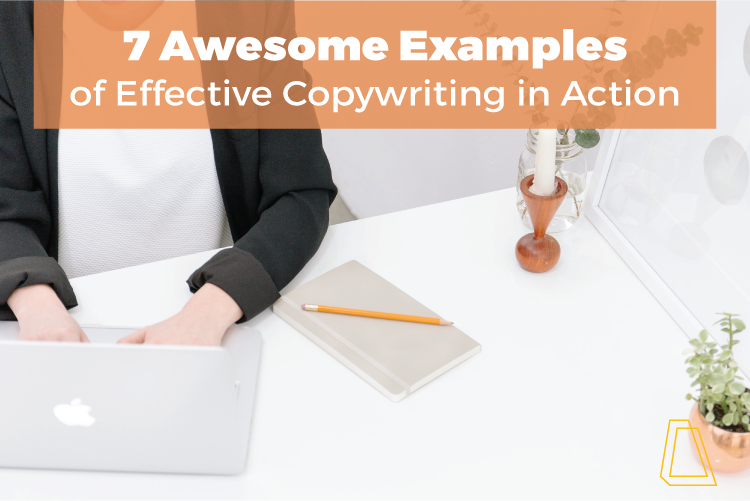 Effective copywriting is at the heart of any clear marketing message. Images attract attention, music can help retention, but it is the written and spoken word that communicates to your audience. From simple taglines to complex whitepapers, copywriting can drive action in a number of different ways. There are many companies that are known for their successful marketing campaigns, and a large part of that success is due to their talented and creative copywriters.
Copywriting must be honest, believable, get the reader involved and drive them to action. Let's take a look at some examples and what makes them so great:
---
Target is a great example of traditional copywriting with colorful and clever taglines to sort their products into meaningful categories. Take a look at their Halloween page below. Each collection, from dining to decor, features a unique headline and tagline to drive clicks.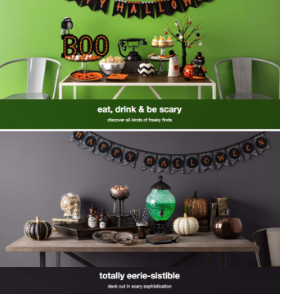 Their category pages aren't the only thing they do right. I think Target has some of the best product descriptions on the web. There are several things to consider when writing quality product descriptions, like,
Materials

Functionality

Ideas

Appearance

Special instructions

Fluff words
Target does a great job of writing a brief description in a few sentences, suggesting what a product can be used for as well as helping clear up any vagueness the shopper might have from trying to determine the characteristics from a picture alone. Fluff words such as "stands sturdily tall" evoke a sense of security and make shoppers feel good about making the purchase. Essentially, copywriting is a direct path to evoke certain emotions in a reader.
Apple has been a marketing king since Steve Jobs' iconic "Crazy Ones" commercial back in 1997. Their simple, but direct marketing messages are just as easy to understand as their user-friendly electronics.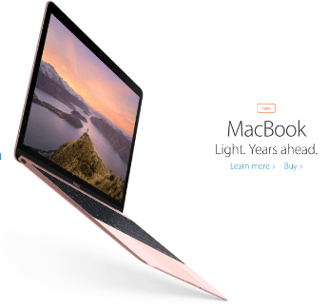 Apple's copywriting style is summed up in three words: simple, impactful and descriptive. Simplicity is often the most effective way to deliver a message. "Light. Years ahead." is a perfect example—a clever play on words describing the Macbook Air's claim to fame. It's light but doesn't sacrifice performance.
Long bodies of text may contain more details, but readers don't want to spend a lot of time reading through paragraphs to find out none of it was relevant to them. Apple's product pages are set up in a way that each feature is given it's own section, whereas a normal product description would just use bullets. This way they are able to showcase each one individually with imagery, detail and a little bit of Apple's marketing cleverness to boot. Each section also has a "Learn More" section, creating a call-to-action and guiding the reader down the funnel to purchase.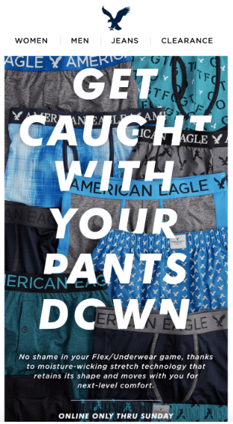 American Eagle Outfitters really stepped up their digital marketing game in 2016. Boasting an all-new urban theme featuring a lot of black and white imagery and edgy messaging, it's hard to ignore their new branding strategy. What really catches the eye with AE's marketing is the copywriting. Take a look at the email below sent out this summer. This is a clear example of a brand's willingness to be a little edgy and humorous. When dealing with email marketing, clever subject lines are essential to increase your open rate. Follow that up with a descriptive and appealing image to increase click-through rates.
Some of AEO's latest subject lines include,
"

Too Flex-y for your pants: 4 for $35 underwear!"

"Keep the (pants) party going…"
Humor sells, there's no doubt about it. However, keep in mind that in order to use this edgy tone it must fit with your brand and your audience. You must also integrate it throughout the your current marketing campaigns and future messages. A one-and-done approach is far less effective.
Our hometown heroes, Harley-Davidson USA is exceptional at two things: creating quality motorcycles and marketing that creates a collective community of brand-loyal riders. Harley doesn't just make motorcycles. At least, that's not the message they convey. Harley sells an experience to each and every one of its riders. On top of hosting annual events where their loyalists gather to enjoy each other's camaraderie, their marketing mixes functionality with emotion. Tap into the innermost desires of a rider longing for adventure and you're sure to see a Harley in their garage. A big bold headline and descriptive copy with a call-to-action button get your attention and persuades you to read on.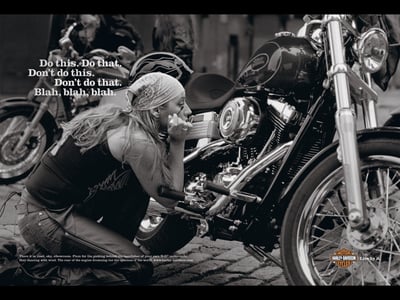 As you might expect from one of the crudest board games on the market, Cards Against Humanity uses a very sarcastic tone when it comes to copywriting. While you peruse their website, you'll find colloquial and humorous language. The cards themselves are just black and white with text, so the website doesn't utilize a whole lot of imagery. How do they keep it interesting while trying to explain how the game works? Their copy does the work for them, of course!
Take a look at the FAQ section. The questions and answers themselves are informative, but worded in a sarcastic way to appeal to the type of person who would enjoy playing the game. Their slogan is, after all, "A party game for horrible people." Their willingness to push boundaries has served them well. Bravo Cards Against Humanity. Bravo.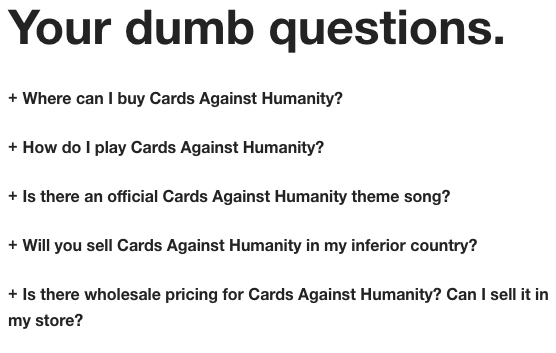 Microsoft is another marketing giant in the consumer electronics industry. Just like their main competitor, Apple, Microsoft has branding strategy down to a science. Ever since Windows 8 launched, Microsoft adopted a square-based branding theme reminiscent of window panes. The screenshot above shows a trial offer for Office 365, which includes all of Microsoft's applications. Free trials for subscription-based services are becoming more commonplace, so I think this a good example of copywriting for said practice.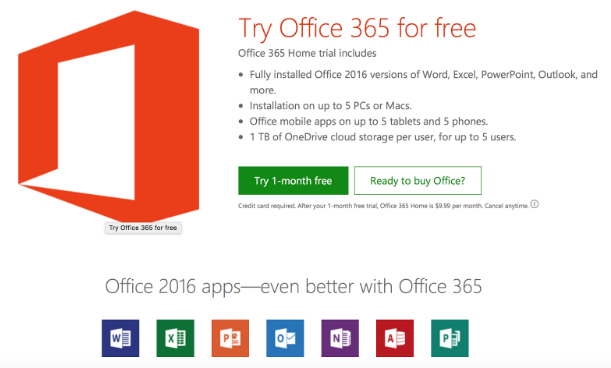 Although there's nothing flashy or fancy about it, short bullet points summarize exactly what you can expect, while the window icons at the bottom help complement the text and add a splash of color to the page. Ready to buy? Convinced to try it free for one month? The call-to-action buttons are right where you'd expect them to be!
Note: The page does note a credit card is required in smaller, subtler text below the call-to-action. It is important to include this because that is a major decision factor when it comes to these trials.
Copywriting plays a very important role when it comes to digital marketing in terms of SEO and product description, but what about print ads? Imagery is usually the main attention-grabber, but not always. This print ad by Mercedes-Benz tells a story in a very poetic way through the use of a bold headline, a clever, yet simple slogan and its narrative body copy. Notice how the text varies in size from line to line to draw your focus to words such as "A-Class," "start somewhere" and "leads somewhere." Repeated words such as go and going will keep ringing inside the minds of readers. This particular ad evokes a sense of mystery and adventure in a motivating fashion. The tag lines "Get in" and "Drive Yourself" make you want to get behind the wheel and create your own adventure, which is a typical approach for a luxury brand such as Mercedes-Benz.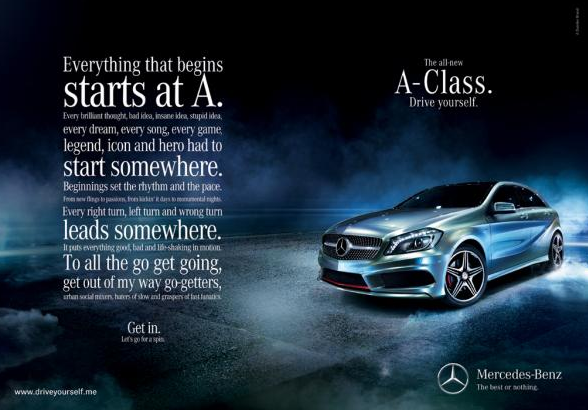 From print to digital, copywriting is everywhere. It informs, persuades and drives action. Copy can be humorous, evoke emotion or relieve pain points. These seven world-class copywriting companies have proven themselves through wit and creativity to convey messages in accordance with their overall marketing strategies. Take inspiration from these ideas to craft your next effective marketing strategy with awesome copywriting in action.

Do you have any other awesome examples of effective copywriting in action? Share with us in the comments below! Are you looking for copywriting assistance? Contact Milwaukee marketing agency, Accelity Marketing.