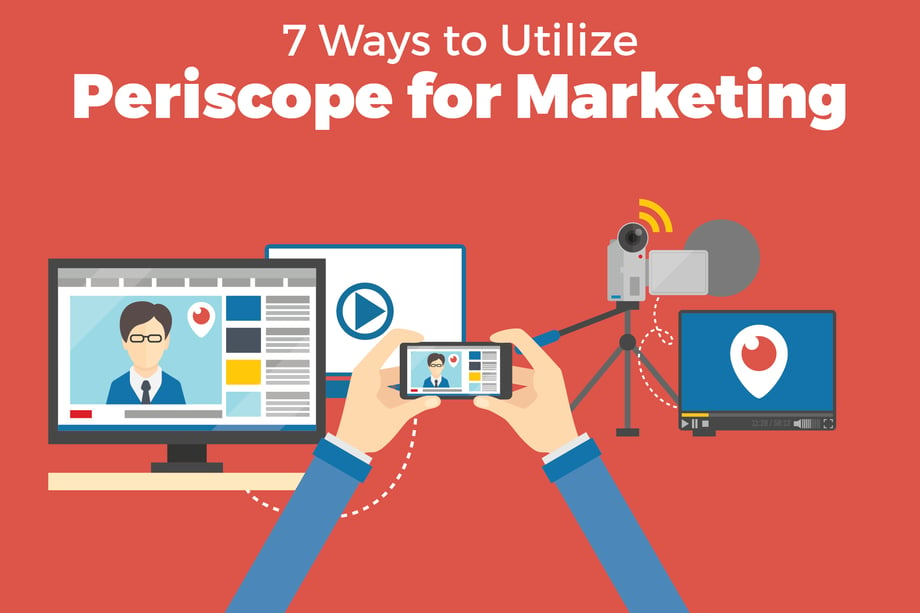 This post was written by guest blogger, Charlie Antoine. Read more about him here.
Live streaming apps recently emerged onto the social media scene and marketers are already capitalizing on this new medium. The most popular apps are Blab.im, Meerkat, and Periscope (the latter is owned by Twitter). This new form of social media opens up limitless opportunities for creativity and implementation to existing marketing campaigns.

---
All three of these apps are fantastic so it really all comes down to personal preference. Each of them have their own unique benefits but that is for another blog post. Periscope's main selling point is that it integrates well with Twitter, being a subsidiary of the social media giant.
How does Periscope work?
Once you download the app on your mobile device, you will be prompted to login using existing Twitter profile. From there, you can broadcast a video using your device's front or rear camera and microphone. Periscope will automatically post a link to the feed on Twitter. Viewers will be allowed to chat with you right on screen and send 'hearts' if they like what's going on. Periscope will save the recording for 24 hours but there are apps like Katch that will create a permanent recording.
Users of Periscope have discovered numerous creative ways to broadcast live video. Some show the world through their eyes behind the camera, and others enjoy the spotlight to talk to the world directly. No matter which side of the camera you are on, it's still an emerging platform with infinite creative applications.
Let's explore some ways for marketers/brands to use Periscope to create awareness, promote products, and engage with audiences around the world.
1. Interact with your audience.
Social media is the primary means for brands to engage with their audience. Regardless of what you're talking about, presenting, or demonstrating on Periscope, real-time engagement is a luxury brands did not have 30 years ago. Immediate direct feedback is an invaluable benefit of social media marketing. Periscope also doesn't have to be a one-way broadcast. The chat feature is a great way for 2-way communication enabling both sides to ask questions and make comments.
2. Supplement a social media/marketing campaign.
Periscope is a great tool to add to your existing social media arsenal. Depending which networks you're already using, supplementing Periscope streams is just another way to get your message out. Drive traffic to your website, Facebook, Twitter, or Google+ pages. Using a hashtag in your broadcast will work in tandem with Twitter since it will get posted anyways. It would be great to see celebrity endorsements appear on branded Periscope streams as a part of existing marketing campaigns (i.e. Lebron James for Nike).
3. Promote a product, event or idea.
Are you you launching a new product? Periscope is a great way to show off its new features, answer questions from your audience, and demo what it does. Announce upcoming events pertaining to your organization or local community. Even entrepreneurs/startups can try a 'live Kickstarter' pitch right on Periscope!
My friends at Attention Era Media have done a great example of this. To promote their documentary titled "A Billion Lives," the crew periodically broadcasted their adventures in the countries around the world in which they filmed.
4. Humanize your brand.
Social networking is already a fantastic way to humanize a brand. Imagery is proven to get more likes, comments, and clicks than regular text. Live video is the best way to literally put a face(s) to a brand.
5. Live event streaming
Don't want to sit in front of the camera? No problem. Shoot footage of festivals, concerts, and events live as they are happening. You can also share news as it develops. Developing news will likely evolve as more newscasters figure out the benefits of Periscope streaming.
Story time anyone? Share an experience, give a peek behind the scenes, share the history of the brand. Stories evoke lots of emotion so you might see a lot of hearts coming your way! Another option might be interviewing others to hear their stories.
7. Influencer marketing/Brand advocacy
It's relatively easy to find product reviews and customer demos out on Youtube. Brands can utilize influencers to speak on their behalf through Periscope. Essentially the same idea, the video is just live. Just the other day I was interacting with anchorwoman Rebecca Lowe and former USA soccer star Kyle Martino on Periscope as a continuation of NBC's Premier League Live broadcast. It was awesome!
Periscope is the next best thing to having a physical conversation with someone. It's finally being used for marketing purposes. Take advantage of the interactivity it provides. Oh yeah, did I mention it's loads of fun?!?!