How Accelity Doubled a B2B SaaS Startup's Win Rate and Generated $123,000 in Annual Recurring Revenue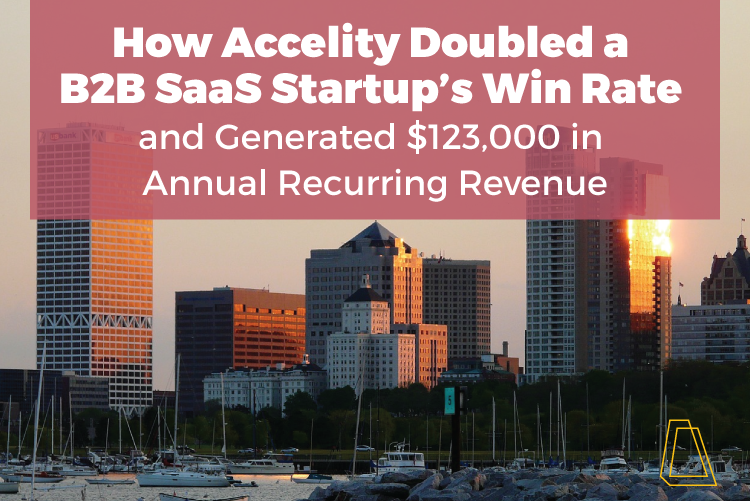 When you're a startup, you need to generate leads quickly in order to keep your company in business and reach success. This is exactly where Dynamis was when they partnered with Accelity Marketing.

---
About Dynamis
Dynamis is a technology company located in the greater Milwaukee, Wisconsin area, that offers plan design software for insurance brokers. Dynamis was founded by insurance brokers to improve the employer-sponsored health care process for both brokers and employers using innovative technology solutions.
Dynamis had about 70 customers when they decided to join forces with Accelity. Since the companies partnered, Accelity helped increase customer growth by 17%. Keep reading to learn more about how Accelity helped Dynamis's growth soar.

The Need
While Dynamis had a solid client base, they needed to grow nationally, and their top goals were two-fold: improve their web presence to make Dynamis prospects and clients believe in the company and its mission, and generate more quality leads. Dynamis previously worked with three other area marketing agencies but didn't see the results they needed, and had no clear marketing strategy to accomplish these goals.
That's when Accelity stepped in with an inbound marketing strategy using HubSpot.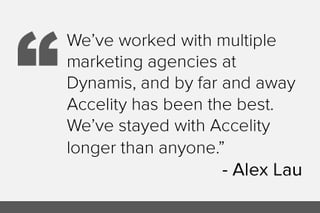 The Strategy
Dynamis partnered with Accelity to focus on rapid growth and lead generation, and together they set aggressive goals to go from very few inbound leads to 50 marketing qualified leads each quarter. Working with a startup budget, Accelity developed an inbound marketing strategy to drive leads to the Dynamis website and convert them into sales.
With extensive industry knowledge—two Accelity employees previously worked at an insurance software company—Accelity got right to work creating top-of-funnel content that instructed insurance agencies on the ways to grow their businesses, increase efficiencies and retain clients. This content was rolled out on the Dynamis website monthly via:
A series of blogs

Targeted emails to a small but rapidly-growing list

Value-added content offers like ebooks, infographics and checklists

Advertising with a focus on SEO
More than anything, Dynamis wanted to drive leads that converted on their website by having a "larger than life" web presence that would help people looking for a plan design solution easily find them online.
The Results
Accelity's marketing strategy drove sales at Dynamis with substantial increases in the following metrics:
Web Traffic
From the beginning of Accelity's engagement with Dynamis, there has been a clear increase in traffic. When Hubspot implementation began in October 2015 (a year after the two initially partnered) Dynamis needed to boost website visits. In the first full month after Hubspot implementation, Dynamis had 588 website visits. By the end of Q1 2016, four months later, the B2B SaaS startup's website visits were 3.3x greater.

Engagement and Nurturing
Accelity began creating inbound marketing content for Dynamis at the tail-end of 2015. The content offers that Accelity created for Dynamis over a six-month time period led to 668 downloads. Whether these were first-time visitors, or leads in the nurturing process, these downloads provided Dynamis with more information about their visitors and ultimately created warmer leads for their sales team.


Marketing Qualified Leads
Through lead generation and nurturing efforts, Accelity provided Dynamis with 203 marketing qualified leads since the beginning of their partnership. What's more, so far in 2016 Accelity consistently exceeded their aggressive MQL goal of 50 per quarter.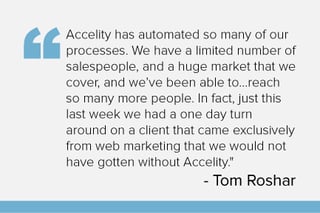 Consultation Requests
Every salesperson's and marketer's dream is to have prospects who are so excited about what they do that those prospects reach out to them to get a consultation or demo, and purchase.
Since implementing Hubspot in October 2015, a year after Accelity and Dynamis first began their engagement, Accelity was able to keep track of incoming requests and found that Dynamis received 62 direct requests for a demo of their plan design tool in 8 months. That's almost 8 people every month that wanted a consultation and/or demonstration from the Dynamis sales team.
Opportunities & Customers
When the engagement began, Dynamis was manually building their pipeline strictly through inside sales activities. Accelity stepped in and helped Dynamis generate 164 sales opportunities and 11 new customers.

Annual Recurring Revenue
Accelity's partnership with Dynamis led to over $123,000 in annual recurring revenue for the growing startup.
With all of the above improvements in marketing metrics, Andy Nunemaker, CEO of Dynamis, shared the following about Accelity's process: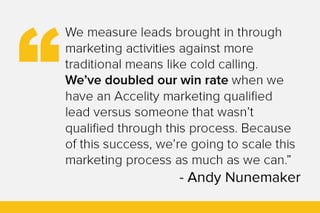 NOTE: After we interviewed Dynamis initially about their growth, they informed us that they've actually tripled their win rate when the lead is marketing qualified.


Are you looking for the kind of results Dynamis is seeing? Contact Milwaukee inbound marketing agency Accelity Marketing to connect.