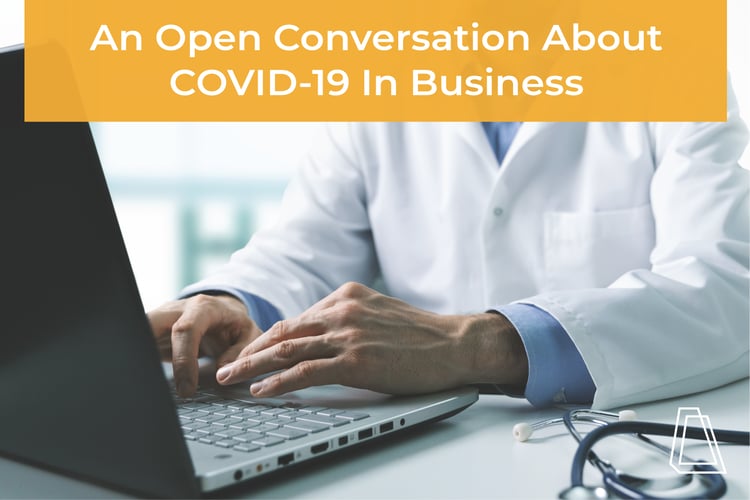 In case you missed it, Accelity is hosting an open forum for business owners, marketers, sales professionals and the like to come together while we navigate the COVID-19 crisis together. Below are the frequently asked questions that come up during these forums. Be sure to check back often—new content is being added all the time the more we meet!
Small business management
Q: Does my business need a contingency plan? What are other businesses doing?
A: If you don't have a contingency plan, now is the time to build one. In our forums, we've discussed why they're so important. In addition to protecting your business, they also provide peace of mind—something you can control in the chaos. Even if you have a general plan in place for your business, but have never used it, now is a good time for review. Your plan should:
Identify business risks related to COVID-19
Prioritize the highest threats, e.g. customers leaving/pausing, employees becoming ill, loss of productivity, etc.
Build out your step-by-step thoughts on how to address each risk
Still unsure where to start? Leverage this blog or connect with Rebecca Heidepriem, an experienced business coach currently providing pro bono coaching during this uncertain time.
Q: I've heard a lot of companies are pivoting their business to offer different products or services. That seems realistic for some companies, but I'm not sure it makes sense for me. How can I decide whether to pivot or not to pivot?
A: Right now it's not so much about changing your entire business but changing how you're marketing your business. A few examples of how people attending the forum are doing this include:
Shifting the focus from selling items to helping their customers stay in business. One attendee's company is hosting a webinar for customers featuring lawyers and accountants to explain small business resources.
The sales team of one attendee's company that provides food and beverages to supermarkets and small farm shops is shifting their focus to help their clients stack the shelves and load up at warehouses. When they asked customers, "How can we help right now?" the answer was that they needed help with their supply chain. The attendee's company stepped in to help.
The daycare facility for one attendee's children is providing free DIY at-home projects so that the kids have productive activities while the parents work.
The biggest takeaway is to remember that you need to add value to someone's day and maintain a human connection while talking to prospects and clients.
Q: Many small businesses are sifting through applications, paperwork and changing rules. Do you have a recommendation for the best resources to navigate different relief options?
A: According to our forum speaker Matt Yerkes, the best thing to do is contact your financial advisor. That person will be your best resource during this time.
The U.S. Small Business Administration is your go-to resource for small business relief opportunities. You can find information about their programs at SBA.gov. Learn more about protecting your small business financially on our blog.
Q: How should I manage payments for third-party vendors?
A: The common answer among attendees is to make sure you are communicating with everyone and being honest about your situation.
Rebecca Heideprim suggested reminding vendors that you are a small business, that you've applied for a loan and that when the money comes in they'll be paid. This way, they know that it might be delayed but that they are on your list when the money arrives. Other participants suggested working with vendors to create longer billing cycles or to ask if you can have a payment plan for a few months. Now is the time to have conversations; the worst they can do is say no.
On the sales side, it was suggested to talk with your clients and think outside the box when it comes to making new deals. See what your clients need - for example, signing a 2-year contract with a discount because the lifetime value of a customer is important right now.
It's important to keep in mind that people are going to remember the choices you made regarding customers, employees, social media, etc. during this time. People are going to remember if you were nice to them - and that impression will last long after this is over.
Q: Are SBA loans only going to small businesses with "the most assets?" What guidelines does my business need to meet?
A: Michelle Scholbe, a financial speaker who joined us for the forum, says that loan relief is not based on what you have, but rather that your business is in need. As soon as you submit a complete application and can demonstrate need, there should be no discrimination between how big or small your company is. That said, companies are in greater need of relief (e.g. have more employees) may be prioritized first.
To apply, you'll need to work closely with an approved Small Business Association lender. You may already have a relationship with one through your other small business financing, such as your bank. While there is an application form, the process will differ depending on which lender you use.
Q: If I'm unable to secure relief funding for my small business, where should I focus my efforts to cut costs and generate revenue?
A: First, if your loan application for programs like PPP and EIDL was rejected, don't quit. Things are changing quickly, and the government is still working to secure more funding. If you were working with a larger bank, consider finding a smaller community partner. They'll be more likely to prioritize your business.

In the meantime, work on designing a contingency plan for your small business. If you haven't already, create a contingency plan. Work with your leadership team to map out your priorities and where you can cut costs. Having a plan will help you to know how to respond as your situation unfolds.

Finally, if you haven't had to close your business completely due to government mandate, stay aggressive on sales. Your value proposition is based on the fact that your customers need you. Continue to build relationships and make connections. Find ways to offer your expertise or services to prospects, even if it won't lead to an immediate sale. People will remember how you treat them during this time.
Q: Is it smart to launch a startup at this time?
A: Our financial speakers Matt Yerkes and Michelle Scholbe had this to say about launching a new business:
The key to starting any business is to first obtain a safety net/emergency fund of 3-6 months of expenses. If you qualify for the PPP (Paycheck Protection Program) loan, then your own personal payroll and expenses can count for this loan.
A few other helpful tips if you are starting a business during all of this:
Do your marketing as cheaply as possible. You can find great freelancers on Fiverr, for example, to perform design and website work for you. Skipping marketing altogether is not an option, but you can find cost-effective solutions.
Put out educational information about how you can solve your audience's problems and meet their needs. This is not sales-focused content, but rather helpful information.
Offer customers access to a free trial or demo of your product or service. This way you can collect testimonials and feedback that will help you launch when the timing is better.
Refine and tweak your business materials while you have this extra time. Now is the perfect opportunity to make sure you have an excellent business plan, marketing plan, etc.
Ask your network for help. There may be experienced people looking for work right now that can help your business grow.
Overall, now is not a bad time to start something new. There are many things that you can work on, and value you can provide, to help keep your business running.
Marketing
Q: What are your thoughts on how a possible short-term recession will impact marketing plans?
A: Like all challenges, this presents a tremendous opportunity for those that are willing and able to adapt. Some examples by other brands brought up in our forum included:
Another way to approach this is by scaling up your alliance strategy. This will help you expand your brand footprint and demonstrate a community connection.
Q: How do we go about marketing in a compassionate way so that we don't seem tone-deaf?
A: Lead from a place of empathy, value and connection. It's more important now than ever to show people you're there for them and that we are all in this together. One of the ways you can do that is by providing your expertise without making someone feel like they have to buy from you or hear your pitch.
A participant in our forum talked about providing prospects with free content that helps them in their current situation can go a long way.
Now is the time to focus on being human by helping others, cutting out anything openly salesy in your message and remembering we are all going through this together.
Q: How can we leverage webinars from a B2B marketing perspective?
A: Now is the time to use webinars to establish yourself as an industry expert. It is not the time to sell. Use webinars as an opportunity to educate your audience and demonstrate that you know the solutions to their problems.
People will remember you for giving them (free) beneficial information and best practices. When the economy fully resumes, they will think of you because you gave them value without trying to sell to them.
Helping via webinars is educational outside of COVID-19 as well. You can use the educational content you are creating to create evergreen resources for your customers.
Sales
Q: How should we approach a sales call with a new lead? How can we address current issues without taking advantage of the situation?
A: Now is the time to pivot. A few ways that our forum participants suggested addressing this are:
Cutting out the sales talk and instead focusing on building connections with people
Seeing how you can help people by building a bridge to relevant contacts and resources
Focusing more on the person you are talking to than the product you are trying to sell
Addressing the pain points to see how you can help—if it's the right time, the sale will come naturally
Accelity's sales representative Mikey Henninger suggested reaching out to a prospect even if you know they might not be ready to talk partnership with you for another 10 months. Check to see how things are going for their business and offer 15 minutes of your time to talk through the situation. Identify opportunities to help them address any pain points. If you can provide services pro bono, consider doing so.
Check out this post for more tips on selling during COVID-19.
Q: What about new business development? Have you found any effective pivots/approach changes?
A: You can still work on new business development, but tread lightly and make sure you're marketing with compassion during this time. Rather than focusing on selling the product, try making a human connection with the leads and find ways to add value in the short term.
During our forum, we discussed a participant's construction company that is struggling because customers don't want others in their homes right now. This company is looking to provide value to their potential customers by offering educational resources such as ideas for simple DIY updates they can do during this time. When customers are ready to resume business, they'll be more likely to think of this company.
Q: What advice do you have for networking now that we can't attend conferences or trade shows? How can I reach out to people I hoped to meet in-person?
A: Conferences are crucial sales opportunities. Despite not being able to attend, you can still effectively communicate with those attendees. Many conferences and trade shows send out attendee lists months in advance, and the ones who don't typically have last year's attendees posted on their website. While you were hoping to reach out in person, you can still connect with other "attendees" on LinkedIn to offer ways to provide value to their business.
Some organizations are recreating the conference environment by hosting webinars instead of conferences or creating virtual tradeshows. These events feature "breakout rooms" with different topics so that everyone can have focused conversations on subjects that speak to them.
Meanwhile, some businesses are sending would-be attendees, clients and employees the swag they would've received at the conferences. Receiving a present in the mail is guaranteed to lift spirits!
Q: How should I be leveraging LinkedIn during this time?
A: You can still find ways to be active on LinkedIn and continue to make connections. It may not look the same, but you should still leverage this communication/networking tool.
It's important to be transparent about who you are. When posting, combine updates from your personal life with your business posts. Be more personal and genuine with your posts, and remain sensitive to the situation.
For example, a lot of companies are getting traction on posts that showcase their employees. They are highlighting employee experiences with their families and pets and how they are working from home. These posts resonate because everyone can relate to the content.
One of our attendees is promoting and hosting fun virtual events. The company hosts a Wine and Whiskey Wednesday featuring trivia. One topic? The History of Toilet Paper. Light-hearted events like these help build connections outside of strictly networking.
Leadership
Q: How do you keep consistent communication with employees?
A: Keeping a good internal culture is especially important during this time. This means that people want you to be transparent; they don't want fluff. Ambiguity is uncomfortable, especially in a crisis. Show your employees that your business is a united front to give your team confidence.
CEOs and leadership should make it clear to employees that they don't have all the answers—they are navigating along with everyone else. Remember, it's okay to say, "I don't know" as long as you make it clear that you are finding answers and you have an open line of communication. Have regular check-ins, make sure your leadership team is communicating the same message, lead (don't micromanage) through the crisis, and have a consistent feed of information.
Q: How much communication is too little—or too much?
A: Many participants have offered insights into how they are communicating during this time. Examples include:
A weekly team meeting to discuss major topics and give updates on changes that affect the business.
Having leadership send a weekly reflection to staff, personal and work-related
1:1 check-ins with the leadership team and employees to connect on timelines and workloads
It's important not to micromanage during this time. Set up systems for making sure that your team is being productive and achieving your goals. One way to do this is to include your team in the conversation and asking them what they think is working for them or how communication could be improved.
Q: How are others keeping company culture and morale strong?
A: One forum participant, who manages a sales team, encourages her employees to make a schedule and stick to it. Each night she has her employees send her their schedule for the next day, and she shares hers as well. The schedule not only includes work items but also time for breaks and fun activities. This is not only useful for accountability but also serves as a point of connection outside of work.
Another participant updated his weekly team meeting to a shorter daily meeting to check-in on all of his employees. Other members are incorporating virtual happy hours or gaming events with their team. One attendee suggested having a Friday DJ party where a different team member creates a playlist for their weekly happy hour. Finding low-pressure ways to connect can help team members feel positive about their work and their support system.
Q: It's hard to do any planning when we don't have clear re-start dates. What can I be doing now?
A: Guest speaker Matt Mueleners suggested that you use scenario planning. Create a narrow view for you and your team based on the factual information that you do have, and then make a plan around that. If you have clear plans for all the possibilities, with ways to remove the ambiguity, people feel more comfortable to make a decision.
Anna Oakes, another guest speaker, suggests that you design three scenarios for how to move forward toward your goal. Create a plan of action for each scenario. Then, find the commonalities among all three determine what you could be doing THIS WEEK. Focus on the right now and take it each week at a time.
From a leadership perspective, you need to do two things in this situation:
Trust your team and let them put out the little fires, while you focus on the future and strategic planning.
Provide resources and encouragement to help your team utilize their strengths and make everyone effective in their role.
Find more of Matt and Anna's advice for leading during a crisis on our blog.
Q: What can I be doing now to evaluate my current processes? What strategies would you recommend for ensuring my processes are effective?
A: Guest speaker and Lean Six Sigma Black Belt Jason Sayen recommended that managers use a Six Sigma technique called the "5 Whys" to evaluate processes. The 5 Whys helps you analyze the root cause of an issue.
Maybe a problem you're seeing is that it takes too long to close a new client. Why? Because a lot of people are involved in the process. Why? Because we want prospective clients to meet the entire team. Why? By roughly the fifth "Why?" you can arrive at the root of the problem.Another strategy is to write down and map every step of your process (find Jason's presentation on process mapping here). Documenting every step will naturally encourage you to ask why you perform that step, and will help you to spot any inefficiencies in your process.
Work-life integration
Q: What else can we do to interact outside of video calls?
A: Now more than ever it's important to stay connected to others. Many people have turned to video conference calls or check-ins. A few other ways to keep connected during this time include:
Sending physical letters to friends, families, and clients.
Creating care packages for customers and clients.
Finding a shared interest outside of work to form connections. For example, one attendee loves plants and would share photos of how her plants are doing with other plant lovers.
Instead of stopping your marketing, which could make your audience feel like you only care about sales, stay connected with them by checking in, giving advice, and providing educational opportunities.
Remove the professional "veil." Connections are becoming more personal, so don't be afraid to ask how the other person is doing and how their families are doing.
Q: How do I separate work from my home life?
A: We had a lot of great tips during the forum about how people are balancing their home life and their work life. Here are a few suggestions that we found helpful:
Create a dedicated workspace. Make this different from where you relax, take breaks and eat your meals.
Schedule breaks into your workday—including a lunch—away from your computer. You're used to getting up and talking to coworkers and walking to get lunch, so make sure to incorporate similar breaks.
Keep your routine and schedule the same as much as you can. For example, if you're used to working out in the morning, try to continue that habit.
Most importantly, be flexible with your new normal. You're in a different environment so you may need to adjust to interruptions and inconveniences. Have grace with yourself and anyone else in your space.
Q: How can I stay positive with everything that's happening?
A: Although certainly difficult, it's important during this time to maintain a positive attitude. Being positive is contagious, so being upbeat when interacting with your co-workers or during client calls will help spread that energy. Hopefully, you'll make someone's day a little brighter.
Recognize what you can and cannot control. Let go of "normal." Do your best to create a schedule and to stick to a routine. You may not be in your best business attire, but make sure to have your video on during calls to make those face-to-face connections. Do what you can to support your community, personal and professional. Be compassionate with yourself - you're working in a new environment and routine, so taking breaks and adjusting is okay.
Q: What are people going to do if the Internet goes down, or slows down massively?
A: If it comes to this, we will have to live with it knowing that the situation is out of our control. However, there are other ways you can plan to get work done without the Internet:
Brainstorm a backlog of things you could do to work on your business
Focus on content and other items that don't require the Internet (we can all still write content using Microsoft Word or a similar program)
Do what you can on your smartphone
Use the time to grow professionally by reading industry and business books
HubSpot has a blog post with suggestions of some of the tasks you can work on when you don't have access to the Internet.
Q: Do I need to be worried about cybersecurity risks while working from home?
A: It seems crazy to think that someone would want to attack your business, but attendees on our weekly call can attest that it's happened to them. Between Zoom bombing and phishing scams, hackers are working overtime while we work from home.
Using a virtual private network (VPN) is a great way to protect yourself while on your home network. It requires a subscription, but is worth the price for protecting your business. You can also encourage employees to run a security check on their accounts and enable two-factor authentication. Always add a password to your Zoom meetings. Consider encrypting your laptop and other devices.
Join us for our weekly COVID-19 Open Forum every Thursday at 11:30 am CT, where we discuss all things marketing, strategy and more. Sign up with the button below
To learn more about past and current forum moderators, follow them on LinkedIn: