B2B Lead Generation: Accelity's Laser Focus in 2017 and Beyond
---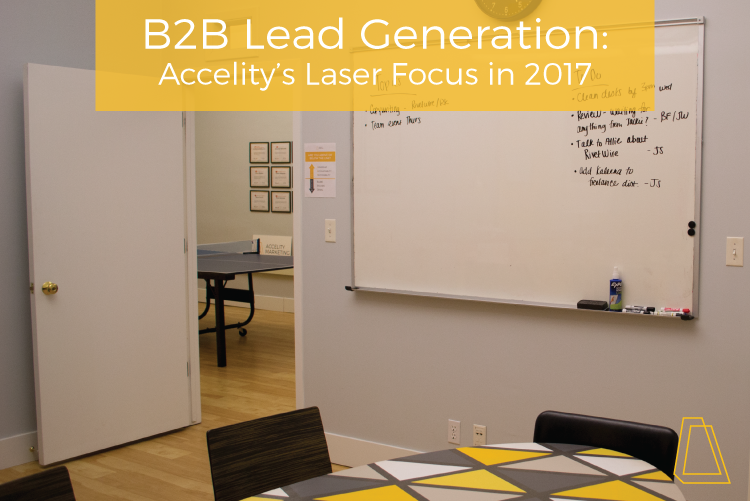 This month, Accelity celebrates an anniversary: four years ago, I landed Accelity's first client. It was a small engagement at first that grew into more. Over the following year, I experienced the ups and downs of owning a new business—some weeks I had more work than I could handle, other weeks I had nothing to do. Some weeks I was ready to cry from lack of sleep and stress, other weeks I pondered getting a bartending job.
As a consultant, I had little grasp on the future of my business. Who did I want to work with, and why? I interviewed for random jobs, including one position editing a book filled with advice that I wouldn't give, views I didn't agree with and lined with quotes that I hated. I just wanted money.
The Classic Agency Struggle
As my consultancy evolved into an agency, I saw that agencies of all sizes struggle with the future. They have a hard time identifying who they want to work with and saying no to everyone else, focusing on work they're good at and saying no to the rest. I realized that when an agency says yes to all clients and all work, both parties are negatively impacted. Companies spend money inefficiently—it would be much better spent with an expert than a "do-it-all" agency—and at the agency, frustration goes up and morale goes down as employees attempt to solve problems outside of their expertise.
I decided that we would focus. Say yes to B2B customers with businesses of a certain size and makeup, and no to the rest. Yes to digital and inbound marketing, and no to the rest. Over the past few years, we've done a pretty good job, but this year we've decided to take it a step further.
B2B Lead Generation: It's What We Do
In 2017, we've decided to laser-focus on what we're good at—B2B lead generation—and nothing else. Here's why:
1. It's easier to track results. Startups have a hard time investing in marketing because who really knows the value of it? Small businesses spend tons of money on untrackable marketing initiatives—a fancy website or a really, really nice logo—and wonder why they fail. For a startup, the only thing that should matter is money, and with guaranteed qualified leads, small businesses can be confident in their marketing investment.
2. The decision-making burden is reduced. Founders have a lot of decisions to make, and day-to-day marketing tactics shouldn't be one of them. We've found that many companies allocate marketing dollars toward immediate needs, like trade shows or ads, instead of activities that benefit them long-term, like inbound marketing. With Accelity's new packages, our founders provide industry knowledge and valuable input, then we pull the trigger on tactics that drive results. This allows us to act in the best interest of our clients and use our years of experience to generate qualified leads and sales.
3. Marketing is more accessible to startups and small businesses. Inbound marketing is a big investment and it typically requires somewhat expensive marketing software. Truth be told, inbound with Accelity is no different (our clients are required to use HubSpot) but we'll show you exactly what you're getting and how we'll drive results before you ever buy.
With Try, our HubSpot trial package, we'll develop a campaign and drive real leads within a 30-day HubSpot trial. If you don't see the results you desire, there is no further commitment. Try helps startups understand their investment before signing a contract (and our entry-level Start package pricing is startup-friendly, too).
We're so excited for 2017—team Accelity can't wait to provide the attention and deliver results that small businesses deserve. Questions? Head over to our pricing page to read our FAQs, or register for our next webinar. Comments? Want to discuss more? Leave a comment or reach out to me at jackie@accelitymarketing.com.