Best Competitive Intelligence Solutions for B2B Sales Teams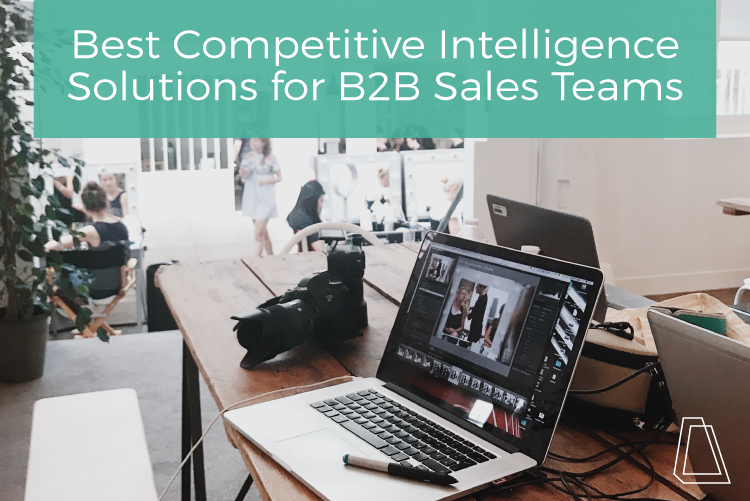 Competitive intelligence solutions have become increasingly popular as companies look for an edge against their competition. While competitive intelligence means different things to different people, its ultimate goal is to help businesses make smarter decisions and improve performance. Below are a few of the top competitive intelligence products and services that your B2B sales team can benefit from:
CI Radar is an all-in-one competitive intelligence solution for businesses. CI Radar cuts down the time it takes to collect competitive data by monitoring products, competitors and keywords mentioned in documents and articles, so marketing and competitive intelligence teams can spend more time analyzing the data. In fact, every client has a dedicated analyst that specializes in the client's industry. The result is a service that allows businesses to stay ahead of the competition.
CI Radar's origins are rooted in a scary, but true, story. CI Radar's owner, Mark Van Laeke, worked at a company that was blindsided by a new product put out by a direct competitor. That new competitor almost put the company out of business because there was no knowledge that the emerging competitor even existed. During that crisis, Van Laeke saw a huge need for competitive intelligence technology, so no company would ever have to go through a situation like that again.
This unique situation helped Van Laeke identify additional gaps in other competitive intelligence technologies to provide a top product and service combination, which includes:
Streamlining basic research tasks

Providing proactive updates

A dedicated data analyst

Customizable delivery frequency of information

Fact-checked alerts

Content intelligence of public content (that goes beyond webpages)
So, what does this all mean in practice? CI Radar shared that they've saved one of their government contracting customers 8 hours per week on basic tasks. CI Radar distributes intelligence to entire company, and stays on top of updates without the customer lifting a finger. This means CI Radar's customer doesn't have to bring on an additional employee or increase spend. The cost of a new employee to do this work would be about $70,000/year—and CI radar is about 1/7 of that cost. The efficiency and cost-effectiveness for this customer is incredibly impactful. This time and cost savings is the reason why this customer has stayed with CI Radar for 7 years.

Klue is a competitive intelligence platform with end-to-end service. The company collects intel for customers to create "sales battle cards," a deliverable that makes them stand out from competitors. Klue's unique differentiator from other competitive intelligence services is that they focus on competitive analysis and sales enablement.
If you're a product marketer or part of a competitive intelligence team that delivers information to sales, you'll find value in Klue's services. Klue works in many different industries, but typically has the most impact for enterprise companies with a large, distributed salesforce.
When Klue's competitive intelligence is put into motion, the results speak for themselves. For example, one of Klue's clients, Dell EMC, has a large sales force of about 1,000 employees, and needed the ability to distribute timely competitive content both internally and to their 10,000+ partner companies. Klue bridged the gaps for Dell EMC by providing:
Integrated workflows

that notify sales when competitor information is tagged

Easy collaboration

internally and with partners

Instant insights

tracked in real-time, allowing Klue to keep sales battlecards relevant
Ultimately, Klue helped Dell EMC's competitive intelligence team increase its competitive knowledge from 12 competitors to 80. They've also saved the client time during data collection, as well as shortening the sales cycle and increasing sales close rates. It's a win-win.

Founded in 2000, Shift Central's customized services and platform provide industry knowledge based on each client's needs. They believe "market intelligence is most valuable when it leads to client action," so they work to share the most timely competitive intelligence with their clients.
If you're looking for a market intelligence service provider, Shift Central is especially knowledgeable in the following sectors:
Health and life sciences

Banking and financial services

Investment funds

Professional services

IT/telecom
Meltwater began in 2001 and focuses on monitoring digital news and media intelligence to gather insights and identify trends early.
Meltwater is especially well-versed in the PR, communications and marketing industries, and provide the following:
Brand and campaign reach measurement

Connections with industry influencers

Insight into competitors
The company also has executive and enterprise solutions that help reduce risk, free up time, and manage the flow of information.
Does your company or B2B sales team use one of the above competitive intelligence solutions? If so, share your feedback in the comments below. Did I miss another quality solution? I'd love to hear from you, too!
If you're looking for additional B2B sales tools to help you drive revenue, check out our B2B Sales Tips kit.