LinkedIn Tips To Make Your Presence Count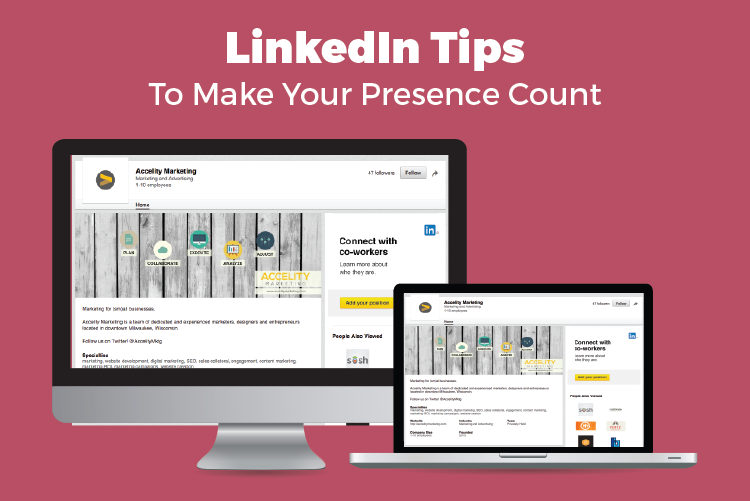 For companies that sell B2B, having a LinkedIn presence by posting content and advertising is the perfect way to reach executives and other decision makers. Raising awareness of your business on LinkedIn can be cost effective, and it shortens your sales cycle by delivering warmer leads.

3 ways to make your content count
Posting the right content on LinkedIn can have a powerful impact; this social media platform has an audience of 65 million business professionals—and nearly 50% of them have decision-making authority at their companies. There's no better way to get in front of the right audience, especially if you sell products or services to other businesses. Here's a few LinkedIn tips to grow your LinkedIn presence by making your content count:
1. Don't just think about your strategy. Write it down.
Just like your business plan, your marketing strategy, your new years resolutions and really any other goal, it's important to outline what you'd like to accomplish and document it. How would you like to portray your business on LinkedIn? Because it's more professional than other social networking sites, it's important to keep your content professional, too. Be sure to add your opinion to spice up the content a little bit.
2. Employ some tools to feed you content.
Just like on every other social media site, the easiest way to find content is to make it come to you. Set up a feedly account and search for relevant blogs and news sources with content you like. Repost content from LinkedIn News. Connect with industry experts and other content curators that you like and share their content. Chances are, they'll interact with your content as well—a win-win for both of you.
3. Sick of curating? Create content, too.
I know, I know—it's easier said than done. However, most marketers today are curating content. Not all of them are creating original content themselves. Start slow—set up a blog and vow to write every week or two. It doesn't have to be often to be extremely powerful. Not sure where to start? This article on A Beautiful Mess is a fantastic place to start.
Bonus tip(!) about advertising on LinkedIn
Just like Facebook ads, advertising on LinkedIn is both precise and flexible. Rather than using mined information to target an audience, LinkedIn takes advantage of user-provided data, making the tool that much more powerful. Here are a few quick tips to get started:
Decide who to target. Are you looking for C-level executives or someone else? LinkedIn allows advertisers to target by job title and function, industry and company size, and seniority.
Choose whether you want to pay per click or impression. There are strong arguments for both; it may make the most sense to test both to see which is most budget-friendly for you.
Figure out how you'd like to advertise. Of course, this will depend on your resources - but ads with photos are often more effective. LinkedIn allows advertising with a combination of text and images, text only and even videos.
Read all the details on LinkedIn advertising in this Hootsuite blog.
Do you feel ready to get amp up your LinkedIn marketing presence? Are there any other advanced techniques you'd like to share? If so, feel free to comment below or contact Milwaukee marketing agency, Accelity Marketing.