The 3 R's: Cut Down on Content Marketing Waste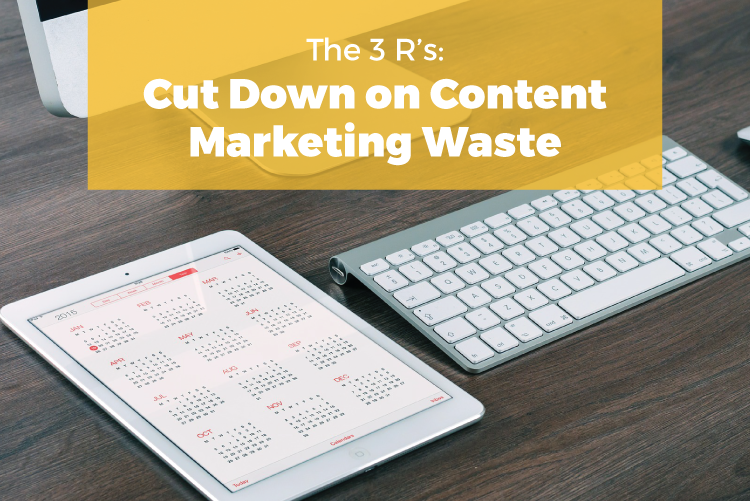 When I was younger, the three R's were pounded into my head. You've heard them a million times: reduce, reuse, recycle. Now, your mind probably relates this phrase to environmental protection, but the phrase can be applied to content marketing, too. Here's why:
Content marketing is full of waste.
It's harsh but true. Just like a salesperson has a sales goal, marketers also have goals to hit. Unfortunately, sometimes these goals lead marketers to publish content for the sake of hitting a deadline. I'm in the camp that says put out content only as often as you have something valuable to talk about, regardless of what that timing looks like. Accelity publishes blogs two to three times a week, and while we know we could post more, we make sure the blogs are darn good every time they're posted.
If you're similarly sick of all of the fluff, follow the next steps to cut down on content marketing waste and increase value to your readers.
Reduce content overload.
I already touched on this a bit, but look at your content marketing schedule. Are you pushing out a few ebooks and whitepapers per month and one or two blogs per week to go with them? If you don't see value in each of these activities, reduce the amount of content you're publishing. This advice is contrary to a lot of the content marketing advice you've probably heard, but often an important step in increasing value.
Reuse content to amplify impact.
Are you promoting your content like you should? I've seen a number of my small business clients make the same mistake: they write a blog, tweet about it once and then see what happens. Traffic numbers generated in the following hours or days may be the only traffic that blog sees. Reusing your content amplifies your hard work:
Continue to promote your content at a pace you choose. Call your blog new for a few weeks, then a month later, "replay" your most popular blogs from the prior month to increase readership.
Partner with complementary websites and thought leaders in your industry to republish your blogs. This increases awareness of your company and content by introducing it to a brand-new built-in audience.
Recycle older content.
Is that amazing whitepaper that you wrote a couple years ago just sitting in the archives on your website? Recycle the content by pairing similar structure and copy with new research and design. This gives your content a fresh new face but while decreasing the amount of time your marketing team needs to create a concept, research and get it out the door. Sounds like a win for everybody, right?
Has your company taken steps to reduce content waste? Do you have anything to add to the steps above? If so, I'd love to hear from you. Please leave a comment below!