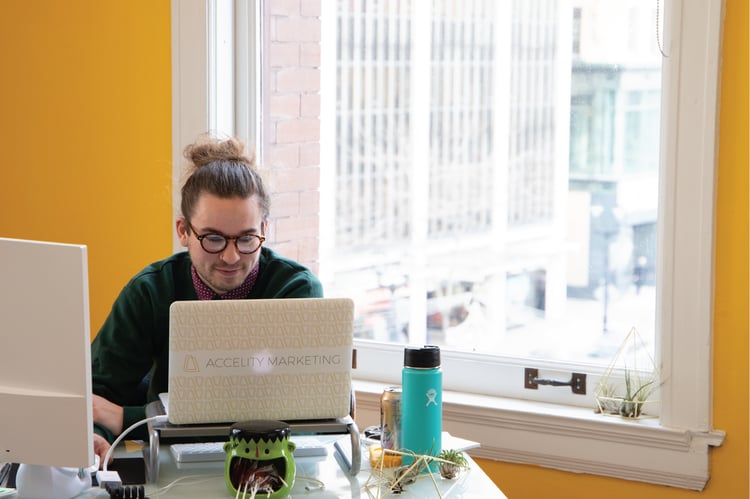 Follow the yellow brick road to meet the wizards behind the curtain at Accelity! We might not practice magic, but we can make content appear in the blink of an eye. In this blog series, we will feature one of our talented team members so you can see what we are all about. This month's star is Nathan Corry!
1. What is the coolest thing about working at Accelity?
Our companionship. There's a lot of support at Accelity and it's not just surface deep or solely work-related. Our team really cares about each other and wants to see each other succeed in all aspects of life. I know my team has my back and I have theirs. This encourages you to show up every day and be the best version of you. It's a really neat thing to be a part of!
2. What is something you would like to see in Milwaukee?
It'd be really neat to have an all-vegan grocery store/market. A little place where you can pick up a knick-knack or a snack and it's all cruelty-free. There have been more and more restaurants popping up offering vegan options but my bank account is telling me I need to eat at home more.

3. What is your hometown known most for?

In Eureka, Illinois, drive your tractor to school day was a really big hit. Everyone would wake up early to take the extra time to drive in their tractor and park it in front of the school.

4. If you weren't in marketing what would your second career choice be?

Running a vegan cafe. Crafting a quality cup of coffee has always been a passion of mine and I also love cooking and baking, but I'm not always the best at it (would need help if I wanted customers). I'd go with a coffee shop/cafe style of place serving up tasty vegan breakfast because those options are limited (except when it comes to brunch at Celesta—they've got it figured out).

5. If you could meet one dead famous person who would it be?

John Denver so I could tell him he's full of sh*t. I lived in Colorado and I expected The Rockies to be a little rockier. Just kidding. He seems like a very interesting person and it'd be neat to talk to him about his humanitarian work.

6. If Accelity was a comedic movie or TV show, what do you think it would be?

It'd be called "Who ate all the snacks?" and it'd be about how we order a bunch of Peapod snacks and they all seem to disappear really fast and then the camera would turn to someone and they'd have Cheetos dust all over their lips and a couple of extra bags hidden at their desk.

7. How has Accelity helped your career development?

Accelity has put me in a position where I'm able to continually learn and expand my knowledge in different areas—whether that be learning about the best way to complete the project at hand or learning about what industry leaders are doing to make things work. Being a young company and a young professional, Accelity and I are often faced with stuff we don't know… and that's an incredible opportunity to figure it out! We take challenges head-on and find the answers ourselves. Through this, I'm able to grow in my position at work while ultimately growing as an individual.