Dinner with DaVinci in Atlanta: Meet Angie!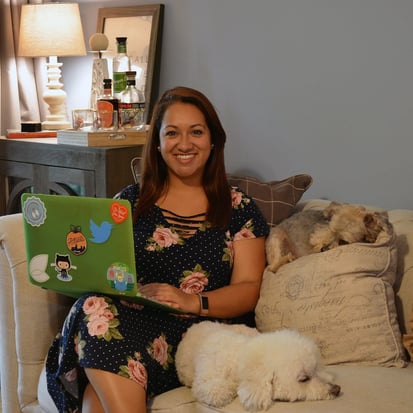 Follow the yellow brick road to meet the wizards behind the curtain at Accelity! We might not practice magic, but we can make content appear in the blink of an eye. In this blog series, we will feature one of our talented team members so you can see what we are all about. This month's star is Angie Villalba!
What drew you to Accelity?
At first, I appreciated the way they communicated their craft to potential clients. It was clear and understandable. When you've been in the industry for a long time, you learn to identify those who talk the talk AND can walk the walk. There aren't many out there, but Accelity was one of them.
Later on, I found that they were also a company that cared about its people. During my interview process, I contracted COVID-19 and had to be hospitalized. Since I didn't know what the recovery period was going to be like or if I could give them 100% of my attention, I decided to take myself out of the race. When I communicated the situation and my concerns to Accelity, they were nothing but understanding and patient with me. They wished me a speedy recovery and told me they would follow up later, and they did. Weeks later they emailed me asking about my status. That's when I knew they were the real deal.
What is something you are proud of with your work?
I believe in creating strong, transparent relationships with clients. I'm proud to be able to build open channels of communications that allow us to pinpoint the best way to achieve their business and marketing goals.
What is something you want to learn more about or try out in Milwaukee?
Everything! I live in Atlanta and hadn't been to Milwaukee before. During my first visit, I learned so much about the festivals, the cold, long winter, all the bars and restaurants, the farmers markets, etc. I can't wait to be back and experience a bit more of this awesome city!
What's your secret talent?
I'm a great storyteller. I love engaging people through stories and making experiences out of them so I can get the story's point across.
If you could meet one dead famous person who would it be?
I would love to meet Leonardo DaVinci. I think he is fascinating! The amount and diversity of his studies are overwhelming to me. I can't imagine having the capability to master problem-solving the way he did.
What advice do you have for someone looking to get started in marketing?
Don't knock it until you try it. Marketing is a giant field with so many areas to explore. Understanding your particular skills and talents can help you determine the best fit for you. You might need to try different roles before you find your niche.
What's your favorite thing about your hometown?
In my eyes, I have two hometowns: Atlanta, Georgia, and Bogota, Colombia.
I was born and raised in Bogota. My favorite thing about it is its Museum of Gold. It houses some of the most beautiful gold figurines from pre-Columbian times.
When I was 12 years old, I moved to Atlanta and I've been here ever since. My favorite thing about Atlanta is that there's always something new. Maybe it's a festival, a new restaurant, a new event or experience, or a new park—Atlanta is always changing and morphing. You can never be bored here!