Draft Beer, Draft Picks, and His Dad Jokes Are Sick: Meet Mikey!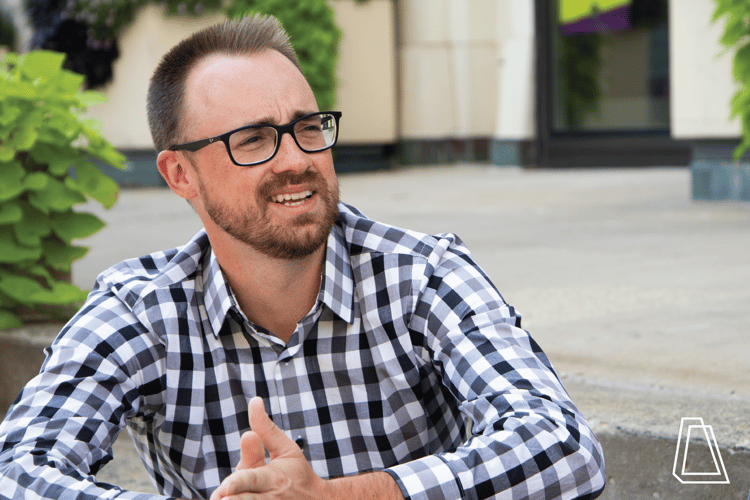 Follow the yellow brick road to meet the wizards behind the curtain at Accelity! We might not practice magic, but we can make content appear in the blink of an eye. In this blog series, we will feature one of our talented team members so you can see what we are all about. This month's star is Mikey Henninger!
---
What drew you to Accelity?
My interest began many months ago when Jackie became the face of LinkedIn. Pretty much every single video caught my attention and, frankly, my amazement. Then there was a video from Jenny about "if you're scared to join a startup, just do it. You won't regret it." Coming from a comfy corporate world, there was a lot to consider, but the change of pace and, frankly, the transparency and lack of politics was very appealing. Finally, the ceiling that's about to be shattered here is perhaps most appealing of all. After several interviews and extensive research, I fully believe this thing is about to explode (in a good way) and I really wanted to be a part of that. The opportunity to contribute to an about-to-boom business, build something that's bigger than me, and leave my fingerprint on something I'm proud of. Also - there's a lot of good Pokemon action here (yes, seriously. Stop laughing).
What advice do you have for someone looking to get started in marketing?
Marketing? My advice would be to talk to Jackie. Sales? I could go on for days but I will try to keep it short: Get comfortable with asking uncomfortable questions. Get comfortable with pressing buttons. Most importantly, get comfortable with 'no.' Sales is hard. Really hard. You absolutely will be rejected and rejected often. What's important is how you bounce back from it and what you learn from it. On another note, I recommend practicing interpersonal/sales skills in your regular daily interactions with family, friends, colleagues, etc. Learn about them; what makes them tick? What are their interests? Do they have kids? The more natural you become at talking about THEM (not YOU), the easier and more natural sales will be.
What is your guilty pleasure tv/music/movie?
100% Vanderpump Rules. I absolutely despise the brain-shrinking content that is reality television...but I cannot pull my face away from Vanderpump Rules. It's the worst thing my wife has ever done to me.
Where is your favorite spot in Milwaukee? (Lookouts, parks, restaurants)
Points East Pub because buffalo wings are one of the top 5 most important things in my life (Tomken's is up there, though). WingFest is one of my favorite events of the year. Miller Park because baseball. My man cave (basement) because sports and it's where I can dump 10+ hours per week into my fantasy football blog (seriously). My three seasons room because breeze, beer and sports. I'm a sucker for State Fair. My family loves going to the Greendale Village (which probably only Alicia knows about) for the small business (I love it for the Pokemon). Lakefront Brewery because best beer in Milwaukee. Any golf course in the city. Third ward cuz Sunday Funday.
How has Accelity helped your career development?
Accelity is giving me my biggest opportunity to date. I have a real opportunity here to take everything I've learned in my career and apply it to the development of something special. There will be plenty of learning curves along the way, but I'm incredibly excited to leave my mark.
If you were mayor for a day, what would you do?
(Don't read this, Jackie). I've always said that if I ever gained political power, my first order of business would be to change the official workweek to 10 hour days MON-THU followed by a 3 day weekend. I would also significantly lower the taxes in Franklin...