End Writer's Block—Try These Tips for Effective Copywriting
---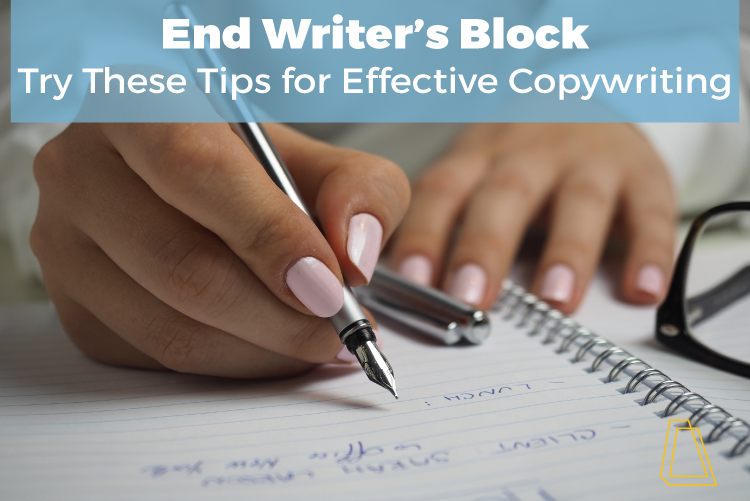 As a writer, one of the most infuriating things is when you have to write, but you can't get your point across. You sit there–unable to collect your thoughts enough to write what you need. You might write a sentence, hate it and delete it. You might not even be able to get a word down.
For some, the hardest part of ending writer's block isn't that they can't type what they want to say, but that they don't know how to say it. Here are some helpful tips to make sure your next article flows with ease.
---
Practice free writing.
If you don't fancy writing, this may be more difficult for you than those who enjoy it. Every day or so, spend 15 minutes writing on a topic you like. You can free write off the top of your head, or pick a prompt to write about. Here are 180 freewriting prompts to help you hone your writing.
This might sound simplistic, but when I really wanted to get better at my writing, I wrote more, tried to diversify my writing and started writing on a wider range of topics. By changing your writing, you give yourself the ability to test yourself and ultimately improve. Designate some time each day to your freewriting. Get creative with your writing and keep a journal. Monitor your writing over the course of a few months and see if you notice differences.
Eliminate distractions.
One of the biggest hurdles to ending writer's block could be your ability to become distracted. Imagine you have all these great ideas in your head. You've found the perfect sentence to begin your article, and then you see a car outside your window, or you look at your pen and decide you want to click it a few times—before you know it, you've forgotten your opener and are back to square one.
I read an excellent book called "Eat That Frog," that encourages you to begin your day with your most difficult task. As you're day goes on, your mind slows down and you are more susceptible to distractions. If you want to avoid writer's block, begin your day writing to be successful. Your mind will be sharp.
Take breaks.
This seems pretty self explanatory, but I'll explain why it's so necessary when you are writing. At some point in your writing, you are going to hit a wall. Sometimes this comes from an extended amount of time focusing on one task, with little to no rest. As you focus for longer and longer, your mind starts to slow down. Our minds can only stay focused on one task for so long before they need a break.
Stepping away from your writing to grab a cup of coffee or take a walk helps your mind hit the reset button. It's helps tremendously for my own writing, as it helps me re-focus. Some of the greatest writers loved taking walks. At Accelity, we have a treadmill desk that we use to write blogs, read books or keep up with projects. You might not always want to stop working, because you are focused on getting your piece written, but your writing will thank you for taking a step (pun intended) back.
Change your environment.
Different writing environments work better for different writer's. As you hit a writer's block, use this opportunity to get out of the house or office and go out in town, or a local park to write. Changing your environment helps your mind open up and let the words flow. Many offices, or your office at home, aren't designed to allow your creative juices to flow, but a park or your favorite coffee shop could. The birds chirping or the clanging of coffee mugs might be just what you need to write your next best piece.
Write out your ideas.
One of our favorite things to do at Accelity is write out our ideas, processes and thoughts on a whiteboard. This might be useful for you as well. Sometimes, people get tunnel vision when put in front of a computer, so allowing yourself to "take it old school," allows your mind to reset. Organize your thoughts and create an outline for your writing. When you get disorganized, or have writer's block, stop and look to your chart, or whiteboard to get back on track.
Listen to music.
I used to do this at college and it really helped. 8tracks is the perfect website to find a playlist to end your writer's block. Listening to music while working is proven to help you concentrate, and music that is more creative, like jazz or blues could help you get back to writing if you hit a roadblock. I hope this works for you, as it has truly helped me write great papers in a time crunch, when I needed to focus more than anything.
I hope we've shared some great tips for effective copywriting to help you focus, end your writer's block and create great content! You might be able to notice a difference in your writing, as you try these new tips.

Have any tips I didn't mention? Would love to hear how you overcome writer's block and improve your copywriting.