Expanding Your Business? Here's How to Enter a New Market
---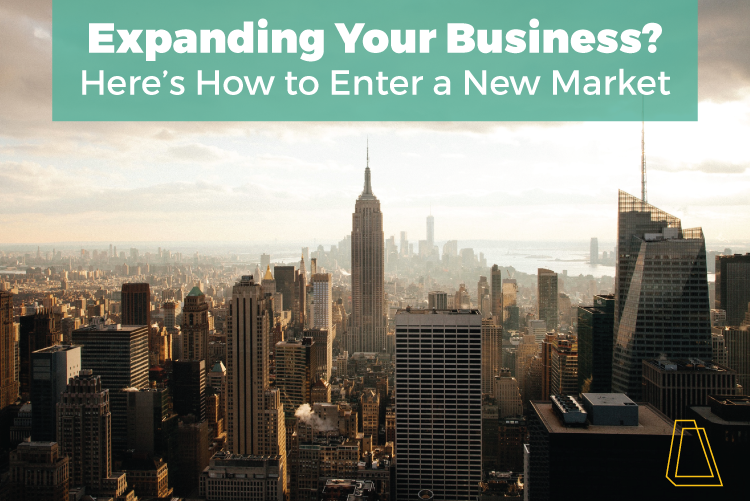 Many companies dream of expanding their small to medium businesses someday. Whether you're considering expanding into a new vertical, opening a new location or launching a new product with a new target market, you'll have to thoroughly research your next step before you make any big decisions.
If you're not sure how to get started, keep reading to understand the steps that we took at Accelity to begin scoping a second location. We are by no means experts on business expansion (yet!), but this list will get any small business moving in the right direction.
---
First, define and analyze your market.
There are a number of things to consider when defining a new market. It's not only important to understand the questions below, but evaluate whether your company understands and can meet the needs of this market before moving forward.
For example, if your company is in New York and you want to expand to Texas, what is your tie to the area, and can you connect with those who live and work there?
Consider these questions:
Who are your potential customers? Is there a certain type of buyer role within a company that you can target?

Where do they live?

Do they have common interests, habits or hobbies?

Do you have access to buyer personas?

Who are your competitors?

Are there any barriers to entering this new space?

How quickly is this location or market growing?

What is the forecasted demand for your product?
Second, get a grasp on how quickly you can get up and running.
This is a step that many companies (and even I!) often forget. It's exciting to roll out a new initiative—you've done all of the research, you've found a new, promising market and you're ready to go. Make sure you consider the following:
Internal Capacity
What if your staff isn't ready, willing or able to take on this new challenge? Introducing a new initiative when your team isn't ready or can't meet the deadlines that you had in mind is going to end up a disappointment for everyone. Be sure that you understand the capacity of your team and get buy-in from every member from the start.
Infrastructure
Does your business already have the infrastructure needed to be successful in a new market, or is that something that you'll need to put into place? Consider sales infrastructure, distribution strategy and any other helpful relationships that you can put into place to make reaching your new market easier.


Last, but not least, develop your market entry strategy.
Once you have all of your research completed and your team onboard, it's time to figure out how to enter your new market. Make sure your plan answers the following questions:
Do you need to alter an original, or create a new, business plan?

How will you support your expansion financially? Does your business need new investors?

If you're opening a new location, will you start from scratch or acquire?

What is your timeline for launch? Do you have a roadmap with milestones mapped out?

How will you sell to, support and retain new customers?

What is your marketing strategy?

How will you speak to your new market? Does the location or do the customers have any need-to-know language/lingo?

If you have a physical product, how will you produce enough to keep up with demand?

I hope this blog provides a high-level understanding of what you need to know to enter a new market. Is your company considering entering a new market, or have you already? If so, I'd love to hear your story in the comments below!