Funding a Startup? Learn from 5 Successful Entrepreneurs
---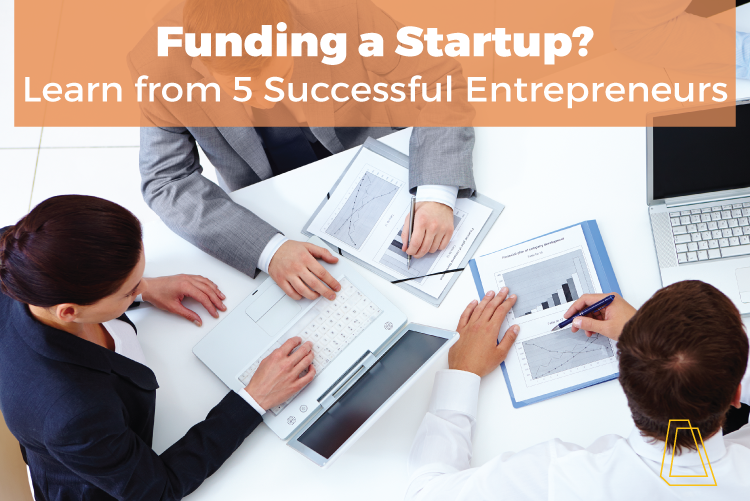 This post was written by Accelity's fearless leader, Jackie Steinmetz, for Startup Savant. Read the original post here.
Are you funding a startup, or considering doing so in the future? Do you know everything you need to make the opportunity a success? Learn how to fund your startup from these 5 successful entrepreneurs.
---
Tim Ferris
Tim Ferriss is an incredibly successful author, entrepreneur and angel investor who used his talents to advise/invest in over 40+ companies. But before Ferriss became an investor, his career as an entrepreneur began while working in sales at a data storage company. While working full time, Ferriss started BrainQUICKEN, an online nutritional supplement company. He later went to sell the company to a private equity firm in 2001. Ferriss was ready to step out of BrainQUICKEN completely due to "boredom" (his words, not mine!) and the desire for a more relaxed life. This made private equity an excellent fit for Ferriss.
In 2013, he posted a blog calling for startups that were ready to be taken mainstream by Ferriss himself. Out of hundreds of applicants, Ferriss choose Shyp, an app that helps users easily ship packages. Ferriss himself invested $25,000 and opened the investment to the public—anyone could invest with a minimum of $2,500. Investors teamed up with well-established entrepreneurs and investors, such as David Marcus, the CEO of Paypal and Daymond John, the founder of FUBU.
Sara Blakely
Sara Blakely is the founder of Spanx, the most popular women's shapewear company. Blakely "hustled her way to a billion dollar business" and funded the company herself. She started Spanx small—her Atlanta apartment served as an office, and her bathroom as the stockroom. Because Blakely didn't take outside investment, she couldn't afford staff or a lawyer and handled everything herself, even writing her own patent. Blakely spent weekends driving to hosiery mills across North Carolina, pleading for them to produce her product.
When Oprah Winfrey wanted to feature Spanx on her "Favorite Things of 2000" segment, Sara's friends acted as staff in a video submitted to Oprah.
Later, when Neiman Marcus allowed Blakely to present her product, she showed up with a backpack full of Spanx and the company decided to feature her product in a few regional stores—Blakely's efforts finally paid off. She never advertised, and because she never took outside investment, the success of her startup was by largely by word of mouth and the never-ending hustle.
Eric Migicovsky
Eric Migicovsky is the backbone of Pebble, a smartwatch startup that was crowdfunded by the most successful Kickstarter campaign of all time, raising over $10 million dollars ($1 million of that was raised within the first hour!). Pebble was also the first smartwatch to sell a million units.
Even as Apple launched their own watch, Pebble had over 100,000 orders in 2015. Pebble went a different direction from Apple, creating a watch that is durable, waterproof and open for developers to create watch faces. Anyone can create a watchface, and they are available on an app store. Migicovsky created a watch that isn't a luxury item or a phone on your wrist—he wanted Pebble to be more than that and succeeded.
Jennifer Hyman and Jenny Fleiss
These two successful female entrepreneurs founded Rent the Runway, a service that allows women to rent designer dresses for special occasions. The startup is invested in by venture capitalists and the company was valued at $220 million in 2014.
Despite its five million users renting $300 million worth of dresses and accessories, the company didn't become profitable until 2014. Seeking investment through venture capital allowed the pair to scale Rent the Runway rapidly without a clear profit in its early years. A company like Rent the Runway requires significant investment upfront to purchase the product at its premium price.
Hyman and Fleiss recently started dipping their toes in a new venture, Unlimited app. Users pay $139 per month to receive three office-appropriate apparel items at a time that they can keep for as long as they want. Hyman and Fleiss saw a need for this service when early Rent the Runway customers reported that they spend the majority of their time in office clothes.
Ryan Finley
Ryan Finley is the CEO of the online survey company SurveyMonkey. Founded in 1999, SurveyMonkey provides free, customizable surveys, with a host of back-end options. With 25 million users, SurveyMonkey receives over 90 million survey responses per month.
Ten years after its founding, SurveyMonkey was sold to a private equity firm, and fully invested in by private investors. In 2013, in an effort to raise an additional $350 million in debt financing, the company initiated an $800 million debt and equity recapitalization. As a private company, the transaction afforded all capital benefits of a public company without the demands of one. The change in business ownership and model was seen as an optimal way to to reward employees and longtime shareholders with an opportunity to gain valuable equity in the future of the company.

What entrepreneurs do you admire, and how did they fund their ventures? Drop me a line in the comments below and be sure to download our ebook on startup funding, The Ultimate Guide to Startup Fundraising—16 Ways to Fundraise that Every Entrepreneur Needs to Know.