Getting Started on Twitter: A Periscope How-To
---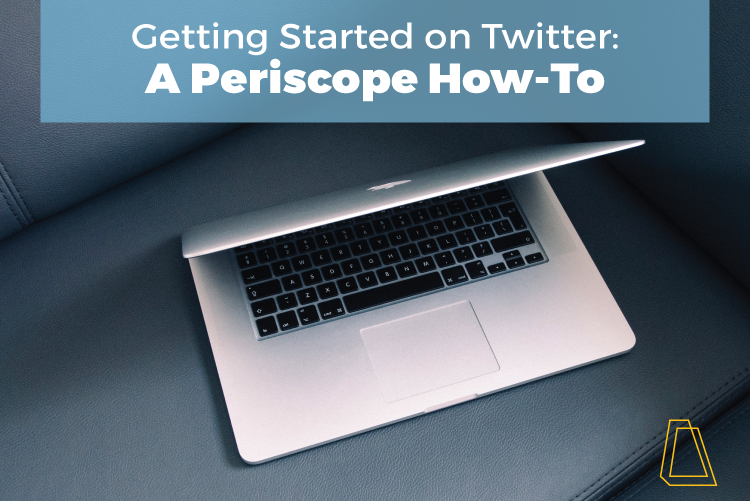 Keeping up with the latest trends in social media can be a challenge. Whether you're using social platforms to connect with friends, family and colleagues, or promoting your business, the first step is to determine what social media channels suit your needs. Facebook and Instagram are great for personal use. These sites allow you to connect with friends and family, while sites like LinkedIn are important for promoting your personal brand and interacting with business associates.
When promoting your business, there are so many different factors to consider. It's easy to jump into all social networks at once and apply an umbrella approach, but it's not always the most efficient use of time. Certainly there is value in Facebook, Twitter and Instagram based on sheer volume of users, but that doesn't automatically guarantee a large following. Consider the demographics of your target audience and what objectives you want to achieve with your social media campaigns. You need to develop a social media strategy based on what your business is or does.
---
Let's assume that you've determined your social strategy. You obviously came to this blog post because you're giving Twitter serious consideration. You either already have an account or are in the midst of getting started on Twitter. There are so many things Twitter is great for: sharing articles, mini posts of 140 characters or less, rich media such as images and videos...and its seamless integration with Periscope. Thanks to Twitter's [reported] $86 million acquisition of Periscope, the live streaming service makes it easy to live broadcast directly through Twitter as well as the app itself.
1. Create your Twitter profile.
Choose a memorable Twitter handle (the @ symbol followed by your username) to make it easy for users to find you, follow you or mention you in their tweets. When setting up your profile, write a short bio that sums up you or your business, choose a compelling profile picture (usually your logo), link your website and start following other users similar to you. With some luck, you'll establish a mutual connection and then your tweets will show up in their newsfeed to further acquire their followers as your own. More recently, Twitter added the ability to link your Periscope and Vine accounts right on your Twitter profile, granting easy access to your live streams and looping videos.
2. Connect to Periscope.
Once you're set up on Twitter, you can sign up for Periscope (it's very easy to do). Download the app for your mobile device and simply sign in using your Twitter account. If your Twitter followers, or users you're following, have Periscope accounts, you'll have the option to follow them separately on Periscope.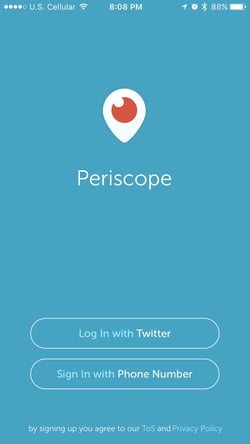 The icons at the bottom of the screen on your Periscope app indicate what's trending, show any of your followers' broadcasts, allow you to browse for a stream around the world, let you start your own broadcast and also allow you to manage your following.
3. Start broadcasting.
Now that you're set up, you're ready to live stream! Streaming is as simple as getting in front of your camera and chatting with your audience. It's not easy for the camera shy folks, as your audience can see you but you won't be able to see them. You can read their live commentary on your screen as well as the "likes" they give you if they like something you do or say. Periscope puts the social back in social media with real-time interaction.
But what should you broadcast? You can read my blog, 7 Ways to Utilize Periscope for Marketing, to help you get started. Come up with a creative series of webinars to keep folks coming back. Schedule regular live-chats to start engaging conversations.
Periscope was one of the original live streaming apps to set the trend and push social media forward. It's great for interacting with your audience directly in real time. It's still fairly new so the applications are endless in terms of marketing. Video and live streaming account for the fastest growing forms of web media right now and this trend shows no signs of slowing down. According to Cisco, video will account for 80 percent of global internet traffic in 2019. This could partly be because Periscope, and similar live streaming apps, reach users where they spend the most time—social and mobile.
There you have it. Getting started on Twitter and Periscope in 3 easy steps. Before you know it, you'll have a huge following and achieve your social media objectives! Have any other tips for getting started on, or using, Periscope? Let us know in the comments below!
---