How Being a Socially Responsible Company Increases Startup Revenue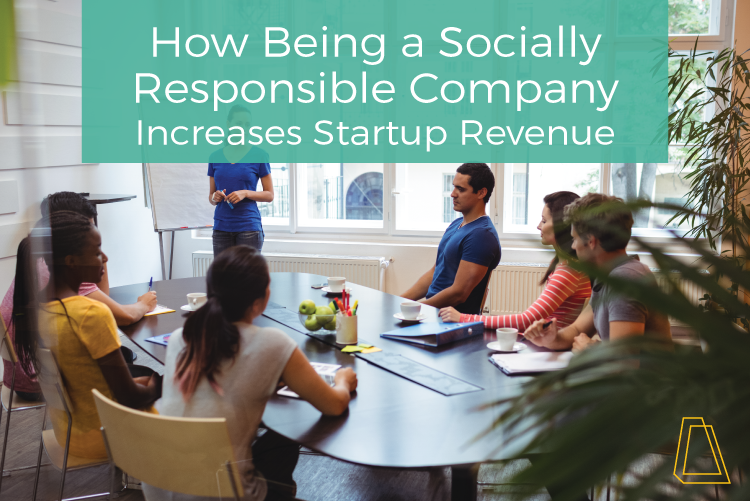 In an increasingly competitive market for startups, getting an edge over other companies can include more than just having a spectacular, unique product.
And competing on price alone is no longer an option for new startups trying to break through market barriers; and in extremely competitive markets, buyers purchase based on more than the quality of your product. In fact, an Edelman study showed that 53% of consumers would rank social purpose as the most important factor in a purchase decision when price and quality were the same across brands (an 11% increase since 2008).
Social responsibility should be a core value in your startup from the beginning, not an afterthought seen as icing on the cake. Having a social purpose that your company actively supports comes with increasing benefits as more and more consumers are concerned with their ability to make a difference in the world, especially through their loyalty to a brand.
What is social responsibility?
The definition is in the term itself, social responsibility is when a company takes an initiative to be responsible for their environmental and social impact on their community. Sometimes called corporate citizenship, it goes beyond what may be legally required of a business and shows the company taking a genuine interest in the wellbeing of their consumers, employees and any other stakeholders.
It can be anything from fundraising to supporting non-profits, investing in education, supporting causes that the company believes in, or going out into the community and developing a relationship with other citizens.
You can do this by getting outside of the office and helping your community in any way that you can, without mentioning your products or services. You'll be surprised at how your consumers reward you for giving back to the community they live in.
Building your Brand
One thing that has become increasingly evident is that your brand image is everything, and everything you do contributes to that image. Examples like the Kendall Jenner Pepsi commercial, and United Airlines' fiasco are just some that show the outrage consumers can express towards a brand, no matter what the product is.
Being socially responsible creates a positive image for yourself and your product. Being:
Environmentally conscious
Trustworthy
Customer-service oriented
...can have a huge impact on sales. In fact, a Nielsen study showed that "66% of respondents say they're willing to pay more for products and services that come from companies who are committed to positive social and environmental impact."
While you save yourself from digging your company into a hole by not competing on price, you also don't have to spend lots of money to be socially responsible either! Take Kohl's, for example—with their Kohl's Cares program, their employees donate personal time to volunteer at an organization. Your company can participate in partnership programs with non-profits, or provide non-monetary rewards to employees for volunteering on behalf of your company!
As a startup, you don't have to dive deep all at once. Even doing something as simple as scheduling biannual volunteering events can get you started, and help you learn about the types of community organizations you want to support. (Here are some easy tips on how to get involved in your community outside of work.)
Overall, you want to build trust inside and out of your company, showing that you have values that extend beyond your office walls.
Engage Employees
More and more people are looking to work for companies that have values they can get behind, or already have in common. By increasing your presence in the community, you'll gain employees who are passionate about the company and have a genuine interest in the success of the company.
Startups have always had an uphill battle with employee turnover, so making your employees feel like they are part of something bigger—a holistic purpose to their job, not just what they were hired to do—will keep them engaged long-term.
Increase Competitiveness
Every startup comes into the market looking to differentiate themselves from the competition. Social responsibility is a long-term investment, but the ROI comes that much quicker when you integrate it into your startup practices right away.
Your company cannot exist without customers—so investing in the community is investing in yourself. As much as a company needs financial growth to sustain itself, social capital is equally important. Becoming integrated into the community establishes a foundation for your business to grow. You want your business to stand out in the crowd, and choosing the causes that fit with your startup's core values is the way to do that.
Have some ideas about things a startup can do to be socially responsible? Mention them in the comments below!