---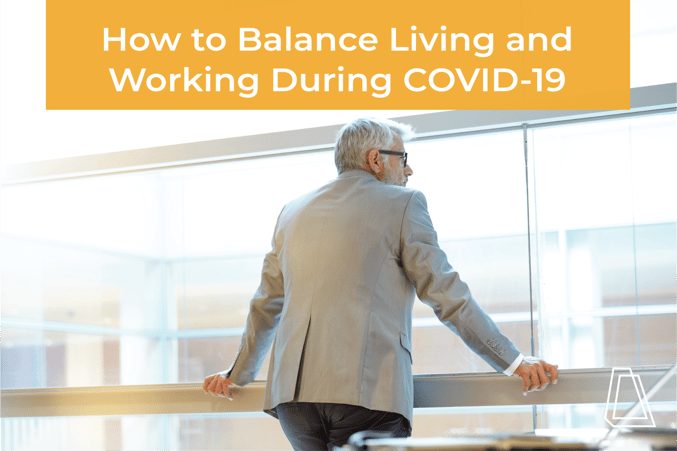 The second week of our COVID-19 Business Management Open Forum brought discussions of new insights and new challenges as we shared how we're all adjusting to working during COVID-19. Having space to connect with and learn from each other is a relief in these days of social distancing.
As I was getting ready to write this post recapping what we learned from each other, I saw a tweet that felt relevant to our conversation: "You are not working from home; you are at your home during a crisis trying to work."
This week's discussion felt different than our first. When Team Accelity held our post-forum recap, we noticed a stronger craving for connection. Last week's forum was a practical conversation about new things we could do for our businesses; this week, people were eager to discuss how they maintain their humanity amid the new normal. Or as one attendee put it, this isn't work-life balance, but rather work-life integration.
Here's what we learned from each other this week about working during COVID-19.
Control the controllable
Our first forum covered a variety of topics but was mostly focused on how we run our businesses during a crisis. This week, amid so many unknowns, we were all eager to find practical ways to stay productive—or maybe just sane—while adjusting to working during COVID-19. Some of us are looking for ways to effectively work from home, and all of us are looking for some level of control during a crisis.
Many attendees were quick to share what's working for them, such as:
Separating your workspace from your living space wherever possible—even if it means the "corner office" is just a corner of your basement.
Sharing what you're working on each day and having your team do the same. Hold each other accountable and be transparent about how you're spending your time.
Sticking to the same schedule when you can, or creating a new routine as needed. Whatever it is, try your best to follow it, but forgive yourself and adjust when this isn't possible.
Scheduling your lunch break and taking it away from your workspace. Incorporate additional breaks throughout the day for snacks, non-screen time or walks.
No matter what new strategies or opportunities you find during this time, you won't be an effective leader (or parent, or spouse, or neighbor) unless you prioritize your own sanity.
Find new ways to create human touchpoints
While we all had plenty of practical tips to share, many attendees expressed the desire to forge new and more meaningful human connections. Human "touch" is important, even amid social distancing.
Once an opportunity to roll your eyes about how it could've been an email, work calls may now be your best chance to connect with another person. Thanks to video calls from our makeshift home offices (you have your video on, right?), we're learning more about each other than we would in the office.
Video calls are an easy way to develop new connections with people. Ask about plants in the background. Ask how the little one who ran into the office is handling life at home. Ask for recommendations for new video games to try. Look for points of connection that will help you build a genuine relationship with another person and get past the small talk (I'm just as tired of asking about the weather as you are). Embrace the uncomfortable and lift the professional veil.
Now that you're finding new ways to build connections, look for ways to add value. To some, it might look like you're pivoting to keep your business working during COVID-19, but it's more than that. You're looking for ways to provide relief, joy, convenience and a host of other benefits to your community. You have the opportunity to try something different and explore new ways to connect with your audience.
Look for ways to maintain your relationships with clients (and friends!) that will brighten their day and remind them that you're here and thinking of them.
The new normal in business
It's time to let go of your idea of normal. While normal may be gone, it doesn't mean the future isn't bright.
One thing that hasn't changed is that good marketing requires understanding your audience. What are their pain points? What are their needs? What are they experiencing and feeling? How are they working during COVID-19? In a time of global pandemic, these conversations are crucial now more than ever.
Many companies are focused on pivoting their business model in order to keep the lights on. Every leader is being called to make the right decision for his or her business; no one can say they were truly prepared for a crisis of this proportion.
Some clients want to stop marketing completely, viewing marketing as a task that isn't necessary when they have other concerns. One attendee correctly pointed out that by pausing all marketing, you're telling your audience that the only value your interactions have is sales. You have much more to provide your audience than just a product.
Attendees listed so many great examples of how businesses are building or maintaining connections and providing value to their audience. For example:
Companies are sending swag bags that attendees would have received at now-canceled conferences.
Daycares are creating learning kits for stressed-out parents.
Subject-matter experts are hosting webinar to help people talk through issues like applying for small business loans.
The good old-fashioned letter is making a comeback (who doesn't love a hand-written note?).
Marketing your business is another opportunity to create human touchpoints and to bring value to your audience. Show others that you care by finding ways that you can help. Continue providing expertise. Reach out to individual clients simply to ask them how they're doing.
Learn something from this crisis
One attendee challenged us to come out of this having learned something. This period is a big transition for all of us, worldwide. You don't have to come out having learned a new language or written the Great American Novel, but you do want to be changed for the better.
What that looks like varies by person. Maybe you come out of this with different ideas about how you manage a business during a crisis, how you can provide value to your customers, or how you can lead your employees. Maybe you have more patience with your family. Maybe it's greater appreciation for the little things we used to take for granted, like long lines at the grocery store or a crowded beach.
It's easy to recite platitudes about triumphing in a crisis and practicing self-care. You might leave conversations like our forum and feel inspired. You might think it's too lofty to achieve when you can't even be bothered to put on real pants. Maybe you feel both at once (like me).
We hope that you're looking for ways to not just get through the days of working during COVID-19, but to flourish. It's important to honor what is happening for you physically, mentally and emotionally. Be flexible and practice compassion—especially for yourself.