How to Integrate Quora into Your Inbound Marketing Strategy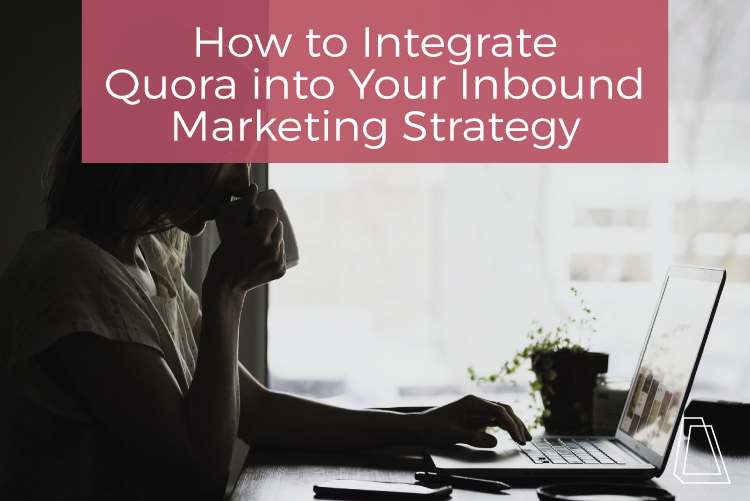 An effective inbound marketing strategy incorporates many elements. There are no hard and fast rules when it comes to how you promote content with inbound marketing (though there are some things to definitely avoid), but using multiple tactics offers the most potential for success. Quora is just one of those strategies—but I find that many small business owners aren't as familiar with it as some other channels. In this blog, I'll share tips for integrating Quora into your inbound marketing strategy.
What is Quora and where should I start?
If you're not entirely sure what an entrepreneur should be doing on Quora, here's the rundown:
People go on Quora to ask questions they're interested in, whether they're doing research or simply curious about something.
Many other people browse Quora to answer questions they are knowledgeable about.
Still others spend most time just browsing Quora, reading answers to questions that catch their attention.
The way to contribute for "marketing" purposes is to answer questions about your industry or areas of expertise. If people reading your answers are looking for a business to work with in your industry, they're likely to at least check out your credentials and/or website.
Your first decision is to decide the type of questions you'd like to answer. I find a good rule of thumb is to look at your blog. Topics that make sense for your blog are also topics to write about on Quora. Essentially, they should be educational and highly relevant to your target customer audience.

Create or update your Quora profile.
Your Quora profile is a huge part of any Quora inbound marketing strategy. When you answer Quora questions, people like to look at who you are and what your credentials are—an important part of building your credibility.
If you've never used Quora before, there are some suggestions below for getting started. If you do already have a Quora profile, double check that it effectively includes all of these areas:
Photo: Like any social media platform you use for business, it's important to have a professional photo, ideally of just head and shoulders (since the profile pictures are so small throughout the site).
Biography: You are given the ability to create a short bio for your Quora profile, which is a great place to start building trust. Rather than focusing on your work history, shine a spotlight on the specific skills and experience.
Credentials & Highlights: At first glance this seems like just a place to detail your education and work experience, but it's actually much more important. One of your credentials becomes your default headline that everyone sees when you answer a question, but the power comes from the ability to switch your credential on the fly. So if you are a Marketing Manager for your day job, but are an entrepreneur in your spare time, you can make separate credentials for each and use the one appropriate with each answer you write.
Build your reputation.
Other Quora users can see how many and which previous questions you've answered, and that is another marker of your credibility. So before you settle into a routine of regularly answering questions, I recommend doing some up-front work to build a catalog of relevant questions you've answered.
Almost nothing is more suspicious to a Quora user than someone answering a business-related question, but who has no history—it looks completely self-serving. Plus, the more you participate, the more Quora will suggest you as a potential expert to answer questions related to your niche.
Even though you're on Quora for marketing reasons, don't think of it as just checking off a box. Aim to become a valuable member of the Quora community with these strategies:
Browse question categories or search for specific topics that relate to your expertise
When you select questions, give thorough, well-sourced answers
It's okay to link back to your website or one of your blogs, but don't be self-promotional. Instead, offer valuable information, and then at the end provide a link if someone wants more information.
Do more than just answer questions. Read other people's answers and interact, offering your opinion or adding to the conversation in some way. Again, don't be self-promotional, but rather focus on sharing value.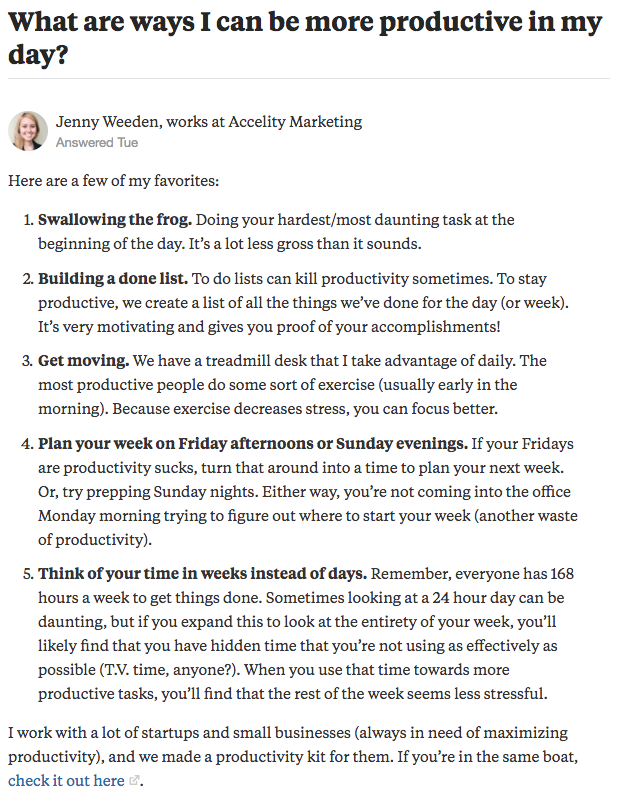 Stay consistent.
Once you answer a number of questions to create a foundation, make sure to stay consistent. The more you participate, the more you'll build a reputation that encourages people to learn more about you. Incorporate Quora into your existing social media calendar, to ensure you post on a regular basis.
Looking for more inbound marketing strategies for your B2B company? Check out our ebook on inbound best practices, or reach out to us (we're a Milwaukee marketing agency) for a free consultation.