I am Lion, Hear Me Roar: HubSpot Sales Bootcamp Recap & Takeaways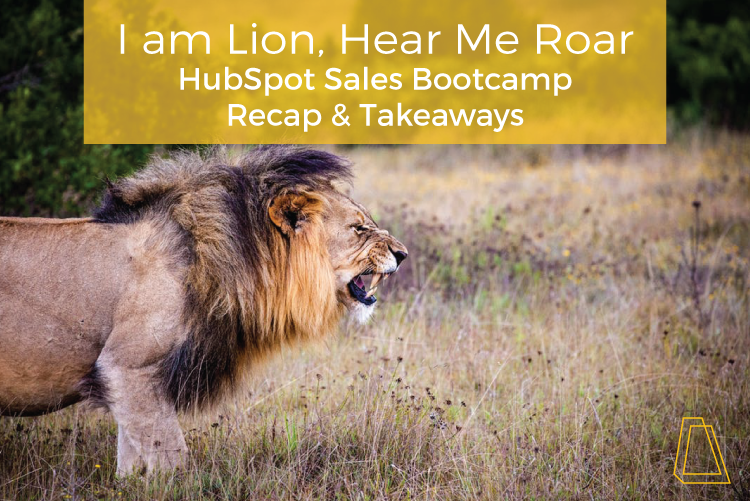 I've found that one of the best parts about being a HubSpot partner agency (two years this month! woo!) is the support you receive from HubSpot. Yes, they care about selling more of their product, but they also genuinely care about and invest in their partners. They've taught me how to be a better business owner, marketer and salesperson.
For the past eight weeks, I've concentrated on the last item in the list: being a better salesperson. In the HubSpot Sales Bootcamp, we learned the "lion" approach to sales. This is especially fitting because I've been called a lion basically since I had hair:

6th grade Jackie, hear me roar.
Conquering fears
As a business owner I've become a salesperson, but I am not one by training or by choice… in fact, when I graduated from college and started cold calling in my first job, I swore I'd never sell again. I think a lot of small business owners fall into this bucket. When I started hiring my team a few years ago, I looked at my roles and responsibilities and decided that sales is a role I wanted to keep, not hire for. Then I got to work on learning how.
Fast forward a few years… applying to be part of the HubSpot sales bootcamp was something I had to prepare myself for mentally. Because, what if I got in? Role playing in front of my peers, conducting mock demos, group critiquing my small business sales process—all of this scared me. (Letting people see the picture above—also scary. Still conquering fears over here.)
The HubSpot sales bootcamp helped me overcome my fears around small business sales and clean out my "head trash"—the ideas in my head that I was never trained and I might not be good at this.
"Overcoming objections" is a way of the past.
Here's the thing: sales isn't about smiling and dialing, pushing prospects through the process, overcoming objections and getting coffee upon closing anymore. Sure, these are fun sales sayings and sure, some of them still partially apply to sales, but for the most part, the process of selling has changed massively. The amount of information available to a buyer today is incredible—and most buyers already know what they want before they ever take a meeting. That changes the sales game.
Today, sales is about consulting with your prospects to truly understand their greatest challenges, goals and fears… then deciding, together, whether you can help them overcome the challenges and reach the goals.
Tip: Check out To Sell is Human by Daniel Pink. I read this book last year and the content resonates even more today as I dive further into sales.
Takeaways
I've already started to implement my main takeaways from class, and now I'll share them with you:
First, there are three sales in every sale.
Problems: this is where you hit pain points. Most companies start by selling their solutions, and as a marketing company, we already knew that this isn't the way, but it's interesting to see how other businesses position the problems they solve.
Solutions: here, you show the prospect how you can solve their problems. For our clients, this is usually increasing efficiencies, improving processes, etc.
Differentiation: finally, tell the prospect why you're different. Every company has competitors, and while this is something we don't need to focus on during the sales process, a prospect should walk away with a good understanding of why they should work with you versus the other guy.
Second, buying is based in emotion.
I'd heard this before but was always skeptical—who emotionally buys marketing services, or a SaaS platform? However, the past eight weeks have cemented the need to sell on emotion:
Make an emotional connection to your buyer during the sales process. Work with the buyer to unearth a deep, emotional desire to hit their goals. Help the prospect understand why your product or service is the perfect fit and develop an emotional connection to the outcomes you provide.
It's true that sales is 80% emotion and 20% logic.
Finally, ask *all* the questions.
Sales isn't about checking boxes. In order to get to the emotion, and the real reasons that your buyers do what they do, you have to ask why. Every prospective customer has a goal, and a reason that they're considering your product or services. But—no surprise here—they're not going to tell you the real "why" the first time you ask.
In order to sell successfully, we have to get curious and truly understand our buyers' motivations. This can be accomplished by simply asking why… over, and over, and over, until you get to the truth.
Big thanks to David Weinhaus for guiding us through the HubSpot sales bootcamp and making me a lion. I feel more confident than I ever have before, and I look forward to continuing to improve and evolve Accelity's sales process over time.
I would love to hear your advice: what is the main thing you focus on to sell successfully? Leave a comment below.