Implement These 10 Effective Marketing Strategies for $100 or Less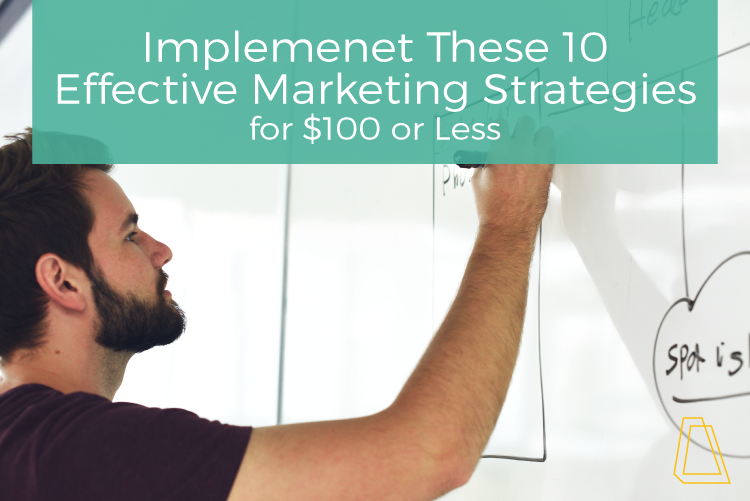 Marketing for budget-conscious startups isn't always easy. But there are countless marketing techniques you can implement on a limited budget. In this blog, we'll examine 10 effective marketing strategies that cost less than $100—some are even free.
1. Building Buyer Personas
Understanding your customers and their buying journey is essential for any effective marketing strategy. Creating buyer personas is an easy and effective way to ensure you're speaking to your customer's needs in your marketing.
A buyer persona, according to HubSpot, is a semi-fictional representation of your ideal customer based on market research and real data about your existing customers. Your goal is to understand your target buyer's challenges, needs, values, motivation, mindset and more. Learn how to get started with buyer personas in this template.
2. Having a Presence on Social Media
Many effective marketing strategies include social media, and social media encompasses a lot of activities and tactics these days. Right now I'm just referring to your social media company pages. Having a strong social media presence can grow your brand recognition and attract potential customers. Share informative, engaging content that benefits or otherwise speaks to your target audience (as identified through your buyer personas).
If your business is newer to social media or needs help growing your presence, I suggest the following strategies:
3. Implement Social Ads
A strong social media presence takes time to establish; you won't suddenly have 1000 followers overnight. However, you can reach a much larger audience, regardless of your company page success, with paid social advertising. Facebook, Twitter, LinkedIn and other networks offer sophisticated advertising opportunities for brands today.
You can choose your audience quite specifically, then create ads to grow brand awareness, make large announcements, promote your content, drive new leads or sell your product. Of course, you do need a budget for social advertising, but you can start your ad budget very small (Accelity started out with a $50/week budget at first) while testing different audiences and messages.
4. Use Social Networking/Selling
Beyond building up your social presence and using paid ads, another smart social media technique involves networking with others. Seek out groups who fit your target buyer or are related to your business category, and interact. Answer questions, give advice and join in industry-related conversations.
It's important not to be "sales-y", but do look for opportunities to share a link to your website or blog when it relates to an answer you provide. Focus on sharing value most of all, and people will seek out your expertise. There are countless online forums and groups you can participate in; I recommend starting with Facebook Groups, LinkedIn Groups and Quora.
5. Blog
Building a blog is one of the smartest budget-conscious strategies for startups and small businesses. Blogging can help you establish your industry knowledge and expertise, grow your audience of potential leads, drive more visitors to your website and improve your search engine rankings. Blogging is pretty straightforward, but I recommend the following tips for a successful blog:
Write about topics your target audience cares about

Make your content "skimmable" so readers can find what is most relevant to them

Include a call to action (CTA) in every blog, prompting readers to download content, sign up for a webinar, schedule a consultation, start a free trial or other valuable action
6. Guest Blog
Guest blogging means that you write a blog that is published on someone else's website; you're providing a guest post for another blog. This is an effective marketing strategy for many reasons. If you choose your guest blogging opportunities strategically, you can reach a new or expanded audience, build up your credibility in your field and drive new leads to your website.
The first step in guest blogging is identifying a few blogs that represent your industry, are not competitors, and speak to your target audience. Then reach out to those bloggers or websites and ask if they accept guest blogs. Before you agree, make sure you're able to share a short bio, link to your website or other call-to-action. Your goal isn't to sell, but this new audience should be able to learn about and find you.
7. Create Long-Form Content
Long-form content is a key example of content marketing, the tactic of driving new leads through engaging content. Whitepapers, ebooks, guides and toolkits are all examples of long-form content. And writing these pieces can be easier than you may think; you likely have plenty of content that could be repurposed into one of these formats. There are many ways you can use long-form content and I'm going to highlight what I believe is the most important one: gathering leads. Here's how it works:
Choose a topic that is highly relevant and beneficial to your target audience

Create your piece of content

Create a landing page where people can provide certain information (such as their name and email) in exchange for downloading the content.

Collect those new, relevant leads and bring into your your sales funnel
8. Build Case Studies/Testimonials
Case studies and testimonials are some of the most effective marketing strategies available to you. Why? Advocate marketing—such as online reviews and case studies—is 3x more trusted and influential than advertising and other paid marketing. In short, people trust other consumers more than they trust what a brand says about themselves. Plus, when someone is making an investment, they want to hear the results or outcome of other similar buyers.
Get in touch with your happiest, best clients and ask if they'd be willing to provide a testimonial or case study. This could take many forms: short quotes that you can use in your marketing, written case studies to use as sales collateral, or simple but powerful video testimonials.
9. Add Calls To Action (CTAs)
No matter what you're promoting online—content, webinars, products—a kick-butt call to action (CTA) is a must. HubSpot defines a CTA as "an image or line of text that prompts your visitors, leads and customers to take action." See an example of an Accelity Marketing CTA below.
Though the concept is simple, creating effective CTAs isn't always easy. You will find that some CTAs perform great, while others have few clicks. Test different concepts, design, colors and copy to find the most effective for your audience. Get inspired with these 10 awesome CTA examples or try out our free CTA builder.
10. Analytics
As the saying goes, you can't manage what you don't measure—and it is certainly true for successful marketing. All of the marketing strategies already discussed require analytics for success:
Social media engagement to identify the most successful posts

Number of blog views to determine popular topics

Number of pageviews and clicks to testCTA alternatives
Almost anything you do in marketing should have analytics, so you can determine what works and what doesn't, and spend your budget wisely. Luckily, there are many free analysis tools available, including native analytics in each social platform and Google Analytics. Explore your options and make the most of the tools available to you. Set goals, test, review and tweak—then repeat.
To put my own advice into action, here's the CTA for this blog: If you're interested in more low-cost effective marketing strategies, download this free guide: 29 B2B Small Business Marketing Strategies Guaranteed to Generate Leads.
Thoughts? Questions? I'd love to hear from you in the comments section below.