Integrate These B2B Mobile Marketing Tips to Attract Buyers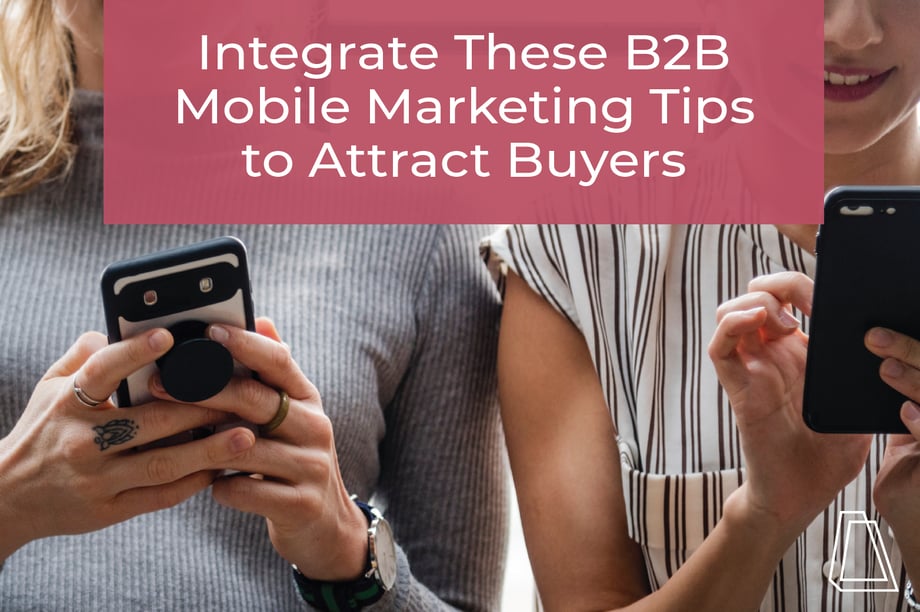 As a B2B business, increasing your profitability is all about attracting new buyers. Here are eight mobile marketing strategies you can use to attract buyers to your B2B business.
---

Launch a mobile application
Although a mobile website may provide users with the information or services they need, it isn't as convenient as a mobile app. Create and launch a mobile app for your business so that users don't have to spend time waiting on a website to load. Your app should also be functional regardless of whether the user has an internet connection.
Use geo-targeting to your advantage
Geo-targeting, a strategy that involves delivering content based on a user's location, can be used to secure qualified buyers. When you use geo-targeting, you are sending your content to the right people, so you're more likely to reach people who are interested in making a purchase.
Allow buyers to use mobile throughout the sales process
The typical sales funnel involves many touchpoints. Make each of these touchpoints as mobile-friendly as possible so that your buyers will be more likely to move all the way through the funnel.
Develop an intriguing tagline
In order to attract B2B buyers, you need to be able to capture their attention. The best way to capture the attention of a potential buyer is with an engaging tagline.
Test every aspect of the sales process
To determine if your mobile marketing strategies are effective, pretend you are a B2B buyer and test every phase of the sales process from that perspective. Look for any issues that may make it difficult for a potential buyer to convert.
Don't rely on a single marketing channel
Make sure that you are using mobile marketing as part of an integrated marketing effort that involves other channels as well, including email and social media. Use all of these channels to communicate with potential buyers and increase the chances of conversion. For example, after connecting with a potential buyer via your mobile website, you should encourage the individual to connect with you on social media as well. Follow up all communications with emails, or use sms marketing services to send SMS or MMS reminders.
Plan a trade show strategy
At trade shows, most people have their mobile devices out and in use. Plan a trade show strategy that allows you to deliver SMS messages to potential buyers during the event. These messages may be designed to invite the user to visit your booth, inform them of a promotion or contest, send a sample or send a reminder
Use rich media to engage users
Use rich media that includes images, video or interactive features to engage users and build a strong relationship. The deeper your relationship with potential buyers, the more likely they will be to progress all the way through your sales funnel.
If you want to grow your B2B business, attracting new buyers is essential. By utilizing these eight strategies, you can engage potential buyers and maximize the likelihood of conversion.



This post was written by Joel Lee, a marketing specialist at Trumpia, which earned a reputation as the most complete SMS solution including user-friendly user interface and API for mobile engagement, Smart Targeting, and advanced automation. Jumpstart your business by grabbing your free copy of this powerful Mobile Marketing Success Kit.