It's a Bird, It's a Plane, It's SuperMarketer KaDi Jones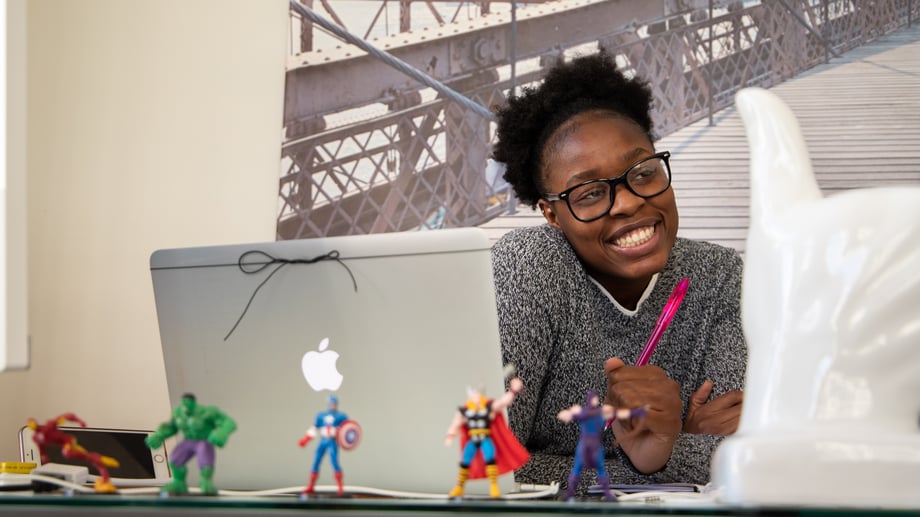 Shazam and abracadabra! Did you know we here at Accelity Marketing have real wizards working behind the scenes? While we don't necessarily practice magic, we can make content appear out of what seems like thin air. In this blog series, we will feature one of our talented team members so you can see what we are all about. This month's star is KaDi Jones!
---
What is the coolest thing about working at Accelity?
The coolest thing about working for Accelity is that it's more than just a job, more than just completing work for a few hours of your day. It feels like a family. WE ARE a family. From sharing an AirBnB for a week to oversharing personal details of our lives, we are not only team members, but family. A family that crushes it on the business front and celebrates and creates lasting memories together.

If you were to write a book about your life, what would the title be?
I'll Never Find My Name on a Keychain in the Gift Shop—But You'll Never Forget It.
What is your guilty pleasure?
Hot chips! I NEED them in my life. The one thing that I KNOW I cannot live without. Most of my diet plans are short-lived because of my crushing need to consume whole (big) bags of hot chips in one sitting.
P.S. If you ever want to buy me a gift - XXtra Flamin' Hot Cheetos
If you could have one special power what would it be?
Now, don't tell Captain I said this, but if I could have one special power I would want to improve humanity. And the only way that can happen is to have Thanos' Infinity Gauntlet and all six infinity stones in order to improve humanity. Guys, I swear I'd only use it for good, but isn't that what all evil villains say? Check back in after about 6 months of me having the Infinity Gauntlet to see if that still holds true.
If a friend/colleague were to bump into you in public, where would you most likely be?
It would most likely be at one of Milwaukee's many summer festivals. There has never been a festival that I've attended where I didn't run into at least five people I know. Most times it's someone I haven't seen in years.
What drew you to Accelity?
The fact that it is a smaller agency that was started by a woman. After attending and graduating from Alverno, an all women's college, I now, more than ever, am drawn to women who are commanding a space in the entrepreneurial scene, going after what they want. Joe Poeschl, co-founder at The Commons, highly recommended that I meet the women of Accelity who are making waves in the marketing scene.
If you were mayor for a day, what would you do?
Section off the downtown area to reenact scenes from any of the Avengers movies. I would then invite kids to come and be a part of all the festivities. I would, of course, invite all of the Marvel characters, but if they didn't show up I'd be prepared to play all characters from Captain America to Black Panther to Black Widow.