Make Sure Your Marketing Doesn't Suck: 3 Free Analytics Tools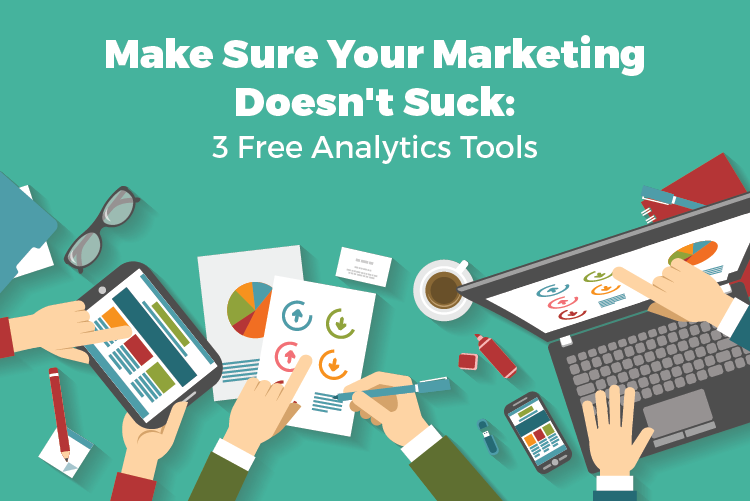 MarketingLand interviewed industry experts and many of them believe that analytics will turn away from being a buzzword and turn into something that actually drives business. Many companies and business owners value analytics, but don't actually measure them. If you're not tracking your marketing efforts by now, you should be. This is difficult for entrepreneurs and marketers for two reasons:
---
1. There's no simple way to track marketing ROI.
Analytics tools are (often) expensive, and the ones that are free are hard to use and even harder to understand. Putting processes in place means choosing the right ways to track marketing ROI, which takes time.
2. Cold hard numbers, applied to marketing, can be scary.
Every marketing program–especially when you're trying something new–doesn't yield amazing results. Marketing is a game of trying something, analyzing it and then adjusting the program. That means each initiative probably won't have super sexy results attached to it (even if your marketing efforts are successful as a whole).
I've spent a ton of time researching free analytics tools to market for my clients and am happy to share my findings with you below. The combination of these tools, along with built-in analytics in your email platform, will give a comprehensive look at the return of your marketing efforts.
Buffer
If you're manually managing your social media presence, stop it. Right now. There are so many free or cheap tools on the market that allow you to manage and analyze all of your social channels. Buffer is by far my favorite social media management tool; it's simple and intuitive, and shows your social reach in a nice, neat summary. The best part about Buffer is the number of social media tools you can use with Buffer:
Quicksprout
For a free tool, Quicksprout is very comprehensive, even if it's full of semi-annoying pop-ups. Use this tool to make sure you have the SEO basics down and are getting a good amount of social shares and backlinks, your site is indexing correctly and your mobile presence is as good as it should be.
They offer a number of upsell options if you have the budget and are interested in diving deeper into any of the above.

Google Analytics
I couldn't write this article without talking about Google Analytics. Used by most businesses, Google Analytics has capabilities beyond what even the most advanced users employ it for (seriously, check out this list of features). A beginner might look at this list and think, "that's way too much for me, no thanks!" but getting started is actually easier than you think.
Add the tracking code to your website and choose just a few data points to track at the beginning, then build out your dashboard as you get more comfortable.
Are there any must-have free analytics tools for marketing that I missed? Let me know in the comments below.