12 Tools That Make Small Business Life Much Easier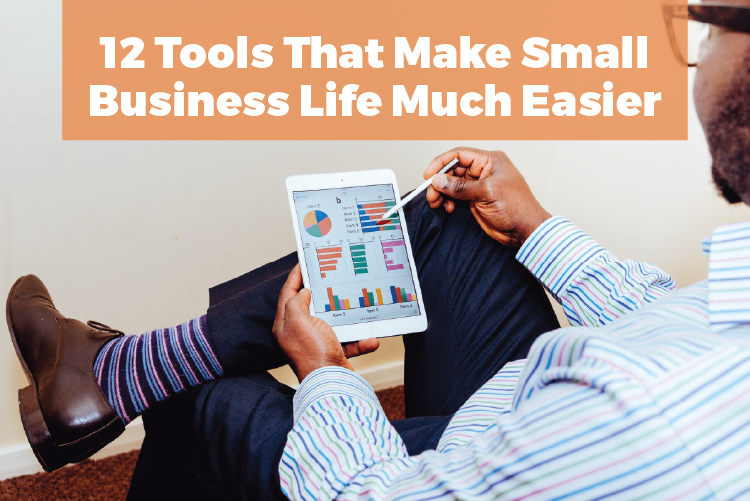 Every small business owner is short on time and money.
You wear a million hats, and I know for a fact that sometimes you do so much that it doesn't feel like you're doing anything right. Does that ring a bell? So how do you find the time to do it all? It's simple. Automate. Everything. The key to small business success is having enough (and the right) systems in place so you can rely on them.
Make the most of your time and money with these 12 free tools.
---
1. Buffer for social automation
See my notes about Buffer in my recent blog. I use Buffer to automate my social presence on Twitter, LinkedIn and Facebook and it has light analytics built in as well.
Cost: Free. Or upgrade for $10/mo.
Dropbox is an easy way to store your documents in the cloud. And if you invite teammates to your folders, sharing is easy too. The nice part about Dropbox over Google Drive (see below) is that you can easily keep documents in the format they're in without having to upload and download them over and over.
Cost: Free
3. Feedly RSS manager
Feedly helps me funnel all of the content I want to read to one place. And there are two major bonuses: no more annoying email newsletters! (this one is huge, I despise email newsletters) and it integrates with Buffer.
Cost: Free
Google Drive allows collaborators to access documents at the same time, which is its advantage over Dropbox. It makes sharing extremely easy between teams.
Cost: Free
The tool does exactly what it says it does – so if you're a blogger and you get stuck, open this tool up and put it to use.
Cost: Free
Inbox by Gmail organizes your emails so you only see what's important. After much begging on social media and via multiple emails, I finally got an invite to the limited release and it's awesome!
Cost: Free
Slack is a collaboration tool that's out to replace email. Conversation history is searchable and it's super easy to use. A number of my clients have implemented Slack for internal conversation and they've all seen improvement in their processes and communication.
Cost: Free
Square Cash (commonly known as Cash app) is a secure payment tool. I use it to pay the freelance members of my time but you can really use it for anything. With the Square Cash app, it takes just a few clicks to send money for free.
Cost: Free
Kin Calendar lets you connect other apps to your Google calendar. As someone who is not impressed by the Google Calendar, I love Kin. It integrates with so many other tools I already use, a couple of which are below!
Cost: Free
10. Todoist for task management
If it's not on Todoist, I don't do it. In fact, I love the tool so much that you'd think they're paying me to promote it. Check out my blog about it.
Cost: Free. Or upgrade for $30/yr.
11. Trello for project management
All of my projects are housed in Trello so I can collaborate easily with teams and communicate requirements, due dates and more.
Cost: Free. Get Trello Gold for $5/mo., or get it free by inviting your collaborators to Trello.
Formerly Unfollowers.me, I use Statusbrew to make sure I'm interacting with the right people on social and increase my fan base.
Cost: 6.90/mo. base level but there are free competitors like CrowdFire.
Are there any tools that you'd add to the list? Leave a comment below and let me know!