3 Common Marketing Mistakes That Businesses Make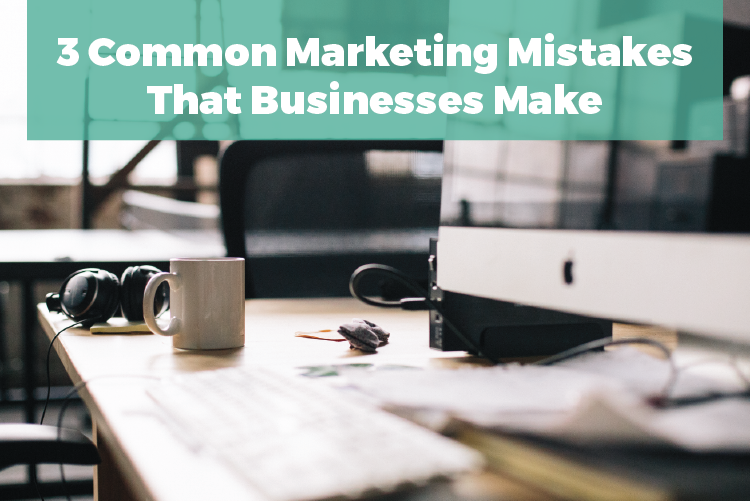 It's no secret that marketing is crucial for business success, whether you're an established company or we're talking about marketing for startups. Unfortunately, it's not always easy to know where to invest your time and dollars when you're not a marketing expert. Below I share a few of the most common marketing mistakes that businesses—small and large—make, and how you can avoid them.
---
1. Putting tactic before strategy
I see this with nearly every new client I meet with. They want help "improving their Facebook presence" or "developing an ad campaign." There's nothing wrong with these objectives, but I always suggest taking a step back first.
What is your competitive advantage in your market?
What are your goals for the next six months or year?
What is and isn't working with your current marketing?
Before you understand these core elements, you can't form an effective, powerful marketing plan. It's impossible to build a successful Facebook presence or a killer ad campaign without understanding the underlying strategies and goals of your company. And there are even times when this strategy discussion reveals you should actually be going in a completely different direction with your marketing.
I cannot emphasize enough the importance of strategy.
2. Being too "me" focused
It's understandable. Companies know their product or service is fantastic, so they want to tell potential customers just how fantastic it is. Unfortunately, this is the opposite of effective marketing.
Customers want to be understood. They want to be spoken to. They want you to make their life easier. The key to successful marketing is knowing your customer – their needs, wants, challenges – and then understanding how your product speaks to those needs. Focus on the customer, not on your product.
Bonus: Here are some great questions to ask your customers to better understand their needs.
3. Jumping on the trend bandwagon
The number of marketing tools and trends today can be overwhelming even for a marketer, so I know that business owners are constantly wondering if they should be diving into the "latest" craze or platform.
However, the most important thing to remember is that what works for one business may not work for yours—so even if your friend's business is having success with the latest software or gadget, that doesn't mean it will work for you.
Rather than trend-hopping, the best approach is to define your company's goals, develop a high-level marketing strategy, and then choose tactics and platforms that fit your plan. It's easy to get distracted, but usually not worth it.
Your turn.
I'd love to hear your thoughts. What do you think are common marketing mistakes? Have you had experience with any of the above? What about experience with marketing for startups? Please share your comments below. Need help with your content marketing efforts? Contact Milwaukee content marketing agency, Accelity Marketing.