The Ultimate Checklist for Creating Your Twitter Profile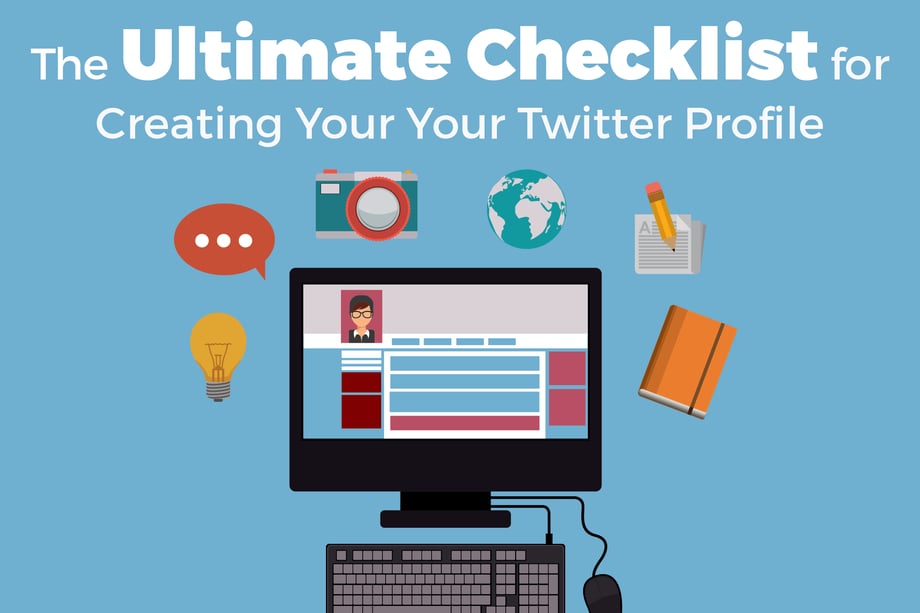 If you're just getting started on Twitter, it's common to get excited about what you're going to tweet and who you're going to follow. But it's important to take the time to fill out your profile completely, so that you present the desired image of your brand, attract the right followers and take full advantage of the medium.
In this blog I'll talk about the essential areas to focus on when creating your Twitter profile. This checklist may be helpful for existing users as well who want to refresh their Twitter page or just make sure it is as fantastic as it can be. Note: In this blog, I'll be focusing on Twitter as it applies to businesses, not Twitter for personal use—though many of the same tips can apply.
1. Upload a relevant profile photo/image.
No one will be interested in what you have to say if the default "Twitter egg" is still your profile photo. For businesses, a logo is often a good option for your profile image. Other choices may be an image of your mascot, a photo of your CEO or a group of employees, a photo of a product you sell, etc. Some tips:
The photo area is square, so make sure it doesn't cut off any of your image, particularly if you're using a logo. When I upload logo images for my clients to Twitter, I often need to add a bit of whitespace around them using a photo editing program to avoid any cut-offs.
Keep in mind that although your profile photo is large on your profile page, it is tiny elsewhere around Twitter (i.e., when someone is reading one of your tweets on their Twitter feed). Make sure your profile photo is visible and intelligible at that small size.
This should go without saying, but because your Twitter page represents your company, the profile photo should somehow be representative of your brand and (hopefully) recognizable to customers.
Recommended dimensions are 400x400 pixels, and Twitter accepts the following file formats: JPG, GIF, or PNG.
2. Choose a descriptive name.
Essentially on Twitter you have two names. One is your handle, which is the name you chose with the @ symbol before it. The other is a name you can choose and edit on your profile page (right below your profile picture).
Why is this important? When you tweet, both names display—you'll see below that I chose my full name as my text name.

For a business or brand, your text name may be the same as your handle, or you may use that text name to be more descriptive or specific than your handle allows (since the format and availabilities of Twitter handles is more restricted).
3 . Make good use of your 140 characters.
I'm not talking about when you tweet, here, I'm referring to your profile description. In true Twitter form, the site allows each user to craft a description for their Twitter page that cannot exceed 140 characters. Use those characters wisely. For instance:
Introduce your company, who you are, what you sell or offer.
Though the space is limited, try to use the opportunity to reflect your brand and voice (serious and professional, fun and playful, sarcastic and witty, knowledgeable and educational, etc.)
Don't worry about putting your location or website, as Twitter now allows you additional spaces for that information, so you don't need to waste characters on it.

BONUS TIP: Make absolutely sure you include your website in the field available for it! You want followers of your page to be able to find your site and ultimately become customers, so make it easy for them.
4. Don't forget a header photo.
Compared to other social media sites, the Twitter profile isn't as elaborate, so you want to take advantage of every opportunity to display your brand. An often forgotten area (especially for Twitter beginners) is the header photo.
This is the large horizontal photo at the top of your Twitter profile, and it offers almost limitless opportunities to promote your company and brand. Besides ensuring the size is correct (Twitter recommends 1500x500 pixels), you have many options:
Show a larger image of your logo/branding
Promote your products or services
Offer followers an inside view of your company by showing your employees, behind the scenes of your office, etc.
Promote your latest special, new release or other promotion
If you need any extra help, be sure to check out Twitter's help section for creating your profile. And please comment below if you have questions or thoughts to share!