No Office? No Problem - Milwaukee's Top 10 Remote Workplaces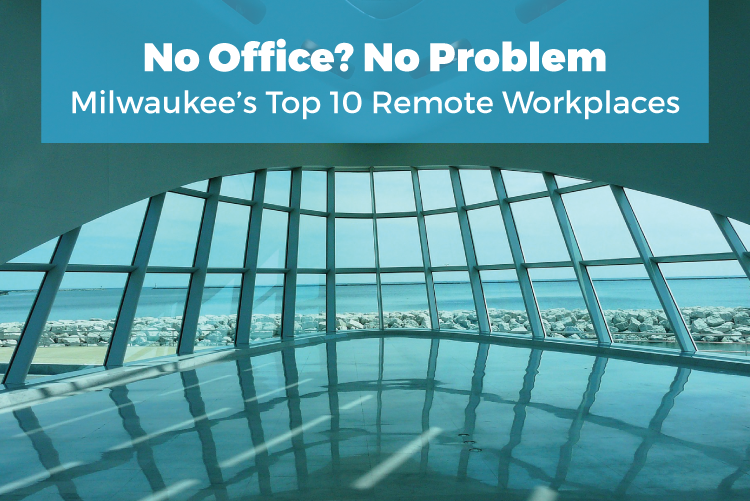 Working from home can be stressful; yet being at the office can become repetitive and tiresome. With an abundance of small quirky cafes, Milwaukee is a great city to shake things up in your work life and go remote. Here are 10 great remote workplaces in Milwaukee where you can be productive outside of the office.
We've labeled our favorite places with a few icons, to help you know what to expect when you get there. Follow this key:

Cafe Calatrava
Every time I step inside the Milwaukee Art Museum I can't help but feel inspired. The cafe is located in the back of the lobby near a large set of windows, which offer customers a great view. The natural lighting in this place is awesome and the building itself is pretty amazing. So after you finish up your work, treat yourself with a tour through the museum and you will not be disappointed.
Colectivo - Lakefront
One of the most popular Colectivo locations seems to be the Lakefront cafe. The coffee shop is located in the old Milwaukee River Flushing Building and it has a rugged feel that captivates its customers every time. The only problem is that it is often over crowded and noisy. So if you're a person that has a hard time focusing with constant stimulation around you I would suggest checking out some of the other Colectivo locations.
Colectivo - Prospect
My personal favorite is the Prospect Cafe. They have great customer service with indoor, outdoor, and garage seating. It has a lot of space so it never seems as busy, and with the variety of seating this location is perfect no matter how you prefer to work.
Radio Milwaukee Cafe
This Stone Creek location is a great place to sit down, plug in headphones, and get some work done. The baristas are great and they always seem to make the drinks at the perfect temperatures. This location has a unique industrial feel and lots of space to spread out your materials and attack the day's work.
Milwaukee Public Library
If you're the type of person that needs peace and quiet to be productive, or you're just looking to separate yourself from the chaos for a day, then there are plenty of Public Library options in the Milwaukee area. Check them out here.
Anodyne Coffee
I absolutely love this Walker's Point coffee shop. Anodyne has both a great coffee selection and a great atmosphere to work in, regardless of the type of work you need to tackle. Whether you need a place to unplug and reflect, or simply an area to accomplish your day-to-day tasks on your computer, then Anodyne Coffee is the place for you.
Milwaukee Public Market
So this place can get a little hectic. But there is seating on the second floor where you can relax while all of the chaos goes on beneath you. If you work better in an environment with constant stimulation then this may be your go-to out of office location. In the Milwaukee Public Market there is never a dull moment and if you're hungry there are a lot of adventurous foods to try.
Where is your favorite spot? Let us know in the comment section below and we will be sure to check it out!