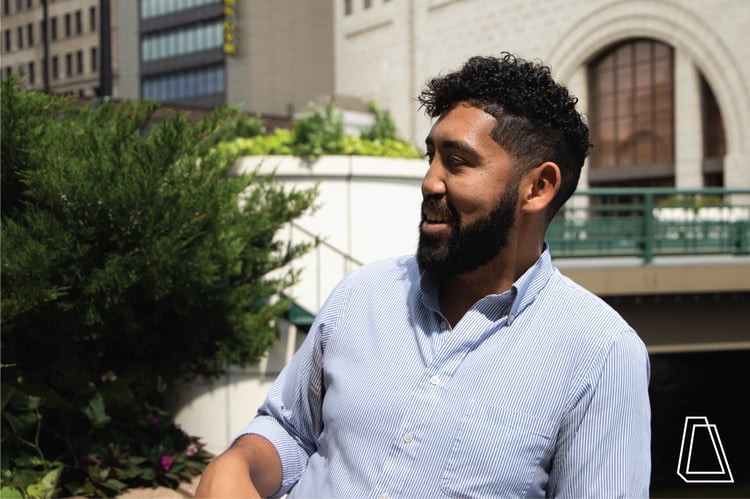 Follow the yellow brick road to meet the wizards behind the curtain at Accelity! We might not practice magic, but we can make content appear in the blink of an eye. In this blog series, we will feature one of our talented team members so you can see what we are all about. This month's star is DJ Bruwer!
---
What 3 words describe Accelity to you?
Innovative, Driven and Inclusive
What is your hometown known most for?
Thursday night ski shows, showcasing yours truly building pyramids and doing water tricks (mostly falling). Otherwise, our little downtown beach and water festivals - Pewaukee Lakefront may be small but it's always a good time.
What is something you are proud of with your work?
Progression and growth professionally. I have been lucky to build relationships with past managers and bosses that have turned into mentorships.
If you could meet one dead famous person who would it be?
Nelson Mandela - He knew how to get shit done while being collaborative & effective.
What is something you'd want a newcomer to Milwaukee to know?
There are so many street fairs, festivals and overall activity. There is no way anyone can ever get bored of MKE.

How has Accelity helped your career development?
There is major trust and respect for everyone in the office and the work that they do. Just having that type of environment in place allows invitation for new ideas, processes and strategies. Love how new ideas are welcome and encouraged.
What's your secret talent?
So, I don't really know if this is a talent or just plain out weird. That being said, I'm originally from South Africa and moved to the states when I was fairly young. Naturally I acquired an American accent. However, when I'm around my family my South African accent automatically kicks in. The fun part is when a conversation is mixed with friends and family, my accent will go in and out depending on who is talking to me and who I'm responding to. Can we get a linguist to check me out, make sure I'm okay?