No Marketing Budget? No Problem! How to Generate Web Traffic For Free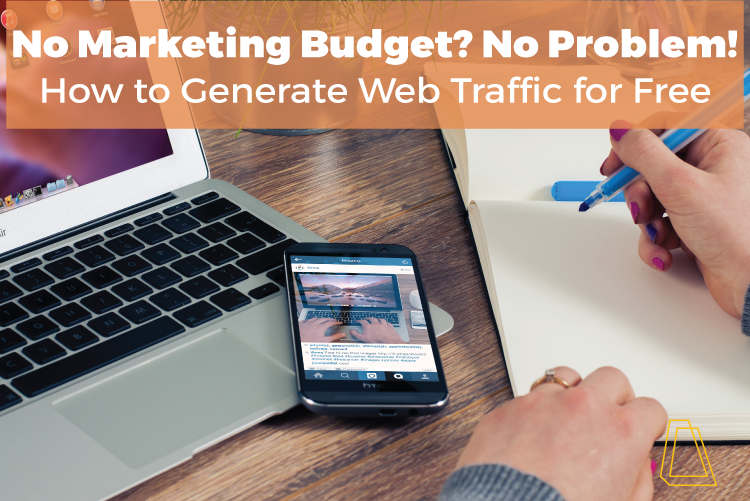 Free is nice, isn't it? There's nothing like finding something that costs absolutely nothing. The problem is that in today's world, it seems like everything costs money. While this may be the case, when it comes to your marketing efforts, money doesn't have to play as big of a role as you think.
If I told you, "I can help you drive more traffic to your website right now," you'd probably be pretty excited, right?
This is because we are always trying to do things on a budget—and that's great—it forces us to think outside of the box. You might not have a big marketing budget right now, but knowing how to drive more traffic to your website with a small budget can be the difference between sinking and soaring.
Here are a few ways to generate web traffic with little or no marketing budget:
---
On-Site SEO
Do you know how SEO works? If you don't, read my blog about the crucial SEO terms you need to know. Once you understand basic SEO concepts, it's crucial to make sure your website (the digital face of your business) is optimized for search. Some web design sites like Wordpress or Squarespace will give you tips to help your site's SEO. When focusing on on-site SEO, make sure you:
Use short, concise HTML tags

Add alt text for images

Optimize site speed

Write for humans, not search engines
Start Blogging!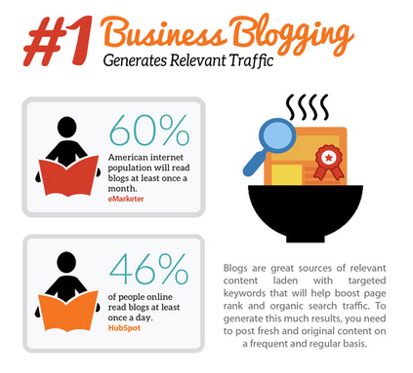 Do you have a blog? If not, start one! Here are a few resources you can check out if you need help kickstarting your business blog:
Blogging is the perfect tool for creating valuable content that drives people to your website. If you do this well, you and your blog can be a trusted source for great content.
Blogging strongly benefits your on-site SEO. Boost SEO by writing a post about a solution to your prospects' problems, or a post that helps them reach their goals. You can drive traffic further by placing a call-to-action within your blog and directing them to additional content and downloads that move them closer to purchase.
Post. Tweet. Follow. Share. Connect.
Social media is a top channel for driving more traffic to your website. Many businesses use Facebook, LinkedIn and Twitter to gain followers and fans, leading to huge opportunities to display your content to the public. Another benefit of social media is that it's free (unless you choose to advertise).
Brand's who use social media will see big gains. (Here are some great brands using social media to grow their business and engage followers.) Much like a blog, social media builds trust and credibility. When people have a question, thought or want advice, they will come to you. There are cheap, paid ways to increase traffic to your website, but they aren't always necessary, though they can boost your presence even more.
When starting on social media, you should begin by developing a strong social strategy. Consider posting on other sites in addition to the established sites like Facebook, Twitter and LinkedIn. You may want to create an Instagram account, or look into sites like Pinterest. Regardless, when you're starting out you should implement a social media content calendar to help you keep track of everything.
I wouldn't say there is a wrong place to start on social media; some platforms are more beneficial and effective than others based on your industry, but if you test a few different platforms you can decide what's best and tweak the strategy as you go.
________________________________________________________________________________________________________________
Boost website visits further with our ebook, 25 Must-Haves for Driving Web Traffic & Increasing Sales.
________________________________________________________________________________________________________________________
---
Guest Blogging
Once you've become a trusted blogger, which may take time, you might be asked to guest blog, or you may offer to guest blog for other sites. Guest blogging can further increase your presence as a trusted, authoritative source for content. When you guest blog for other websites, it shows they trust you enough to share your content. Guest blogging has SEO benefits as well. When trusted sources link back to your website, Google sees that as an authoritative link, and you benefit. This strategy is also known as "backlinking."
Target Long-Tail Keywords
The days of short-tail keywords dominating are over. Today, long-tail keywords dominate. Don't know what long-tail keywords are? Check the blog I alerted you to earlier for a definition. Here's an example as well:
Let's say you want to want to make a carrot cake. You could search for "carrot cake", a short-tail keyword, or you could search for "best carrot cake recipes", a long-tail keyword. Because long-tail keywords are more specific, they help you narrow your search.
Long-tail keywords usually have lower search volume, but they have higher ranking possibilities, and that is where the gold is at. People who search for your long-tail keywords may also be better prospects, because they are specifically looking for something you offer. The strongest way to boost up your rankings to reach those people is to create content. If you write a baking blog, post a great carrot cake recipe with the title "The Best Carrot Cake Recipe You'll Ever Eat." Targeting long-tail keywords will help you reach a better audience and become more visible without paying a dime.
Utilize Youtube
YouTube is a social media platform, and though I already talked about social media in this blog, I wanted to devote a separate section to it because YouTube drives more traffic to websites than any other social media site. As a visual person myself, I would much rather watch something than read about it, and many other people would, too. If you don't know where to start, take a look at your blogs and pick out a few with messages that you can repurpose as videos on YouTube.
Once you've created your video, don't forget to add your website link, and even the transcript, to your video description to boost your video SEO. Then, invite your social media followers to watch your latest video, comment on it and share it!
Here's a tip: If you're a small business, you can absolutely start small. Try putting out 1-2 videos a quarter, and test how they are working. Your videos don't have to be a huge production—it can be as simple as providing quality information on a clear smartphone recording.
I hope the ideas I passed along to you help you generate web traffic with ease. Remember, you don't need to be an SEO expert or social media genius to use them. You can start small—implement one idea at first, making sure to track your website traffic, and test what works best for you.
Happy traffic generating! (P.S. If you need help generating more website traffic, contact Milwaukee marketing agency, Accelity Marketing.)