Optimize Your B2B Lead Generation with 6 Quick LinkedIn Profile Changes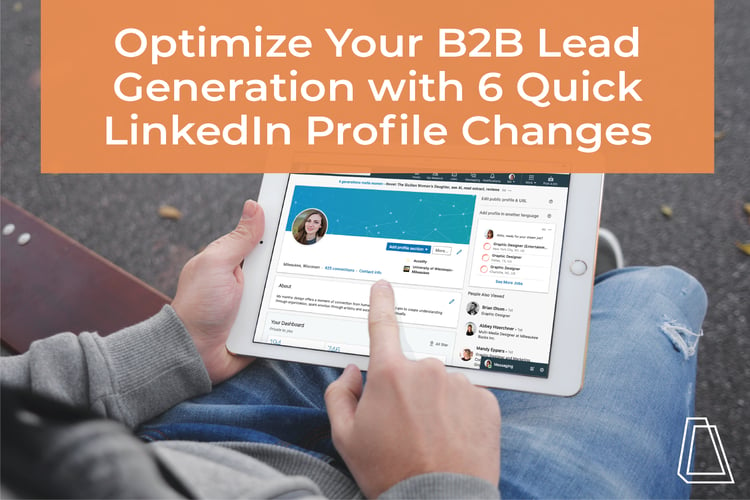 In the past, we've explored just how large of an impact the right LinkedIn strategies can have on your business. In case you missed it, from generating new leads to growing ARR, the potential return is substantial.
Get the most out of the platform with these quick changes you can make to your LinkedIn profile:
Update your profile photo. Your low res headshot from 2006 just isn't cutting it. Take an updated picture in attire you would wear to a networking event. Keep the backdrop clean and non-distracting.




Update your cover photo. This should be in line with your personal brand or your company's brand. Include a photo of you speaking, working or utilize company colors and a tagline.


Write a few recommendations. Writing recommendations is a great way to express gratitude to colleagues and you'll benefit as well. In addition to having your profile show up on theirs, they'll also be more likely to write you a recommendation in return.


Make your headline actionable. People will be able to see your current job title by visiting your profile, thus you don't need to include it in your headline. Instead, describe the benefit you provide for people who chose to work with you.


Update experiences. Each of your experiences should be linked to a company page. This ensures the company logo shows up on your page and allows viewers to visit the company page directly from yours.



Additionally, each of your experiences should include bullets detailing your responsibilities. 2-3 is sufficient for most roles except for executive positions which merit 5-6. Along with these, be sure to include any notable accomplishments and attach relevant documents or project pieces.

Regularly post and interact with others' posts. When you're connected with people, you show up in their newsfeed anytime you make an update to your profile, publish a post or interact with other people's posts. In order to stay top of mind, you should be regularly posting and interacting.
We've found videos to be especially beneficial for driving engagement. This guide is a great resource for getting started.
Bonus: Personalize your URL. Personalizing your URL is helpful for SEO and can make it easier for people to find you. LinkedIn walks through how you can update yours:
Click the Me icon at the top of your LinkedIn homepage.


Click View profile.


On your profile page, click Edit public profile & URL on the right rail.


Under Edit URL in the right rail, click the Edit icon next to your public profile URL.



It'll be an address that looks like www.linkedin.com/in/yourname.



Type the last part of your new custom URL in the text box.


Click Save.
Each of these changes can be made in less than half an hour. Don't have time to update them all at once? Try updating just two each week and you'll have a fully optimized LinkedIn profile in just a month.
Want more input on how to make the most of your LinkedIn profile? We'll review yours and tell you where you can improve. Request a free profile assessment here!