Popups Beware: How the Next Google Mobile Update Will Impact Marketers
---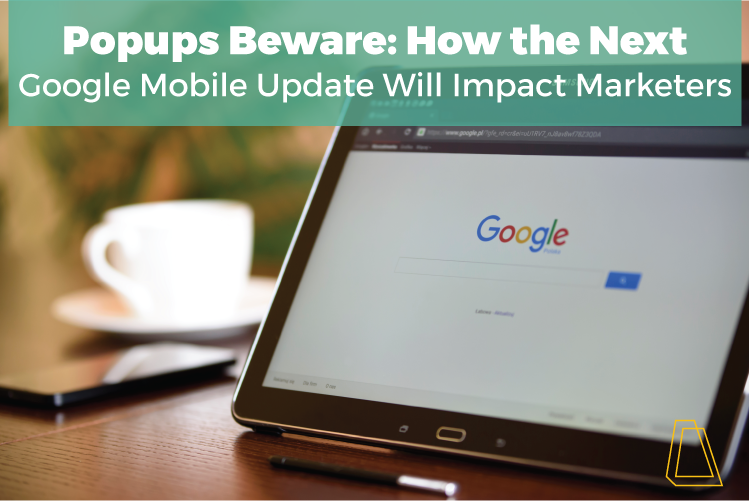 This post was written by guest blogger, Danielle Theisen. Learn more about Danielle here.
January 10, 2017. It's coming. It's the end—the end of intrusive interstitials. The next Google mobile update will force marketers to once again take a look at their website experience from a mobile perspective and ensure their mobile site visitors find relevant content without being interrupted by popups.
When they announced the upcoming mobile update, Google made it clear that their goal "is to help users quickly find the best answers to their questions, regardless of the device they're using." In an effort to enhance mobile experience, Google deemed intrusive interstitials as a detriment to a site's mobile experience. Andrew Bullis, SEO strategist for a Wisconsin-based ecommerce company, says that this update is similar to Google's "Mobilegeddon" update in April of 2015. As mobile traffic across the web increases, Google is going to put more emphasis on mobile results than desktop results.
---
Below are a few things we need to understand about the next update:
What are the implications of the new Google mobile update?
As of January 10, 2017, pages won't rank as highly if content isn't easily accessible to the user when navigating from mobile search results to the webpage.
What does "intrusive" really mean?
Google deemed the following types of popups as intrusive to the user:
Showing a popup that covers the main content, either immediately after the user navigates to a page from the search results, or while they are looking through a page

Displaying a standalone interstitial that the user has to dismiss before accessing the main content

Using a layout where the above-the-fold portion of the page appears similar to standalone interstitial, but the original content is underneath the fold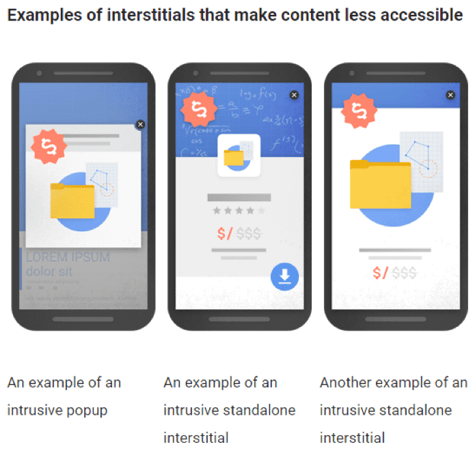 Can interstitials still be used? What would be deemed as an "acceptable" popup?
This Google mobile update places more stringent parameters around what kind of interstitials are acceptable. According to Google, the following popups may not be affected by the Google mobile update:
Interstitials that appear to be in response to a legal obligation, such as for cookie usage or for age verification

Login dialogs on sites where content is not publicly indexable. This includes private content such as email or unindexable content that is behind a paywall

Banners that use a reasonable amount of screen space and are easily dismissible. The app install banners provided by Safari and Chrome are examples of banners that use a reasonable amount of screen space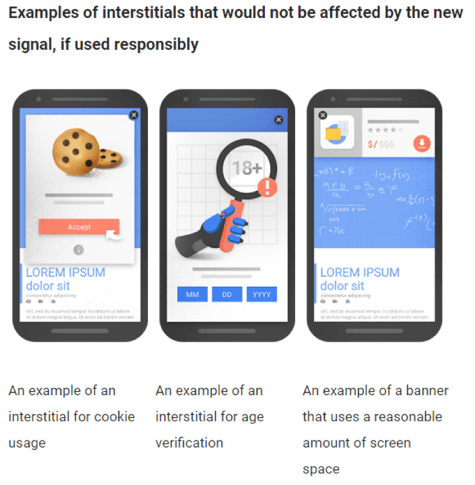 My site uses intrusive popups! I'm starting to panic!
Don't panic just yet! First, it's important to remember that this new signal from the Google mobile update "is just one of hundreds of signals that are used in ranking." Andrew Bullis reminds us that "content always wins. Google will always serve content most useful to the query." A page may still appear at the top of the search engine results page if the content is the most relevant to the user's query.
Next, talk with your web developers. Question your user experience experts. Have them review your entire mobile site experience. What are other ways you can capture email addresses, present offers or nudge site visitors into the top of the sales funnel?
While the upcoming Google mobile update may present some initial difficulties for marketers, the end goal ensures that your site visitors find the content they're looking for. A more mobile-friendly site experience coupled with a strategic content marketing plan will ultimately help your site visitors find the best answer to their search query.
Do you need help creating valuable website content that will boost your SEO? Contact Milwaukee marketing agency, Accelity Marketing, for assistance.