Should My B2B Company be on Pinterest?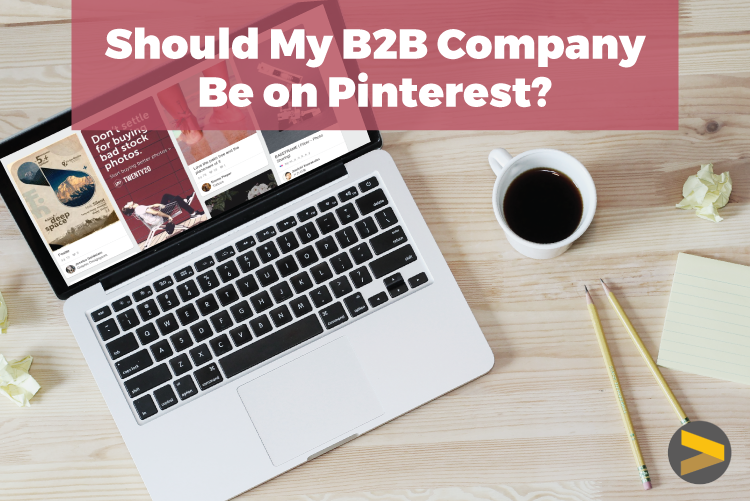 If you're like most B2B companies, you probably already have a social media presence—perhaps a Facebook, Twitter and/or LinkedIn account. But you also likely wonder if you should do more. There are so many social media platforms today, it is hard to know which ones are best for your individual business, especially as a B2B company.
In this blog we're going to explore Pinterest, and whether it is a good social platform for B2B companies to use.
---
About Pinterest
If you're not familiar with Pinterest, it allows you to share visual posts with your audience, and bookmark other posts you are interested in. Pinterest defines itself as a "visual bookmarking tool that helps you discover and save creative ideas." Get more basic information on Pinterest here.
If you are familiar with Pinterest, you may think of it as a personal social media pursuit, to browse new recipes or share decorating ideas. If you've thought of it in business terms, you may have thought it made more sense for B2C (business-to-consumer) companies. While both of those notions are accurate, that doesn't preclude Pinterest from being a network where B2B companies can find success.
Pinterest posts are extremely searchable, both within Pinterest, and from other search engines, making content you put on Pinterest valuable. In addition, Pinterest users focus on sharing and bookmarking content they are interested in, making it a platform that brands can use to increase their reach.
Is Pinterest right for your B2B company?
Let's start by saying no social media network is right for every company. Like any good marketing strategy, your social media program should be tailored to your business's goals, budget, customer base, industry, product or service offering, brand, etc. While you should evaluate all those criteria when deciding whether Pinterest is right for your specific B2B company, I'm going to share some general suggestions to help you determine if Pinterest is a good fit or not.
Consider using Pinterest for your B2B company if:
You create a lot of content.

Pinterest is a great place to share content such as infographics, ebooks, webinars and blogs, because most content has a visual component that can be compelling on Pinterest. Pinterest could offer another venue to more widely share the content you're already creating.
You have a visual product or service offering.

If you are selling something that can be conveyed visually, Pinterest is a great place for you. People love sharing "pins" that interest them, so if your offering is attractive, Pinterest could offer a new audience of potential customers.
One or more of your primary buyer personas is female.

Buyer personas is a topic for another blog, but essentially, you should have "personas" created for the main types of people you sell to. So even though you sell to another business, the primary decision maker or purchaser is the person you'd be targeting using Pinterest. Approximately 70-80% of Pinterest users are women, so if that is an important buyer demographic for you, Pinterest may be a good fit.
Next steps
If this blog convinced you Pinterest is the place to be for your B2B company (or if you're already using Pinterest), stay tuned for my next blog for some B2B Pinterest marketing best practices.