Small Business Video Production Without the Heavy Equipment
---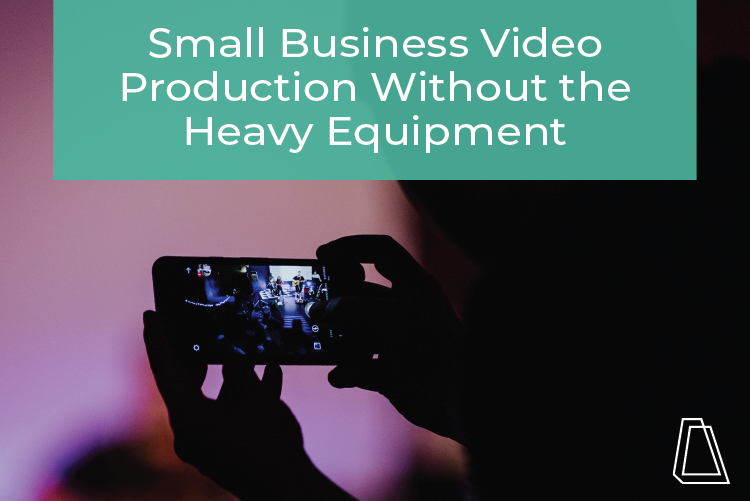 It's undeniable. Video is the hot topic tool that's empowering marketers today. Over half of your audience prefers visuals to reading, and more and more businesses are catching on to this trend as they invest in video marketing to tell their story, bring life to their brand, and, ultimately, score more customers that they can leverage to generate leads.
But creating video generally entails a lot of heavy (aka expensive) equipment, oodles of technical knowledge and a boatload of time, making video out of reach for small businesses, right? Wrong.


It's not called a dumbphone
The device you use to organize most of your life can actually give you some pretty great video. Here's how to maximize your smartphone's video capture and your role behind the camera.


Shoot landscape (horizontal). It not only maximizes your screen space and looks more professional, but is also how your audience is used to viewing video.
Avoid zoom. Digital zoom, though it seems handy, destroys your visual quality. Either stay close to your subject without zooming in on them or take some B-roll (supplemental footage) from farther away. B-roll can be extremely helpful in setting your video's mood anyway.
Get your best shot. Lighting is the first step in creating a quality-looking video. If you're not looking to spend a fortune on lighting equipment, natural daylight is your best friend. When filming a subject, whether it's a human or an object, find a window or go outside and face the brightness. (Yes, there is life outside the office doors.)
Angles and framing are your next steps. Avoid the low, under-the-chin angle—it's unflattering and uncomfortable. Shoot at eye-level or just slightly above to create the best shot. Also aim to fill the frame with your subject. If you are filming a human subject, remember to leave some space so they aren't colliding with the edges of your frame. Keep your subject centered or apply the Rule of Thirds.
Once you find your lighting, your angle and your frame, stabilize your camera. If you've got shaky hands, a simple phone tripod like this can be your savior in making sure you have a steady shot.
Incorporate stock video. For everything you can't shoot, there's stock video. It may feel unoriginal or inauthentic, but it's perfectly okay to recognize that someone else has the ability and equipment that you don't have. It's out there for a reason—just don't fill your whole video with it. Stock video is perfect for creating visual breaks or transitioning to the next part of the sequence. There are plenty of useful free resources out there, but PexelsVideos is a great place to start.
Could you describe the ruckus, sir?
We're all familiar with the muffled, cringe-worthy audio that you get when you film on a phone. Though smartphones have made leaps and bounds in image-making, sound has a long way to go. A phone can definitely handle up-close, personal audio spaces, but, let's face it, it crumbles in the long-distance relationship. Here's what you can do to help yourself.
A quiet place. It's not just a cool new thriller featuring our beloved Jim Halpert. It's your reminder of the silence you need when you're filming a talking subject. Minimize ambient noise by avoiding echoey rooms and windy outdoor spaces. I also highly suggest investing in an inexpensive Lav mic. It's easy to use with your smartphone and can significantly improve the audio of your video.
Voiceovers and b-roll, a match made in heaven. This is the spot where you combine everything you've learned so far. Shoot some supplemental footage (coworkers talking, traffic trafficking, people walking) or use those pretty stock videos. Mute the sound on those and lay a moving voice over them, captured with your shiny new Lav mic.
If you're leery of using your own voice, you can pay someone as little as $5 to make your video sound professional. These angels live at Fiverr.com.
"If you talk to any director, they'll say music is fifty percent of the movie." What Hans Zimmer doesn't mention is that music can also save your butt when you don't have the best audio. The soft, underlying music can work magic on distracting from some audio hiccups. Find a good tune, and make sure your video follows the beat. YouTube's Audio Library is a fantastic place to start looking for royalty-free (and actually free) music.
To be perfectly frank with you, some of the best brand videos use only the simple combo of B-roll, voiceovers and music. Check out Shinola for some inspiration.

The lesser-known "e" word
Editing, the nasty bugger. There's no way around it. If you're not familiar with video editing programs, it's going to take time to familiarize yourself with them. It's a nitpicky business, and you're going to hate it at first. On the bright side, we have this wonderful free tool called YouTube, where a plethora of how-to's reside. If you have a Mac, you're in luck. You're already equipped with iMovie, a fairly straightforward editor. Adobe also provides a highly intuitive editor called Premiere. If your company already uses the Adobe Creative Suite, you've got this tool at your fingertips. Other programs like Lightworks and Blender are available to make your life easier as well.


Fake it 'til you make it
You don't have to be a visionary to create great brand videos. Copy styles you love. Until you get the hang of what you actually like in your own video, imitate filming and editing styles from other brands that compel you with their videos.
Now get out there and create.