5 Reasons Every Young Entrepreneur Belongs in Milwaukee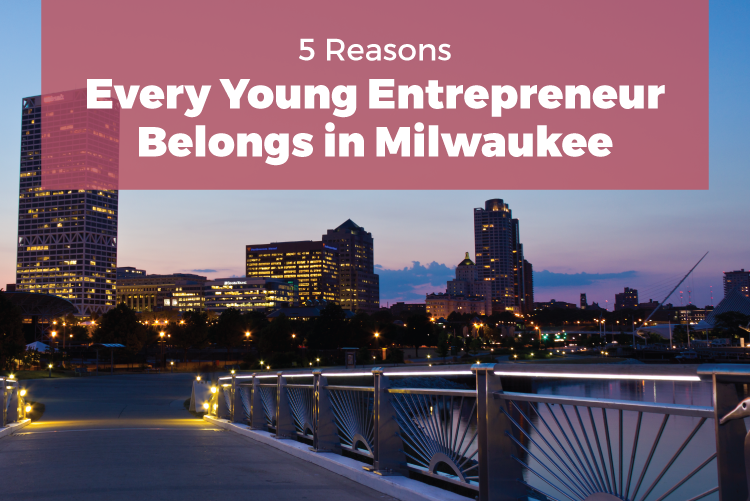 Whether you are from Milwaukee or not, whether you moved away or never left, whether you own a business or are planning a startup, Brew City is the place for you. In Milwaukee, young entrepreneurs can thrive, regardless of race, gender or socioeconomic class. Here are a few reasons why:
---
1. Milwaukee has a bright future.
There is so much to be excited about. From the new Milwaukee Bucks arena, to the streetcar being built downtown, to several other developments, this city is the place to be. In the next few years, young entrepreneurs and business owners will thrive here. So why not enjoy it now, from the beginning? Why not be part of the growth?
2. Milwaukee is full of beauty.
I explore Milwaukee a lot. I've made it my personal mission to visit every nook and cranny, to find my way to every rooftop and every alleyway. I have a long way to go before I meet that goal, but it's the journey that is satisfying. When I first came to Milwaukee, I kept to myself, but once I got out there, I never looked back. In Milwaukee, everything is art. Frederick Law Olmstead designed our parks, our art museum has wings (!), our lakefront is gorgeous. Milwaukee is a very walkable city, which makes it easy to explore all the sites, although if you're in a hurry you can always take a ride on a Bublr Bike. Milwaukee will only continue to grow and flourish as more and more people are attracted to this city.
3. Milwaukee is called "Smallwaukee" for a reason.
"You can be a big fish in a small pond," one entrepreneur said. "You can get meetings with the mayors and CEOs," said Kristine Hansen, in her recent article, Why Chicago Businesses Love Milwaukee Now.
Milwaukee is the perfect networking city. Everybody knows everybody, which is ideal when it comes to entrepreneurship. Often people that left Milwaukee, dreaming of bigger and better cities, of great and grand adventures, return once they realize that Milwaukee has what they were searching for all along.
There are many groups, such as Newaukee, Startup Milwaukee and FUEL Milwaukee, devoted to connecting entrepreneurs and others around the city. It is easier than ever to make connections.
4. Milwaukee welcomes all ideas.
Milwaukee is filled with small, quirky shops and businesses. If you have an idea, it will be welcomed here. Just check out the Third Ward, where a variety of businesses live, including boutiques, indoor markets, event spaces, wine bars and even an old-fashioned speakeasy.
5. Milwaukee is full of young professionals.
Milwaukee is a young city. It's quirky, innovative and growing. New York City, Chicago and Los Angeles are all big cities filled with culture, people and opportunities. But those cities are already established. Young professionals here are making a difference, thriving and proving that Milwaukee is a great place to do business.
A good friend of mine once told me to embrace wherever you are, because you never know who you might run into or what opportunity might cross your path. I have developed quite the love affair for this city and I am excited to watch it grow. I believe it will be a go-to destination within a couple of years. Get involved now, make connections, explore and you may just fall in love with this city, too.
What do you think? Leave us a comment below, and let us know your experience with Milwaukee and entrepreneurship.