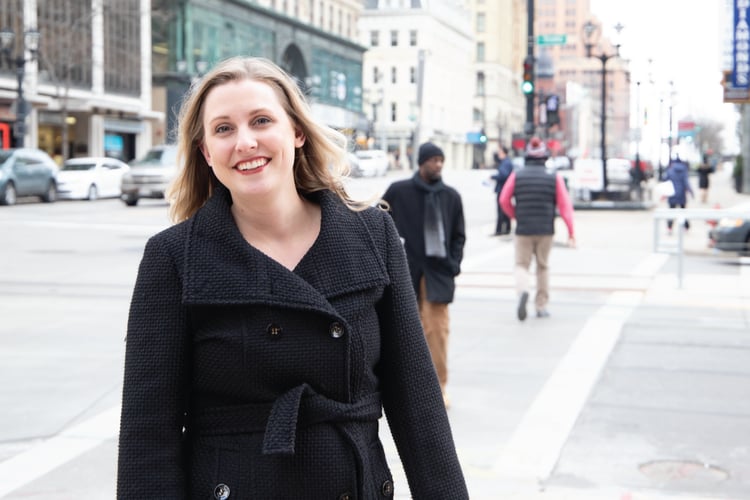 Follow the yellow brick road to meet the wizards behind the curtain at Accelity! We might not practice magic, but we can make content appear in the blink of an eye. In this blog series, we will feature one of our talented team members so you can see what we are all about. This month's star is Emily Whipple!
1. What 3 words describe Accelity to you?
Innovative, professional, evolving.
2. What drew you to Accelity?
Flexibility, new challenges, a different world! The positivity and optimism of the team members
Jenny and I were roommates in college, sharing a house with seven other women. For years, I knew Accelity as "the startup where Jenny worked." I heard bits and pieces about the business when our roommates got together for trips or weddings. As a first grade teacher, I loved hearing Jenny's stories and watching her grow professionally, but I never expected that I'd become a part of Accelity one day. After my daughter was born, I pressed pause on my teaching career and intended to be a full-time stay at home mom. The opportunity to join the team was intriguing and a little intimidating, but I was drawn to the strong female leadership, new challenges and flexibility. The positivity and optimism of the entire team is contagious.
3. If Accelity was a comedic movie or TV show, what do you think it would be?
Friends. The ensemble nature of the show showcases each actor's talent while allowing their combined strengths to create something spectacular. Likewise, Accelity looks for ways to tap into each team member's strengths. Accelity's team environment, with its practice of radical candor and extreme ownership, pushes the company's growth and evolution much like the cast of Friends holds one another accountable. Because I'm not physically present at the office all of the time, I feel a little bit like Gunther--watching the group from a distance, occasionally a part of the fun, and responsible for making their jobs a little easier. I swear I get as many requests for "more water" as Gunther did for coffee-this team likes to be hydrated! (I see almost as many requests for the missing bathroom keys...not sure if they've noticed the correlation yet!)
4. What's your secret talent?
Rearranging kids' spaces. When I was teaching, our custodian joked that my room was the only one he ever bothered to turn the lights on when he vacuumed. Why? Because I'd switch the furniture around so often. I do the same thing with my kids' toys (and pretty much everything else in our house). I constantly change it up to better suit the changing needs of my two little kids. I'm also awesome at refilling sippy cups while driving.
5. Who inspires you?
Everyone! My kids, husband, family, friends, the entire Accelity team...as far as people I don't know personally? Dawn the Minimal Mom, Jenna Kutcher, and Chrissy Teigen.
6. If a friend/colleague were to bump into you in public, where would you most likely be?
Our public library. When I'm alone I love to work by the fireplace, but when I have kiddos in tow we can be found in the play area. I'm the mom on the side with her laptop.
7. What is your hometown known most for? (Neighborhoods included if multiple people from Milwaukee)
Plymouth is known as THE Cheese Capital of the World. My husband Nick claims that his hometown (Marshfield) is the cheese capital, but that's just wrong. Plymouth has an awesome giant cow named Antoinette. Marshfield just has the second largest round barn in the world.