---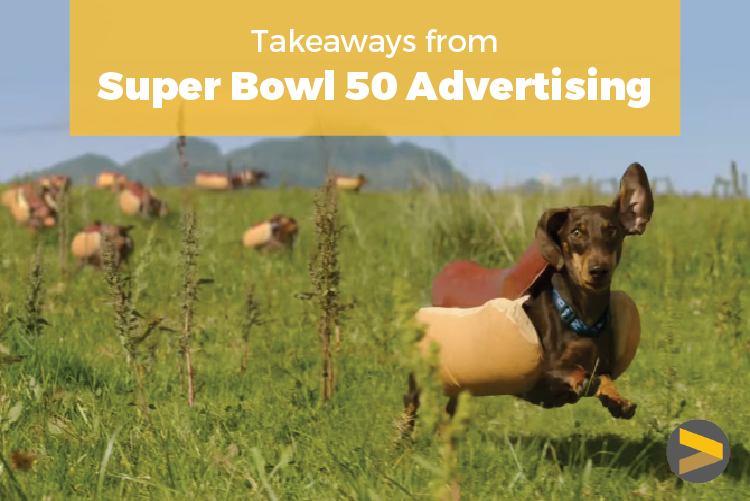 This post was written by guest blogger, Charlie Antoine. Read the original blog here.
—
Super Bowl 50 is in the books and a congratulations to Peyton Manning and the Denver Broncos are in order. However, I'm not going to talk about football. I'm here to talk about the 30-second TV spots that cost advertisers $5 million (via Fortune). For some, the price is worth getting in front of 115 million people, but not all of them got their money's worth. Based on my own observations, there are some things to take away from the strategies put forth by marketers this year.
---
Humor is still prevalent…and it works.
Let's face it, a majority of people watch the Super Bowl to be entertained by the commercials. The expectation is that with the amount of cash that is spent on ads, they should be memorable, well-thought-out and entertaining. Last year, that was not the case. Advertisers sought to get the most bang for their buck with traditional, non-humorous advertising displays, but it backfired due to lack of memorable brand association. This year, humor was back, not in full force, but more prevalent. If an advertisement succeeds in making you laugh, you're more likely to remember it, and that's a win for the brand. My favorite humorous ad this year was Hyundai's "First Date" ad highlighting the Car Finder feature in the Genesis. Heinz also got viewers laughing with their "Wiener Stampede" commercial.
Identifiable target markets
The most important determinant factor for a successful advertisement is an identifiable message and brand. The second most important determinant factor is an easily identifiable target market. I think advertisers really hit it out of the park this year in terms of target marketing. Some ads were aimed at Baby Boomers, while other ads were targeted towards Millennials. The Apartments.com allusion to The Jeffersons (left) was a bit before my time, but I can identify with Key & Peele and the tech-oriented SquareSpace website builder (right).
Some brands didn't belong.
The inclusion of bowel movement medication while you're enjoying your delicious snacks during the big game was a bit out of place. Need I say more?
Weird can be good.
The talk of Monday morning was the very odd inclusion of a hybrid species known as "puppy monkey baby" in an advertisement by Mountain Dew Kickstart. The hashtag #puppymonkeybaby was trending Sunday through Monday on Twitter as people shared their opinions of this unusual Super Bowl commercial. I think I stand in the small crowd for having applauded Mountain Dew in this strategy. Why, you might ask? Their strategy was clearly to create something so unique, so bizarre that you couldn't possibly forget what product was associated with it. And it worked. The message: three awesome things combined (Dew, juice, caffeine). Some took to Twitter claiming that they would cease their brand loyalty to Dew due to the absurdity of the ad. A follow up might be in order, but I'm sure after a few months they'll resume their normal buyer behavior, and might be willing to try Kickstart next time they see it in stores.
Introductory and awareness ads are common.
When you're viewed by 115 million people, what better time than to introduce something new. This tends to work best when people are familiar with your brand and have certain expectations. You don't have to spell out your story and waste precious time, but rather dive right in to the features and benefits of the new product.
Reminder or awareness ads work in a similar fashion. The objective is to be top-of-mind, utilizing simple messages without having to implement additional brand introduction. Pairing a familiar brand with a memorable message or character will accomplish this. Sir Anthony Hopkins helped TurboTax do this when he was helping promote their tax software, by "not selling out."
Ads make you feel.
As far as Super Bowl ads go, there is usually a small handful of feel-good ads that tug on the heart strings. From Budweiser's clydesdales to Dodge Ram's "So God Made a Farmer," these emotional advertisements make you pay attention because you're compelled by the story they tell. I was actually quite pleased to see that Budweiser didn't do a clydesdale ad this year. There is such thing as exhaustion, so it was time they took a break.
The winner this year was Jeep's "Portraits" commercial. Taking you through 75 years of brand history, it makes several nostalgic pop-culture references such as Jurassic Park and Terminator.
I applaud the willingness for some brands to take bold steps to connect with audiences this year. Sometimes being bold pays off if properly strategized. It's time for brands to be real and take risks to stand out in the noisy marketing landscape of 2016 (but not so bold you get cut from the Super Bowl). Who were the winners and losers of Super Bowl 50? That's for you to decide.