The Power of Pivoting During COVID-19
Pivoting has been an ongoing theme of our conversations over the past few weeks. It appears that pivoting has become necessary for most businesses looking to stay relevant during the COVID-19 pandemic. But, is it pivoting necessary for all businesses? And how do you do it effectively?
In our last COVID-19 Open Forum, we caught up with Kirsten Helgeson to explore how to pivot while listening to your customers and taking a scientific approach to growth. Kirsten is the Founder and CEO of Just a Girl, Inc. and has pivoted a ton recently to meet the needs of her audience.
Here's what we learned during the forum on how to effectively pivot during COVID-19.
Take your ego out of your business
It's time to take your ego out of your business, focus on the needs of the people you're serving and determine a strategy to align your business to meet those needs. If you pivot without listening, you'll wind up spinning like a top, missing out on huge opportunities.
Dig into listening to your audience: Where are people at? How can you help? Document their needs and use the data you collect from listening to pivot and adjust. After pivoting, continue to check-in with clients and your audience. Where are they at now? Have their needs changed since your initial survey? Was your pivot beneficial?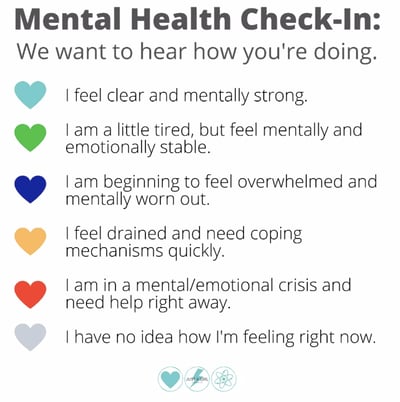 Mental Health Check-In via Kirsten Helgeson
Ensure it's easy for your audience to share feedback. One thing Kirsten has done is create a "Mental Health Check-In" that she shares on social media. Instead of having to type all their thoughts out, this scale allows participants to share a single emoji to sum up where they're at mentally/emotionally. If you reduce the barriers to sharing feedback and make it as easy as possible for your audience, you'll get more input.
Utilize the 3-T framework
Experimenting is not a silver bullet. In fact, nothing you make will be right now. Everyone is in the market of solving for moving targets and the reality is, you won't hit it the first time. You might not even hit it the first dozen times, which is why it's crucial to build space for failure you can learn from.
Kirsten recommended a 3-part framework for pivoting your business during COVID-19: try, test and tweak.
Try. Right now, you don't have the time to be perfect. Build the boat quickly.
Test. Find out if your pivot works and how your audience feels about it. Test whether your idea sinks or swims.
Tweak. Make changes based on what you learned and repeat the process. You should move through this framework fast — act quickly and repeatedly.
This is an iterative process. Go into this knowing that some ideas will fail, some will rise and others will evolve. Remember that if you're listening, your audience will have expectations. If you ask your audience for input, be sure to act on it.
Pivot to self-soothe
Your business isn't all that stands to benefit from pivoting: you can pivot to help your mental health as well. Right now, it's important to find new and creative ways to self-care and self-soothe. Many of us are feeling grief right now and it's important to remember that grief is not a linear process. You can (and will) cycle back and forth through the various stages.
It's important to remember that just because you aren't "productive" by pre-pandemic standards, doesn't mean you're not being productive right now. In fact, knowing when to take a break and give yourself an opportunity to breathe is just as productive and impactful right now.
Start testing
It's time to get out there and start testing. Remember to listen to your audience and focus on their needs. Go into your experiments anticipating failure and looking forward to learning something. Pivot quickly and frequently — figure out what works, what doesn't and keep iterating.
Most important, don't forget to also consider how you're handling your mental health right now. Grief isn't linear and you should explore creative ways to self-soothe during the pandemic. Remember to be kind and forgive yourself if you're not operating at the same level of "productivity" as you used to.